Technology leaders emphasized the need to build strong cultures and design technology platforms for agility and scale.
The fifth and final Metis Strategy Digital Symposium of 2021 is in the books. Thank you to the global CIOs, CEOs, and entrepreneurs who joined the conversation.
Looking to 2022, technology leaders said developing and maintaining strong cultures, motivating teams, and providing continuous learning and development opportunities are among their continued priorities. Also on the CIO agenda: maintaining agility and momentum following a period of significant digital acceleration.

Additional highlights from the event are below. Check out our YouTube channel and the Technovation podcast in the coming weeks for recordings of individual panel discussions.
New ways of working enable agility and speed to market. CIOs noted that a continued shift to product-based operating models, paired with advanced applications of data and analytics, has led to greater enterprise agility. More nimble technology architectures also support more nimble operations.

Increased customer adoption of digital channels during the pandemic accelerated the shift to new team structures, roles and responsibilities and reinforced the need to deliver products and services to customers faster and with less friction. Michael Ruttledge, CIO at Citizens Financial, noted a 30% increase in the use of digital channels. Over the past year, his team has introduced more than 900 features in its mobile app. Citizens has leveraged advanced technology in those efforts, Ruttledge said, "but at the same time we've had to get that to market very quickly, and we've done that by changing our agile culture."  
Pairing new ways of working with agile, scalable technology architectures has helped the IT organization at Target move faster and deliver more value across the organization, CIO Mike McNamara said. Today, Target has hundreds of products across the business that can release updates daily or weekly. "The rate limiter is how quickly our business and our guests can absorb change rather than how quickly we can produce it," McNamara said. "That speed and agility has just been a phenomenal benefit to the business."
Fostering a strong culture is more critical than ever. As the war for talent intensifies and organizations embrace more flexible working arrangements, technology leaders are thinking about how best to foster a sense of connectivity and maintain innovative cultures as teams collaborate in new ways, both in the office and remotely.
Asurion CIO Casey Santos noted that her team is telling the company's story in a more personal way, emphasizing the strength of their culture and technology, becoming more flexible, and relying on less formal recruiting techniques. Santos' team is also training leaders at the company to be better coaches and sponsors so that they can help employees through their journey at the company. Asurion is also bulking up its internship, internal mobility, and rotational programs.
Underpinning many of those actions is a push to create learning and development opportunities for talent across the organization. As the pace of change continues to accelerate, "lifelong learning isn't optional anymore," said Sri Donthi, Chief Technology Officer at Advance Auto Parts. He shared the guiding principles he has followed while developing an engineering culture: creating a comfortable environment for employees to challenge themselves and excel; starting with the customer in mind while looking at the big picture; and keeping innovation top of mind. Donthi emphasized the need to lead with empathy and care, and encouraged fellow leaders to develop skills including crisis leadership, virtual leadership, and inspirational leadership.
Companies double down on upskilling and talent initiatives. Creating learning and development opportunities remains top of mind for CIOs in the year ahead, with 35% of participants noting reskilling or upskilling as their talent development priority in 2022, followed by enhancing employee experience.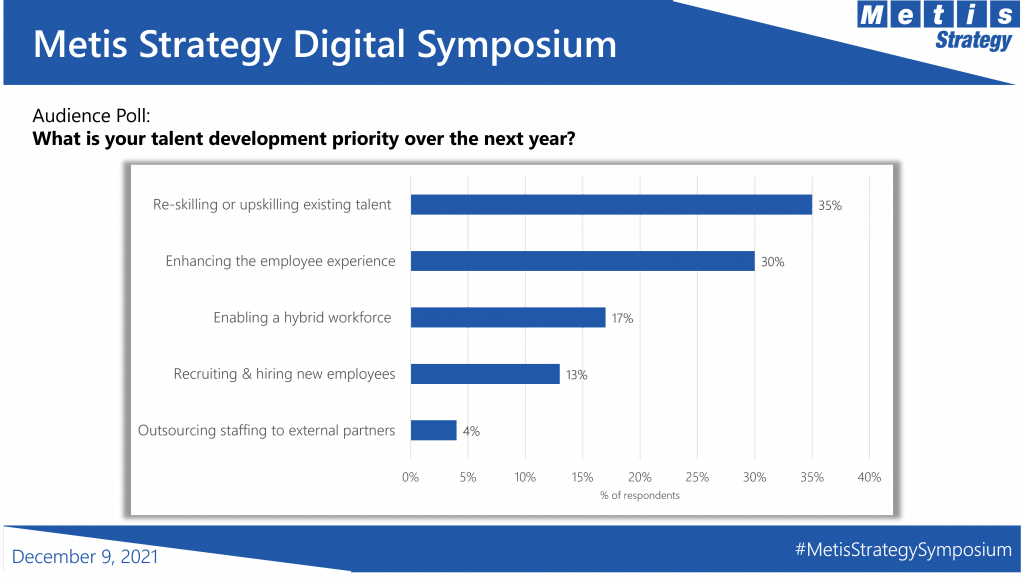 Toptal Co-Founder and CEO Taso Du Val predicts that there will be a plethora of online courses that will allow employees to earn certifications. More meaningful content and a better user experience, among other factors, will make these programs more impactful than traditional education programs, he said.
Citizens Financial introduced academy programs that allow engineers to spend 10 days learning skills such as React, Java, Python, or learning APIs, CIO Michael Ruttledge said. The company also developed 38 different badging and certification programs across a range of technologies. At Discover Financial, the Discover Technology Academy runs a series of courses while also serving as a hub for multidisciplinary teams to share their knowledge and experience with others, encouraging collaboration and allowing innovation to scale more effectively.
Target CIO Mike McNamara said engineers at the company are expected to spend 20% of their time on learning and development, part of the framework Target has built to recruit, develop, and provide continued learning experiences for teams. He's also proud that many leaders who have worked under his leadership have taken on CIO or senior executive roles at large companies around the world.
Common platforms enable data-driven customer experience at scale. Heading into 2022, leaders across industries continue to develop and refine platforms that allow their organizations to leverage analytics and AI across a broader range of products and services, deliver sufficient governance, and scale new solutions quickly.
At Experian, EVP & Global Head of Analytics and AI Shri Santhanam is leveraging a technical and commercial platform, along with the company's vast troves of data, to develop more products powered by AI and machine learning. Common platforms allow Experian to bring in new data sets more easily and create more sophisticated models that give individuals, particularly those whose experiences may not have been reflected in traditional models, access to credit.
Anjana Harve, Global Chief Information Officer at Fresenius Medical Care, has focused on developing a platform that helps patients manage their care effectively and provides continuous insights throughout the user journey from early care to dialysis treatment. Through connected platforms, Fresenius can drive standardization, bring innovation and speed to end users, and guide workflows while providing the most relevant and personalized information for patients and clinicians.
Leaders continue to unlock new capabilities with data and analytics. Nearly 40% of attendees noted that they expect to see the most technology investment in data and analytics in the year ahead, and 71% noted that advanced AI is the emerging technology that holds the most promise for their organizations in 2022.
Discover Financial CIO Amir Arooni emphasized the importance of advanced AI in giving customers "actionable data that empowers them." Applications of AI at Discover include real-time fraud detection and analyzing past spending data to advise customers on what to purchase and when, providing guidance on how to save more money and earn rewards.
Advanced analytics techniques are also making strides in the construction industry, which has begun to embrace technology as more digital tools, accessible via the cloud, went mobile. Turner Construction CIO Warren Kudman said the industry is "waking up to the value of data" and has used digital tools to visualize and manipulate environments virtually, reducing the likelihood of costly mistakes. Turner is also using data and ML to track and assess safety conditions at job sites, proactively identify interventions, conduct remote inspections, and track materials as they arrive on job sites.
Dean Del Vecchio, CIO and Chief of Operations at Guardian Life, discussed how the company is using data and AI to develop insurance products faster, easier, and with less friction for customers. Thanks to new tools and new ways of working, some processes that used to take 45 days have been cut to 30 seconds, he said.