Thank you to everyone who attended and participated in the 13th Metis Strategy Digital Symposium. As 2023 approaches the halfway point, leaders convened to discuss the rapidly changing economic, technological and geopolitical landscape and its impact on strategy in the months ahead.
Highlights from the event are below. Stay tuned to the Metis Strategy Youtube channel and Technovation podcast in the coming weeks for recordings of individual panel discussions.
A changing geopolitical landscape and the rise of generative AI
As tensions continue to escalate around the world, technology leaders must understand and prepare for new geopolitical dynamics. Jared Cohen, Co-Head of the Office of Applied Innovation and President of Global Affairs at Goldman Sachs, argued that the notion of hyperglobalization ended before the COVID pandemic and that the world now faces a reorientation of supply chains and capital flows.
Technology executives are playing close attention to changing value chains and alliances. "Technology is changing geopolitics, and geopolitics is changing technology," said Cohen. One of the biggest areas where technology is currently influencing geopolitics is in the area of generative AI, which Cohen dubbed as the "most disruptive experiment in anarchy" since the internet. He warned about the risk of people deploying large language models for "bad use cases" to cause real problems in international systems. While there is significant discussion around which companies have superior large language models, he noted a desire for the conversation to focus more on the implications of generative AI for the world.
George Lee, another Co-Head of the Applied Innovation Office at Goldman Sachs, said generative AI is dominating discussions with boards and management teams around the world. While its rapid growth offers many fascinating possibilities, it has also disturbed the human desire for order and linearity. Lee noted how creators are being constantly surprised as the emerging technology develops. "Anyone who tells you they know where this is going, how fast it's going, and what our destination is, is just wrong."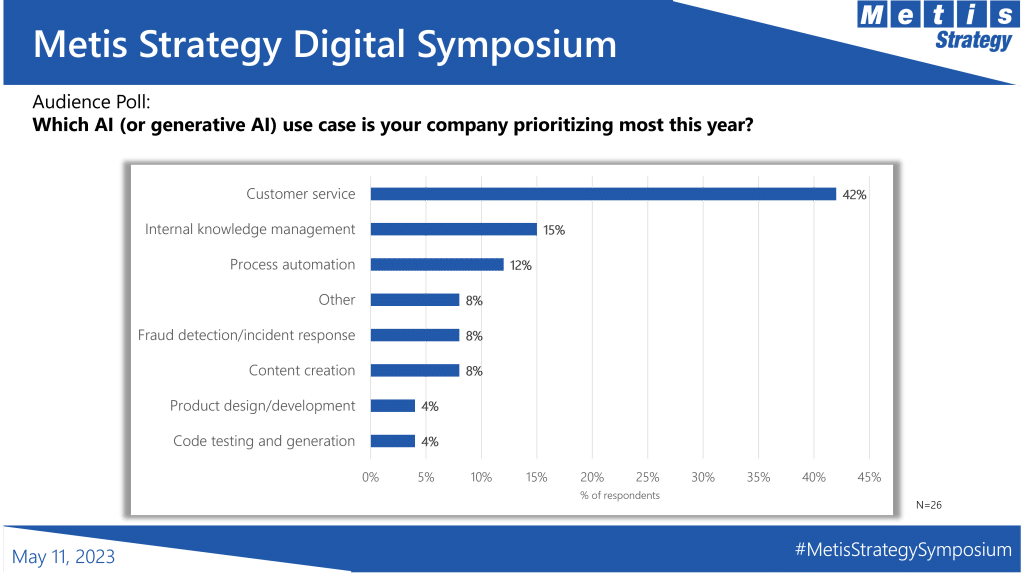 Preparing organizations for generative AI at scale
While conversations around generative AI have taken the world by storm, technology leaders today play a key role in translating the hype into reality. That means not only vetting new use cases for the technology, but also educating their teams about the benefits and risks of generative AI and creating policies that encourage innovation while ensuring responsible use.
"It takes courage to take a step back and say, maybe let's not fall into the hype, let's go about this in a methodical way," said Digi-Key Electronics CIO Ramesh Babu. Babu created a community of practice around AI that includes stakeholders from across the organization and a list of key terms with consistent definitions to keep everyone on the same page. He also created a network of influencers within the company that serve as "education ambassadors" for the organization.
Allen Smith, CIO at Baker Tilly, recommended leaders approach generative AI like they would any other technology. "There is a difference between home runs and singles. Singles in this case are your front. Go do something, show it, have a tangible example," he said. "Now, it can be used to fuel the really good ideas." He also expressed concerns about the security and privacy risks that generative AI poses, noting the dangers that may arise from inputting sensitive data into services like ChatGPT and the need to identify and mitigate potential bias.
Utilizing design thinking, and customer focus, to drive innovation
As companies continue to navigate an increasingly complex and competitive landscape alongside shifting customer demands, innovation will be a key source of differentiation for industry leaders. Many organizations find that design thinking frameworks help to formulate the strategy and direction that will help ensure they can harness that innovation effectively.
Michael Newcity, Chief Innovation Officer at ArcBest and President of ArcBest Technologies, highlighted the importance of empathy and deep listening to uncover unsaid user needs. To advance design thinking, Newcity has sponsors responsible for thinking through ROI, teams, timing, and other tactical factors that will help gain executive sponsorship and drive innovation initiatives forward.
Rob Krugman, Chief Digital Officer at Broadridge Financial Solutions, discussed the importance of understanding the value proposition for their customers' customers, then working backwards to deliver value for Broadridge clients. "If we can solve the needs of that end customer, our client's customer, the likelihood of us being correct is more likely than not," he said. Across the ecosystem, "we're all generating value, and we have a much better understanding of how to actually present and tell that story around value." His team also works with the VC community to stay on top of emerging technologies and asks hypothetical questions to try and understand their impact on Broadridge.
Krugman laid out two different types of innovation: sustainable innovation, led by the product organization, and disruptive innovation. The key to both: "iteration, iteration, iteration, all based on validation."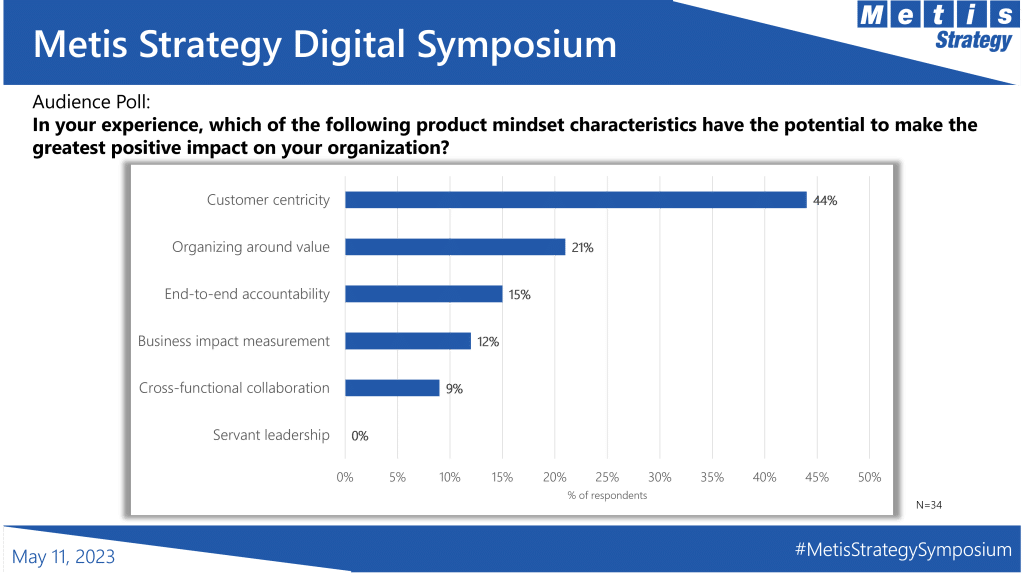 Modeling change from the top down
No matter the scope of a change initiative, whether adopting an emerging technology or implementing agile ways of working, leaders must act as role models for change within their companies and drive cultural transformation from the top down.
Hyatt Hotel Corporation's CIO Eben Hewitt, who is working to nurture a product mindset and drive enterprise-wide behavior change, said engagement starts with the CEO and executive board. "When you see a boss acting that way, then you act that way," he said. "You have to model it." Hyatt also uses a "people playbook" to easily guide teams to resources they need for specific use cases, and Hewitt has encouraged the development of high-level cultural principles that inform behaviors throughout the organization.
Ultimately, culture is the most important driver of any organizational change. While many are familiar with Peter Drucker's quote,"culture eats strategy for breakfast," Ascension Chief Digital Officer Rajan Mohan added that "culture eats transformation for lunch." At Ascension, Mohan has helped lead a transformation that includes a digital product orientation, end-to-end accountability and a focus on Ascension's mission to reach underserved communities. With that shift has come a new mindset, as well as metrics that are more closely tied to business outcomes. "We're not just measuring for measurement's sake," he said. "It is to demonstrate and deliver continuous value."
Kathy Kay, CIO at Principal Financial Group, said driving cultural change requires leaders first and foremost to be their authentic selves. That includes a willingness to be vulnerable. "If you can't show vulnerability…I think it sets a tone for people feeling less open," she said. In addition to bringing that openness to her role, she works with peers at Principal to ensure leaders are giving teams necessary support, removing blockers, and helping them understand how their contributions matter. Kay also discussed the importance of adapting communications to local norms, particularly when working with teams across the globe.
Building a high-performance culture is of course linked to finding and developing the best talent. World Fuel Services CIO Josh McLean said some of the best people typically look for three things in their work: aspirational goals that give a sense of purpose; challenging work that helps them learn and grow; and being surrounded by other highly talented people. "I try to make sure those things are all present and in harmony, or a work in progress to get there."
Thank you to all who attended the 11th Metis Strategy Digital Symposium. As we enter 2023, many organizations are seeking faster pathways to growth and opportunities to boost resilience in anticipation of economic headwinds. Nearly 60% of attendees noted rising inflation and interest rates as the macro issue that will have the biggest impact on their organizations in the year ahead.
Modernization efforts remain a priority as companies seek to drive efficiencies and revenue growth. Chief Information Officers and their peers are also strengthening relationships with business partners as digital technologies play an increasingly greater role in product development, operations, and customer experience.
Below are highlights from the event. Stay tuned to the Metis Strategy YouTube channel and Technovation podcast in the coming weeks for recordings of individual panel discussions. In the meantime, click here to request an invitation for our next virtual event on February 16, 2023.
Poll: Which macro issue do you anticipate will have the biggest impact on your organization in the year ahead?
In preparation for the year ahead, technology leaders noted they are:
Aligning closer than ever with the business
As economic pressures add potential challenges to organizations across industries, technology leaders are deepening relationships with business partners to deliver tangible value quickly.
At Magna International, Chief Digital and Information Officer Boris Shulkin is focusing his efforts on identifying use cases and partnering with business teams on execution, adding that "credit can be shared when things go well." Shulkin noted that his role is rising in importance as cybersecurity and operational efficiency become more critical to the bottom line of the company's manufacturing facilities.
At supermarket chain Giant Eagle, CIO Kirk Ball brings front line workers into the product development process from the start to ensure it aligns with their needs. Spending time in the shoes of end-users helps eliminate friction and provide them with the necessary tools, data, and capabilities to do their jobs. He also continues to engage with peers and business partners across Giant Eagle on the company's transformation efforts, which will be executed over the next three to five years. "It's not my strategy, it's our strategy," he said.
The increased collaboration with teams outside IT underscores the need for more customer- and business-centric thinking. Jennifer Hartsock, Chief Information and Digital Officer at Cargill, emphasized the need to think as a business leader first and a technology leader second, working alongside peers to understand the business context, develop strong relationships, and focus on solutions that truly serve the broader organization. "Sometimes we're not prepared to truly understand what we're trying to enable," Hartsock said. She encouraged other leaders to lean into tough conversations, make tradeoffs where necessary, and meet others where they are so that their voices are heard and strategy creation becomes a "together conversation."
Developing platforms and embracing a 'build' mentality
As technology and digital leaders continue to lead cross-functional initiatives, they're proactively looking at new technologies to create new opportunities and address existing challenges. At Tractor Supply Co., one area Chief Technology, Digital Commerce, and Strategy Officer Rob Mills is focusing his efforts is M&A. At the table with C-suite peers, his purview allows him to articulate not only how to integrate a particular acquisition, but also the impact it will have on the company's technology platform and architecture years down the road. That strategic focus opens new conversations about how the technology organization can best adapt to ensure any M&A activity has the needed processes and technologies behind it to drive long-term opportunities.
While companies continue to build out internal products and services that support the customized needs of their business, some MSDS speakers have taken the opportunity to commercialize their offerings to customers, using technology as a means to connect to partner ecosystems. At Pilot Company, Chief Technology Officer Michael Rodgers developed a cloud- and API-first strategy that focuses on utility, functionality, and efficiency for drivers and team members. The company has built a platform that allows the company to expose those APIs to other trucking companies. This approach allows Pilot to embed its technology directly into apps like GasBuddy, giving drivers using the app the ability to engage seamlessly with Pilot's services.
Meta's rebrand as enterprise engineering meant embracing two broad mindsets: understanding and incorporating internal employees into product building, and making a fundamental shift to a "build" culture that can provide customers with custom tools, technologies, and platforms needed to do their jobs in the most effective and efficient way possible, CIO Atish Banerjea said. "You're essentially going away from a mindset where your engineers are just taking in a third-party system and configuring it." Building tools for internal users has also influenced development of commercial products. One product designed to make onboarding information accessible to new Meta employees ultimately became part of the company's Workplace offering for external customers.
At Toptal, the world's largest remote working company, CEO and Co-Founder Taso Du Val spoke to the benefits of building platforms, paired with robust data and information architecture, to drive greater agility. Since Toptal built and owns all parts of its customized software platform, it is able to create synergies, scale processes, and make changes more quickly. On the flipside, the customized nature of those internal systems makes it unlikely those technologies could become a commercial product.
Focusing on financial outcomes and digital metrics
At XPO, CIO-turned-CEO Mario Harik is driving a strategy focused on growth and using technology to better serve customers, help goods move through the supply chain, operate more productively, and efficiently expand margins. As XPO grows, there has been more of a focus on financial outcomes and tech stacks contributing to company expansion.
During his time as CIO, Harik learned to prioritize the commercial outcomes of technology solutions, and emphasized the importance of financial acumen. "Knowing the impact on the top line and the bottom line is essential for investments and getting expected outcomes," Harik said. As MSDS attendees contemplate an expanded role in the C-suite, they are looking to sharpen customer centricity and financial acumen.
Poll: As you contemplate an expanded C-suite role, which skill or focus area are you most looking to sharpen?
Kelly Kent, Chief Transformation Officer at ServiceNow, said her work with a number of organizations on their transformation efforts is surfacing new conversations around metrics. While productivity is still top of mind in any transformation initiative, companies now are asking about the best ways to measure customer and employee experience, as well as measure revenue impact from digital channels. The ability to track and manage those metrics, both financial and not, will be key for CIOs as they look to move at scale and with speed for their companies in 2023.
Refining their innovation playbooks
Today's emerging technologies are tomorrow's big disruptors. To make organizations more nimble, technology executives are focused on creating more opportunities for innovation and improving test-and-learn processes. Gail Evans, Chief Digital and Technology Officer for Disney Parks, Experiences, and Products, first listens to customers, cast members and others to better understand the outcomes to chase. She encourages teams to "test before you invest" – to pause and think about what to test, assess the cost of building, and fully consider the value that a new solution would deliver to an end user before investing heavily in a new initiative.
Evans encouraged other executives seeking to expand innovation efforts to pay close attention to and understand mega-trends, have a game plan for responding to major technology and business disruptors, and ensure innovation is open to everyone at the company rather than just one person or one team. "Every employee that is in your company innovates something."
Poll: How much of your IT budget is currently allocated toward 'grow/transform' activities?
At Little Caesars, CIO Anita Klopfenstein helps operationalize innovation through "Area 51," a group that comes up with a number of potential solutions that haven't gone into production, such as efforts to reduce waste or automate production lines. Key success metrics are tied to each initiative. If something shows promise, teams will build a prototype and roll it out with a franchisee that is open to new technology. They will develop the technology and measure progress until it reaches the desired success metrics before gradually rolling out successful initiatives systemwide. To drive innovative thinking, Klopfenstein encourages members of the IT team to work in stores a few times a year to understand how the technologies they have built impact everyday workflows. "There have been several cases where just moving a button from one side of the screen to another…really impacted the operations of the store."
In interviews with more than 100 digital and technology leaders on the Technovation podcast in 2022, executives shared the technologies and trends they believe have the potential to deliver significant value to their organizations in the years ahead. For the fourth year in a row, analytics, machine learning/AI, and cloud were the top three trends on executives' radars.
A closer inspection of the interviews finds that more analytics use cases are bearing fruit across organizations as teams place greater emphasis on data strategy and governance. Developing solid data foundations enables new capabilities and opens the door for AI and machine learning at scale. We expect to see this focus continue in the year ahead.
Some new trends also began to emerge this year, including the metaverse and IT's growing role in environmental sustainability and other ESG initiatives. There is also continued interest in the new ways of working and the tools and practices that will bring them to life. See below for more on the trends that are rising in importance in the year ahead.
2022 Technovation Tech Trends
Personalization drives AI use cases in 2022
Companies across industries are increasingly leveraging machine learning models to make sense of the large amount of data they collect. Today, machine learning capabilities are "not just niche to businesses that try to answer decision support-like type questions that rely on predictability," said Neal Sample, former CIO of Northwestern Mutual. "Entire industries are being upended by better thinking around data." What does this better thinking look like? Increasingly, it means leveraging data and analytics capabilities to deliver differentiated products and services for customers.
Anil Bhatt, Global CIO of Elevance Health (formerly Anthem Inc.), detailed how AI helps deliver better customer experiences through personalization. The symptom triage function in the company's Sydney Health App, for example, can identify the symptoms a member is experiencing and analyze why they are reaching out for care, helping them receive personalized care more quickly and driving higher member satisfaction.
Similarly, Rite Aid's Chief Digital and Technology Officer, Justin Mennen, notes that advances in AI and machine learning "are driving a completely different level of personalization." Through the company's partnership with Google, Rite Aid is using data and analytics to drive insights for the business and for customers, including tools that help customers choose the right medical products based on where they are in their journey.
The continued rise of data and analytics capabilities brings with it a continued need for talented team members to drive those initiatives forward. Ashok Srivastava, Intuit's Chief Data Officer, began the journey to advance AI nearly five years ago by investing in skills development and recruiting. "We built this team of artificial intelligence scientists and engineers and we focused them on what matters most, and that means what is best for the end customer," he said. One win came from merging data and AI teams. "We could see that that data platform was powering a lot of experiences and as we focused those data platforms on AI and then on analytics, we could see that tremendous benefits were coming out of it." Some of these benefits included Intuit's "follow-me-home" approach to personal finance, in which AI models use data to understand how the customer is using the product, automatically categorize customer transactions, and provide insights to the customer about their financial health.
Check out our compilation of other technology leaders on Technovation with Peter High speaking about how their organizations are using artificial intelligence:
Digital twin, AR, and VR technologies begin to converge as interest in the metaverse rises
A new trend that has intrigued (and puzzled) some technology executives is the metaverse. The concept has been around for a while (see Neal Stephenson's 1992 novel Snow Crash and the virtual world of the Wachowski sisters' 1999 film The Matrix), but only recently has it emerged in a business context. Today, we see executives largely focused on the adoption of digital twins and augmented/virtual reality tools – two technologies often associated with the metaverse – for use cases ranging from product development to employee training.
Susan Doniz, Chief Information Officer of Boeing, says the company sees benefits of digital twin technology, noting that the combination of physical and digital worlds allows the company to efficiently iterate on new designs, to "fly the airplane thousands of times before we really fly it, and build it thousands of times before we really build it." At Raytheon, Chief Digital Officer and SVP for Enterprise Services Vince Campisi and his team are using digital simulations of factories to optimize facility usage.
Technology leaders recognize the need to stay up to date on emerging metaverse-related technologies, from digital twins to AR/VR and Web3. "Not all of it is always relevant in the moment, but if you don't start to get yourself up to speed and know where the opportunities lie, then I think you find yourself at the tail end," said Cindy Hoots, Chief Digital Officer and Chief Information Officer of AstraZeneca. Her team invested in an experience-based group at AstraZeneca called 'XR'. "Whether it's the virtual reality or augmented reality team, we've got our own metaverse environment looking at how digital twins that we already have play into that, and just trying to build up some internal muscle on some of these trends."

The metaverse, whatever form it may take, also creates new opportunities for collaboration and culture building, particularly in hybrid environments in which many work remotely. Likening the impact of the metaverse to that of 'dilithium crystals', the material used in the Star Trek universe to power warp-speed faster-than-light space travel, Cummins CIO Earl Newsome said the technology can act as a "transporter" of sorts, bringing people together from across the world. "I think we're going to be able to leverage the metaverse to do some of that," he explained, "especially when the metaverse gets to be really mixed reality."
Cybersecurity threats grow more sophisticated
Perhaps unsurprisingly, cybersecurity remained top of mind for business technology leaders in 2022. As attacks grow more prevalent and sophisticated, CIOs continue to focus on mitigating risk and building a culture of cybersecurity awareness across their organizations.
At Cummins, Earl Newsome is training his team to minimize the number of preventable cyberattacks through the CyberSMART program, which equips "cyber soldiers" with the tools needed to sniff out phishing schemes, be more aware of their surroundings, and improve password management. "The issue is either on two legs or two wires," Earl joked. "The two legs issue is the one that we need to focus on because 82% of all cybersecurity issues have a human element in them."
The other 18% of cyberattacks may pose trickier to prevent, but CIOs are looking to new technologies and tools to help identify when attacks are occurring and mitigate the risk of exposure. Mike Feliton, CIO of Crocs, sees an opportunity with machine learning and RPA to quickly detect when an attack is occurring. "Noticing when a brute force attack is hitting your organization and being able to shut that down before any of your employees have to get engaged is essential because we can cut it off before anything starts to explode."
More sophisticated attacks are likely to trouble some companies as computational capabilities advance. As research and development in quantum computing evolves, it is time for organizations to plan for post-quantum cryptography, said Kevin Stine, Chief of the Applied Cybersecurity Division at the National Institute of Standards and Technology's (NIST) Information Technology Laboratory. With the rise of quantum computers, even the most secure systems today could be at serious risk of being breached without new forms of protection.
Yet while quantum computers create the risk of more advanced cyberattacks, they also offer the benefit of more advanced cybersecurity measures. Sangy Vatsa, Global Chief Technology & Digital Officer of FIS, is excited about the possibilities quantum can bring to the cybersecurity landscape.
Sustainability becomes a key consideration when building technology
While not a "tech trend" we have typically tracked across podcast episodes, sustainability appeared much more frequently this year as executives contemplated IT's role in contributing to enterprise ESG initiatives.
Consumers are now, more than ever, concerned with how a company is addressing these issues, particularly in the energy sector. "Customers are paying attention to what companies are doing […] in terms of sustainability," said Dak Liyanearachchi, Head of Data and Technology at NRG Energy. He noted "the decarbonization of our economy" as a trend that stands out.
"It really doesn't matter what you think about climate change and sustainability, you are going to deal with it," said Edward Wagoner, CIO of Digital at JLL. For technology leaders, the focus is on how best to do it. To name one example, Edward noted opportunities organizations have to use IoT and sensor technology to measure water and energy usage and reduce waste.
Companies are pursuing other technology-led sustainability solutions. Earlier this year, Frank Cassulo, Chief Digital Officer at Chevron, discussed Chevron New Energies, a business unit launched late last year that aims to produce low-carbon solutions (e.g. hydrogen) and reduce carbon emissions for both customers and internal operations. "We're really looking at where we have competitive advantages and how we can help accelerate that energy transition," he said. "It's exciting for us to both think about how we continuously improve delivering the products today, but also transitioning to a lower carbon future that we're going to play a large part in."
While the energy industry is put under the microscope when it comes to sustainability, it certainly isn't the only industry that is looking at lowering carbon emissions. Avery Dennison CIO Nick Colisto has been the primary driver of sustainability both within IT and within the business. In his view, IT is uniquely positioned to be a driver of sustainability at a company. "We incorporated [sustainability] as one of our strategic priorities in IT," Nick said. "It's essentially about innovation in building products that satisfy recycling, composting, and reuse of single-use consumer packaging and apparel in our products and in our solutions."
At Avery Dennison, a low-code technology system called AD Circular makes it easier for customers to recycle used paper and filmic label liners across Europe. The company also introduced atma.io, a cloud platform that uses connected-product technology to track products through the value chain.
Trends likely to rise in 2023: 5G, voice, new ways of working
In addition to the topics noted above, other trends show signs of gaining traction in 2023:
5G and quantum computing: With 5G already rolled out and eyes shifting toward the theoretical "6G", executives are excited about the ability to not only rapidly transmit data but also rapidly compute. "Quantum computing is just around the corner, so they say," quips Diogo Rau, Chief Information and Digital Officer of Eli Lilly. "If it does come at some point, it will be an absolute breakthrough for everything."

Chatbots and voice assistants: "Why don't we talk to our computers?" asked Kevin Vasconi, Chief Information Officer of Wendy's, in a recent interview. "At Wendy's, when we think about voice AI, we do think about very specific applications like voice AI in the drive-through… if it's got a chip in it, we're willing to go see if we can make voice work on it."

Hybrid and remote collaboration: The future of work has been an ongoing discussion for organizations across industries. Some companies have embraced a completely remote model or a completely on-premise one, with most somewhere in between. "This back-to-work thing has made things like meetings that are half in person, half remote, really challenging," said Greg Meyers, Chief Digital and Technology Officer of Bristol Myers Squibb (BMS). We expect the topic to remain top of mind for technology leaders in the year ahead as they pilot technologies that enable more efficient, productive, and creative ways of working.
Stay tuned to Technovation in 2023 for more discussions about the transformative technologies driving organizations forward.
To some, the term artificial intelligence evokes images from The Terminator, 2001: A Space Odyssey, or, for the more optimistic, WALL-E. But today AI might isn't as far out as many might think. Today, machine learning and AI applications are being used to personalize customer experiences, predict behaviors, and improve processes across industries.
On the Technovation podcast, Metis Strategy President Peter High asks tech executives about the trends that excite them and the new projects making their way onto their roadmaps. This year, artificial intelligence was often at the top of the list. In this video, executives from Elevance Health, ServiceNow, Whirlpool, Guardian Life, Levi Strauss, Upstart, and Intel share how they are embedding artificial intelligence into their organizations and ponder AI's future trajectory. For more insights into how today's technology leaders are adopting artificial intelligence and other emerging technologies, be sure to check out the full podcast episodes and YouTube channel.
Zoetis' Chief Information & Digital Officer Wafaa Mamilli has been promoted to the post of Executive Vice President, Chief Digital & Technology Officer and Group President for China, Brazil, and Precision Animal Health. Zoetis is the world's largest manufacturers of animal pharmaceuticals. This post represents a major leap forward in Mamilli's responsibilities, driving the accelerated growth of two key markets, as well as the company's precision animal health businesses and advancing our global customer experience programs. Mamilli is a big believer that all tech and digital executives ought to have a profound impact if not primary responsibility for customer experience in the digital age.
"I've always thought of my role as a business leader with technology accountability and have been passionate about the role of digital and data in reimagining animal health and powering Zoetis' business. I am equally excited to fully harness our innovative portfolio, along with my global experience, to deliver the most value to our customers in key growth areas of our business."
She will continue to oversee Zoetis' digital and data analytic strategies as well as the Information Technology and cybersecurity teams.
Prior to joining Zoetis in 2020, Mamilli was with Eli Lilly and Company for 20 years. She held a variety of International roles with increasing responsibility, and ultimately served as the Global Chief Information Officer for the company's business units. She also served as the company's Chief Information Security Officer, a rare example of a CISO growing into CIO responsibilities, though surely a pathway that may become more frequent in an age when the former is growing in strategic importance.
Mamilli's profile has grown tremendously in the past two years, including being the recipient of the 2022 MIT Sloan CIO Leadership Award, which honors executives who lead their organizations to deliver exemplary levels of business value through the innovative use of IT. She was also honored as a member of the Forbes CIO Next List, recognized among 50 influential technology leaders who are redefining the CIO role and driving innovation.
In addition to her outsized influence in tech and digital and now beyond within Zoetis, Mamilli is also on the leading edge of CIOs and CDO s who have been asked to serve on the boards of public companies with multiple billions of dollars in revenue. She serves on the board of directors of Fiserv, Inc., a global provider of payments and financial services technology solutions.
Mamilli has also been a champion of women in technology, as a leader of the T200, a group of female technology executives who not only support each other, but also mentor the next generation of female tech and digital execs.
She earned a master's degree in Computer Science from INSEA in Rabat, Morocco, and a master's degree in Business Applications of Information and Technology from Université Rennes in Rennes, France.
Peter High is President of Metis Strategy, a business and IT advisory firm. He has written two bestselling books, and his third, Getting to Nimble, was recently released. He also moderates the Technovation podcast series and speaks at conferences around the world. Follow him on Twitter @PeterAHigh.
Cardinal Health is among the largest companies in the world, earning roughly $180 billion in annual revenue. The company has two main segments to its business: a pharmaceutical distribution segment and a medical products segment. The company's executive vice president, chief information officer and head of Global Business Services is Michelle Greene. Her purview includes leading teams aligned with the two segments, while also leading horizontal teams that cut across them. The latter category includes a digital office and an organization called Fuse, which develops commercial technology. "The advantage that I have is to not only focus internally but also have some focus externally," said Greene. "Figuring out how we can leverage and find synergies between the technology platforms that we're implementing [is also an area of focus]."
One might think of her organization as one that provides glue across the business segments that each could be Fortune 500 businesses based on their revenues. "What we're looking to now is how we can expand an enterprise mindset across all of my leaders so that we don't get so siloed and single-focused," noted Greene. When asked for examples, she said, "We've worked to try to centralize more our data and analytics, anything digital, automation, and our AI space. In those spaces you may find that you need support from other teams." These topics become unifiers and offer opportunities for great collaboration across the traditional silos of the business.
The focus on commercial technology is differentiating for a CIO, as Greene and her team focus on both sides of the profit equation: identifying opportunities for efficiencies while also driving new revenue opportunities. As an example of the former, she offered up a description of a specialty solution called Decision Path. "It is a first-of-its-kind solution built into the electronic health records, providing real-time visibility into our patients out of pocket expenses," said Greene. "It helps oncologists make high-quality treatment choices to reduce the burden of financial toxicity. It's a data-driven cost-tracking tool that enables oncologists to accurately measure the cost of care at the start of and during the episode of care." As an example of the latter, Greene spoke about Outcomes Connected platform. "It is a digital ecosystem, and it connects our pharmacists, our payers and our pharmaceutical companies to maximize clinical opportunities," said Greene. "We mitigate the challenges of medication non-adherence, a common and costly problem. Both of these we have a team: my Fuse team. They work on these solutions along with the business, and it's just a great opportunity for us to [solve] business problems with technology."
To innovate at the scale necessary to grow such a large company, Greene must find creative pathways to recruit great talent. Like many other companies, increasing the flexibility of who works where has been a great way to find people who may be far from the company's headquarters in Columbus, Ohio who have not interest in moving. She does not take existing talent for granted, however and drives continuous engagement with them to "re-recruit" talented team members. "How do we continue to reengage, re-recruit, and make sure that we're continuing to engage the talent that we have?" Greene asked rhetorically. "That's where it needs to start. Our HR partners have been working with us to do things like "stay interviews" to understand why people stay, and if they've ever considered looking at other opportunities externally, what drove that and how we can make adjustments as an organization [to lead more people to stay with Cardinal Health]."
Greene also noted that ambitious colleagues want to be sure that their skills are growing, so it is paramount to provide them with the training necessary to let them feel that growth. Greene's team has developed a training platform called "Digital U." It provides courses and certifications to ensure that the team is building the skill sets of tomorrow. "If we don't take care of that talent and continue to feed and nurture that talent, then people will find other opportunities outside," she acknowledged.
Greene is a female executive of color and knows that she is part of an exclusive club, but she also recognizes that she has the opportunity to inspire others to reach higher in their career goals. She points to the leadership of Mike Kaufman, who was CEO when she arrived at Cardinal Health and Jason Hollar, who became CEO on September 1 of this year. Each has emphasized the need for greater levels of diversity. Greene also noted that as the company seeks a more diverse workforce, diversity of thought needs to be considered an important factor, as well. "We need to make sure that this is about diversity of thought," she said. "How do we do things differently? How do we engage innovation? How do we just do some out of the box thinking? That's what brings about true diversity."
When Greene reflected on her own rise, a growth mindset was key. It continues today, as she personally pays for a coach to help her. When colleagues and peers have seemed surprised by this, she responds by saying, "We'll pay for a trainer when we want to lose weight. We'll pay for someone to do your hair or a stylist to find you the right outfits to wear. We have to make sure that things that are truly important, and if you're serious about your career development and development as a leader, you have to embrace that, and be ready to do it."
Greene serves as a remarkable model for others to follow.
Peter High is President of Metis Strategy, a business and IT advisory firm. He has written two bestselling books, and his third, Getting to Nimble, was recently released. He also moderates the Technovation podcast series and speaks at conferences around the world. Follow him on Twitter @PeterAHigh.
Gartner Inc. announced its top ten strategic technology trends for 2023 at their Gartner IT Symposium/Xpo 2022 in Orlando this week. The ten trends are broken into four themes: optimize, scale, pioneer, sustainability.
The top ten trends are:
Digital immune system
Applied observability
AI trust, risk, and security management (AI TRiSM)
Industry cloud platforms
Platform engineering
Wireless-value realization
Superapps
Adaptive AI
Metaverse
Sustainable technology
Theme 1: Optimize
Digital Immune System
As CIOs increasingly take on revenue generating responsibilities, antiquated development and testing approaches are no longer sufficient for delivering robust and resilient business-critical solutions that also provide a superior user experience. A Digital Immune System (DIS) combines several software engineering strategies such as observability, automation, and extreme testing to enhance the customer experience by protecting against operational and security risks. By 2025, Gartner predicts that organizations that invest in building digital immunity will increase end-user satisfaction through applications that achieve greater uptime and deliver a stronger user experience.
Applied observability
The path to data-driven decision making includes a shift from monitoring and reacting to data to proactively applying that data in an orchestrated and integrated way across the enterprise. Doing so can shorten the time it takes to reach critical decisions while also facilitating faster, more accurate planning. Gartner notes observable data as an organization's "most precious monetizable asset" and encourages leaders to seek use cases and business capabilities in which this data can deliver competitive advantage.
AI Trust, Risk and Security Management (AI TRiSM)
As artificial intelligence algorithms grow increasingly sophisticated and complex, leaders increasingly must bake governance, trustworthiness, fairness, reliability, efficacy and privacy into AI operations. AI TRiSM includes tools and processes that make AI models easier to interpret and explain while improving overall privacy and security. By 2026, companies that operationalize AI transparency, trust, and security will see AI models achieve 50% result improvement in terms of adoption, business goals and user acceptance, Gartner says.
Theme 2: Scale
Industry cloud platforms
Gartner predicts more organizations will use industry-specific cloud platforms to drive agility, speed to innovation and accelerated time to value. This includes incorporating cloud software, platform and infrastructure services traditionally purchased a la carte into pre-integrated yet flexible tools that are suited to meet the needs of specific industry verticals. The packaged capabilities can serve as building blocks on which organizations can build new and differentiating digital initiatives, Gartner says.
Platform Engineering
Modern software architectures are continuing to grow in complexity, and end-users are often asked to operate these services with a non-expert level knowledge. As a response to this growing friction, platform engineering has emerged between the service and the end-user to deliver a curated set of reusable self-service tools, capabilities, and processes, optimizing the developer experience and accelerating digital application delivery. Gartner predicts that by 2026, 80% of software engineering organizations will establish platform teams with 75% of those including developer self-service portals.
Wireless-Value Realization
By 2025, Gartner expects 50% of enterprise wireless endpoints will use networking services that deliver additional capabilities beyond communication, up from less than 15%. Wireless-value realization refers to the expanding range of next-generation wireless protocols and technologies that will deliver value beyond connectivity, ranging from location tracking, to radar sensing, to ultra-low-power energy harvesting.
Theme 3: Pioneer
Superapps
In the age of smartphones and a digital-native generation, demand has grown for mobile-first experiences that provide a host of various services with a user-friendly interface. This demand has caused a trend of organizations embracing superapps, a composable application and architecture that provides end-users with a set of core features and access to independently created "miniapps" that allow for a consistent and personalized user experience within a single app. Gartner predicts that more than 50% of the global population will be daily active users of multiple superapps by 2027.
Adaptive AI
Adaptive artificial intelligence enables models that can self-adapt in production or change post-deployment using real-time feedback from past human and machine experiences. This is increasingly important as decision making is rapidly becoming more connected, contextual, and continuous. By 2026, Gartner predicts that enterprises that adopt AI engineering practices to build and manage adaptive AI systems will outperform their peers in the operationalizing AI models by at least 25%.
Metaverse
Gartner defines the metaverse as a combinatorial innovation, as opposed to a singular technology, that joins multiple trends in technology into a collective virtual environment where people can enhance the physical reality. This innovation transforms the physical world or extends it into a virtual world where organizations can improve employee engagement and collaboration. Although Gartner warns that the metaverse is still in its nascent stages and the viability of long-term investments are uncertain, it predicts that by 2027, over 40% of large organizations worldwide will be using Web3, spatial computing, and digital twins to increase revenue through metaverse-based projects.
Theme 4: Sustainability
Sustainable Technology
Sustainable technology is an area that has risen to the top of priority lists for many company executives and should be looked at as a framework of solutions that increase the energy and material efficiency of IT services, enable sustainability of both the enterprise and its customers, and drive environmental, social, and governance (ESG) outcomes. Through the use of technologies such as artificial intelligence, automation, advanced analytics, and shared cloud services, among others, companies can improve traceability, reduce environmental impact, and provide consumers and suppliers with the tools to track sustainability goals. By 2025, Gartner predicts that 50% of CIOs will have performance metrics tied to the sustainability of the IT organization.
Peter High is President of Metis Strategy, a business and IT advisory firm. He has written two bestselling books, and his third, Getting to Nimble, was recently released. He also moderates the Technovation podcast series and speaks at conferences around the world. Follow him on Twitter @PeterAHigh.
Some executives have the same job across many companies. They bring a strong toolkit into different environments, and, for a time, help drive change for those companies. Other executives have many jobs in the same company. They get to know their companies as well as anyone. When they reach executive levels, they are well equipped to collaborate with and mentor those who have taken over their old responsibilities. They understand how the company works better than most. They have a great internal network to tap to drive innovation. Ramon Richards is the latter type of executive.
Richards joined the $47.5 billion revenue mortgage financing company Fannie Mae 23 years ago. Since then, he has six roles prior to ascending to the role of CIO in August of 2021:
Development Manager
Director, Corporate Functions, Finance & General Ledger Systems
Vice President, Finance and Corporate Functions Technology
Vice President, Securitization and Credit Technology
Senior Vice President, Securitization & Servicing Technology
Senior Vice President, Integrated Technology Solutions
He admits that he did not think he would remain with the company for more than two decades when he joined. He has stayed, however, because he has been able to learn and take on new opportunities. "On my journey, the work has remained interesting and challenging and has kept me fully engaged," he noted. "Another important part of it, being in the world of technology, you're always learning, and the learning was encouraged." He also understands that Fannie Mae has had tremendous advantages in keeping an executive of his tenure in the fold for so long. "I'm deeply connected with our mission and highly motivated with the things that we are doing and how we are trying to improve access to housing," Richards said. "I understand the culture and I'm able to identify where there are opportunities for us to continue to evolve as a company. I think there's an ability to connect the dots differently when you really understand how all aspects of the company works from business to operations to technology, which has allowed me to influence differently than maybe someone who hasn't spent as much time understanding the inner workings of the company."
Richards and his team have driven a tremendous digital transformation over the course of the past several years. There has been a focus on building the skills of the future so that his team can meet the demand for digital capabilities across the enterprise. He has also driven a reduction in legacy technology so that there is a better, less complex tech stack that he and the team manage. Agile practices have also been an important change factor as has the shift to a greater emphasis on automation and cloud technology. Richards' team is increasing the pace at which it can deliver software while also reducing costs along the way.
The IT team now has a better foundation upon which it can innovate. To exemplify that innovation, Richards highlights an automated underwriting system that his team helped put in place to incorporate consistent rent payment history in credit evaluations. Long time renters who pay their rent every month should be establishing credit worthiness for what is typically the biggest bill of the month. And yet, it has not typically contributed to an evaluation of credit worthiness. This allows Fannie Mae to qualify more borrowers for mortgage loans. It is an idea that almost seems obvious once it is explained, at yet it is a first of its kind in the industry. There were considerable tech changes necessary to allow this idea to blossom. "We have taken advantage of some of our cloud capabilities as well as machine learning capabilities…to unlock the payment rental history," said Richards. "This is a major contribution to the company's core principle of increasing access to housing."
The key to unlocking innovation at Fannie Mae is in building a team that is curious and ambitious enough to want to develop the best ideas for the future. It begins with having the right training. "We have a curriculum that we've established to build the skill sets to be a full-stack engineer," said Richards. "We have a curriculum in place to build advanced cloud engineering skills, as well. We also invest in leadership and management skills because you need both in order to have a high-performing team." Additionally, his career path has become more de rigeur for his colleagues. When an employee is ready for the next opportunity, suggesting other parts of the company can increase the possibility that they will stay rather than seek that next opportunity outside of the company. "In the kind of talent market that we're in today, it's important to retain your individuals," Richards underscored. "We are very focused on finding new opportunities for individuals when they're ready for the next chapter in their career. It's a much better answer for the company than those individuals deciding to leave."
This people-powered innovation engine came in handy when the pandemic struck. Many of Fannie Mae's customers were hit hard by the health crisis that quickly became a financial crisis for many. "Fortunately, we had made some good progress on some of the digital capabilities that we were building, and we were able to take advantage of those capabilities to deliver a payment deferral function for the company faster than we had delivered that type of function in the past," said Richards. "It became clear to us that the investment we were making in our digital core was important for the way we wanted to operate as a company moving forward. It was an early example of the potential, and I think it also helped in motivating and inspiring a lot of our folks to set the company up for future success delivering products that would benefit homeowners and renters."
Richards is still having fun in his post as CIO and sees vast opportunities to continue to innovate, learning new skills along the way.
Peter High is President of Metis Strategy, a business and IT advisory firm. He has written two bestselling books, and his third, Getting to Nimble, was recently released. He also moderates the Technovation podcast series and speaks at conferences around the world. Follow him on Twitter @PeterAHigh.
XPO Logistics, Inc. is a leading provider of freight transportation services, primarily less-than-truckload (LTL) and truck brokerage. XPO uses its proprietary technology to move goods efficiently through supply chains. The company has a global network that serves 50,000 shippers with approximately 749 locations and 43,000 employees. In the fourth quarter, XPO will spin-off its tech-enabled brokered transportation business, with the remaining LTL business, which is a roughly $4.4 billion business. The current CIO at XPO Logistics and president of the less-than-truckload (LTL) business Mario Harik will assume the role of chief executive officer of the new XPO.
The growth of XPO Logistics has been remarkable. "We've integrated 18 acquisitions, and we grew the business over more than a decade now to be the seventh best-performing stock among Fortune 500," noted Harik. "We have done so through becoming an innovator and one of the largest players in our industry. Technology has been a key part of making that happen since the onset of the company."
Technology is where Harik has left, perhaps, his most profound mark, and it will be a critical aspect of the future of XPO's LTL business after the spin-off. XPO Logistics started as a truck brokerage company. Harik was key to developing the technology that connected shippers with carriers, leveraging machine learning and data and analytics more generally to accomplish this in a seamless fashion. "We built a platform which eventually became XPO Connect which is one of the fastest growing platforms in our industry," said Harik, noting that the growth in that platform has been a key driver of the company's strong financial performance over the past decade. "With our less-than-truckload business, our technology using machine learning and data allows us to optimize how the network actually operates, [including] how we move freight between our terminals. This is a business where we have 294 terminals across North America. Then the technology allows us to effectively find the most efficient routes of that freight between our terminals to maximize efficiency." Harik also underscored that machine learning and data science were used to optimize routes for the delivery of freight, again, impacting the bottom line of the company in the process. This has been the fruit of a $3 billion investment XPO Logistics has made in technology over the last decade.
In addition to spending, Harik has focused on developing a culture of innovation. "We built our own engineering talent to build proprietary software," said Harik. "When you design your own software and build a company fit for purpose, that gives you a competitive advantage."
Harik notes four aspects of the chief information officer role that contributed to his ascent to the CEO role. First, he noted that the CIO role provides a great overview of how a business operates. As such, a thoughtful CIO has access to a number of levers to pull to improve the business with technology.
Second, the CIO's position in the corporate structure provides insights to understand the commercial impact of technology. The modern CIO has an ability to contribute to both sides of the profit equation: both cost reduction – the historical domain of the CIO – and revenue augmentation – the newer area to which great CIOs are contributing, and an area of great focus for Harik and his team. This more pervasive value creation, with greater touchpoints with the company's customers, provides all the more justifications for CIOs to take on the top post.
Third, CIOs who establish feedback loops can be among the most informed executives within the company based on the data they collect, synthesize, analyze and put to work for each part of the company. "[It is important to] have strong feedback loops to listen to your employees and your customers about what is it that the technology has to do to improve performance or improve service levels or improve what you are delivering to your customers or to your employees," said Harik. "Those feedback loops also work well for CIOs beyond the technology; they can lead to greater understanding of how you can improve the business, driving stronger growth, as well."
Finally, fourth, CIOs manage a complex group of people who are among the highest compensated, with skills that are in short supply but that also add tremendous value. For an IT leader who can create a talent factory within his or her four walls, this creates a profound opportunity to take what works well within IT and make it more pervasive across the enterprise. Harik noted, "It's about recruiting, retaining and providing for a world-class team of folks that effectively drive the results in everything that you do, and that's the case in technology as in business."
Harik, armed with an engineering degree from MIT, began his career building software. That innovative approach to building software continues to this day. He also has been an entrepreneur, starting and running companies along the way. By the time he took on the CIO post at XPO, the traditional role of an insular CIO, leading a support organization never occurred to him. "[As the third employee] at XPO, I've been working alongside [founder and current CEO] Brad Jacobs and the leadership team to build XPO," underscored Harik. "This transportation powerhouse is steeped in technology. When you think, again, about all the experiences that you have, and when you look at technology as being a key driver of business performance, that becomes just a logical thing to focus on, given that that's going to have the biggest impact and the solutions you build." Harik has been fortunate to work in a business that from the earliest days was technology driven. Now most other industries have developed a version of this. As such, more CIOs should take heart that bigger opportunities might present themselves if they manage their teams and their careers in a comparable way.
Harik also emphasized the need for technology leaders to embed themselves in the operation. "Good technology is fit for purpose with what you're doing as a business," he said. "We spend a lot of time having our tech team either visiting terminals or spending time with operators in the field, to look at how technology is being used and how the use of that technology can be improved. What new features we're going to be launching and how we're going to improve them?"
When asked about where the new XPO will focus he noted a pivot from a strategy of improving margin to a strategy of both growing the business – gaining market share – as well as improving margin. "We're going to do this by a couple of ways," noted Harik. "We're going to grow volume share through investment in our fleet, in doors and people. We are expanding our network. So far, over the last year, we've added five new terminals to our network and we also produce our own trailers. This year we're going to produce double the number of trailers we did last year. More than 4,700 trailers that we're going to be producing in our manufacturing facility as an example. We're going to continue to capitalize in our industry that our firm pricing dynamics where we are going to continue to focus on pricing and make sure we are charging our customers a fair price for the services we offer."
He rounded out the list by noting the importance of providing excellent service for XPO's customers, delighting them in every interaction. He also believes there are pathways to continue to optimize costs. In both areas, technology is key.
Harik's is an aspirational journey that CIOs with aspirations to earn their way to the CEO role should follow.
Peter High is President of Metis Strategy, a business and IT advisory firm. He has written two bestselling books, and his third, Getting to Nimble, was recently released. He also moderates the Technovation podcast series and speaks at conferences around the world. Follow him on Twitter @PeterAHigh.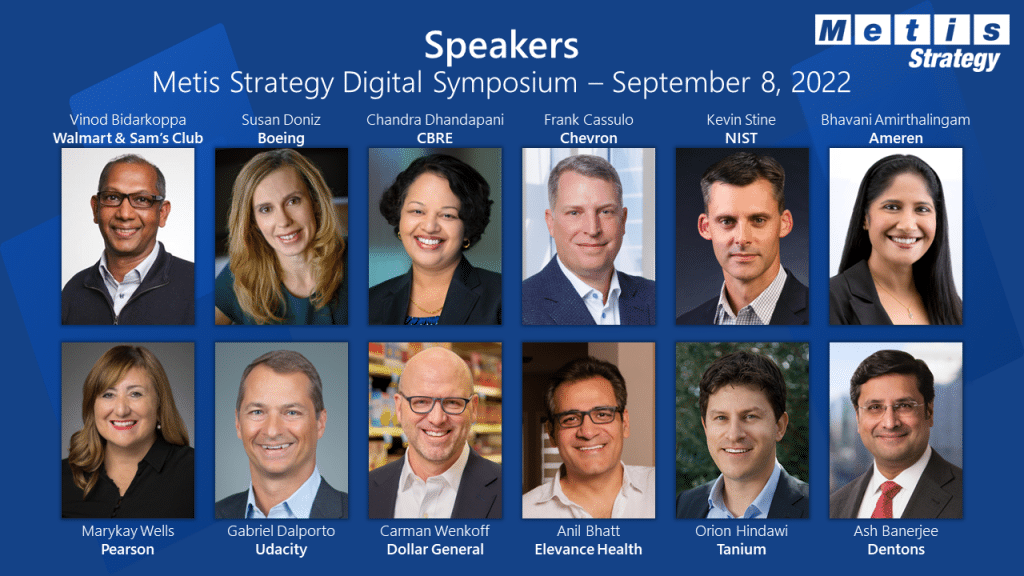 Thank you to all who attended the 10th Metis Strategy Digital Symposium. Across conversations, leaders emphasized the need for foundational data and analytics capabilities to prepare their organizations for growth. Whether modernizing systems, designing new operating models, or upskilling teams for the future, an organization's ability to appropriately harness the information assets available continues to be a key source of competitive advantage.

Below are highlights from the event. Stay tuned to the Metis Strategy YouTube channel and Technovation podcast in the coming weeks for full recordings of individual panel discussions. In the meantime, click here to request an invitation for our next virtual event on December 13, 2022.
Data skills and career development drive upskilling efforts
To prepare employees for jobs of the future, technology leaders are focusing on upskilling and development initiatives that teach employees the latest technology skills while providing a clear path for professional growth. The most in-demand skill today: "data, data, data," said Udacity CEO Gabe Dalporto. "Every part of every organization needs better data skills." That means not only equipping data scientists and IT teams with the latest skills, but also ensuring data literacy across marketing, compliance, cybersecurity, and beyond.
It isn't enough to only provide training, however. Dalporto noted that attrition can actually increase if reskilling programs aren't directly linked to individuals' jobs and career paths. The message resonated with attendees, 44% of whom noted career pathing and other growth opportunities as focus areas within their upskilling initiatives.
Pearson CIO Marykay Wells reiterated the importance of creating an environment that encourages continuous development. Pearson offers weekly learning hours and a range of certifications employees can pursue to help spark new ideas and creative thinking. The company is also leaning into greater job mobility, encouraging team members to apply their learnings across the organization.
Emerging technologies enable greater precision and sustainability
A strong foundation in data and analytics paves the way for new innovations. As organizations modernize enterprise data platforms and gain access to consistently reliable information, they are finding new ways to use emerging technologies to improve processes and services.
At Boeing, data is embedded across the enterprise and serves as a source of growth and resilience, CIO and SVP of IT & Data Analytics Susan Doniz said. Data-driven insights give the company a greater understanding of supplier networks, assist with product planning, and drive sustainability initiatives. Boeing is using emerging technologies like digital twins and the metaverse to drive product precision, building airplanes thousands of times digitally before creating the physical plane. Boeing also combines its own information with weather data and other external sources to drive additional value. "The value of data is not just data by itself, it's how you combine data with external data," Doniz said.
Emerging technologies have also shown promise in driving enterprise sustainability efforts. As Chevron Chief Digital Officer Frank Cassulo prepares for the transition to a lower carbon world and more renewable energy sources, he is advancing the deployment of industrial IoT, edge-based sensors, and real-time monitoring to improve the efficiency, reliability, and safety of the energy system. "We believe the intersection of technology and the energy transition is defining the rate at which we advance," he said. Last year, the company launched Chevron New Energies to identify new technology opportunities and business models to deliver a lower carbon future.
Organizations inject more data into product development and decision making
Technology leaders are embracing more data-driven decision making processes and rethinking how to measure the success of digital products and services.
For example, every Monday morning, Vinod Bidarkoppa, SVP at Walmart and Chief Technology Officer at Sam's Club, meets with the executive leadership team to discuss the Net Promoter Score of critical member and associate journeys from the prior week. Those metrics inform how the organization operates and focuses their efforts week to week. "Because there is data behind it, people can answer in a very data- driven way," Bidarkoppa said. "It makes it a very rich conversation and it's not just an opinion."
Enterprises are also expressing a growing desire for reliable cybersecurity metrics. Orion Hindawi, Co-Founder and CEO at Tanium, detailed how the company is helping customers understand how their progress on particular KPIs compares to others in their industry. That data allows customers to better see where they have adequate protection or gaps that need filling.
Data-enabled products are also unlocking new efficiencies. Ameren Chief Digital Information Officer Bhavani Amirthalingam noted that putting more data into customers' hands gives them more choice and control in managing their energy consumption. Greater accessibility to data also gives Ameren the ability to effectively track and reduce energy consumption in the data center and among key suppliers.
As Pearson offers a broader range of digital education products, it is placing additional focus on metrics such as time to value (the time between a student enrolling and actually starting a course), as well as internal productivity metrics to guide process improvements for engineers. "We are thinking about ways we can use data to improve experience and value," Wells said.
Executives find new ways to manage global talent and operating models
In an increasingly complex economic and geopolitical climate, digital leaders are among those re-examining global talent footprints and seeking opportunities to streamline or automate existing processes. More than half of MSDS respondents noted that they are bringing on more full-time employees across geographies and exploring new locations for talent.
Denton's, the largest law firm in the world, has grown from 3,500 employees 10 years ago to 20,000 employees around the world today through robust M&A activity. Over the years, each entity retained IT teams, structures, and systems. As cloud computing adoption expanded and cybersecurity concerns became paramount, especially for clients, Global CIO Ash Banerjee and his team are transforming and unifying the technology function, progressing the firm's growth and integration strategies while seeking to balance local and global needs.
Anil Bhatt, Global CIO at Elevance Health (formerly known as Anthem) works to make sure that his global product team and engineer teams have the capabilities they need to meet business needs. At the same time, he's focused on making sure team members are taking care of themselves. Bhatt's team led two employee-focused transformations and introduced more flexibility and recognition. "As you take care of associates and employees, it changes how they look at company," he said.
As the security and privacy landscape grows more complex, technology leaders must balance global rules and standards with country- or region-specific regulations. Kevin Stine, Chief of the Applied Cybersecurity Division for NIST's Information Technology Laboratory (ITL), has been encouraged by an uptick of international governments and businesses adopting and engaging with the NIST framework. He notes this global alignment of standards as a critical step to aligning key cybersecurity outcomes and avoiding duplication or conflicting expectations.
Digital positions IT for greater strategic influence
As data-based decision making and digital tools pervade modern business, technology leaders are modernizing organizational architectures to help their companies more directly tie technology initiatives to business growth. At retailer Dollar General, CIO Carman Wenkoff prioritized people and processes in the modernization journey. After evaluating organizational structures and existing ways of working, the company grouped 105 technology domains into categories and assigned domain leaders to define and implement a future vision. The new structure is helping the retailer define new ways of working and find new ways to serve customers.
The prevalence of technology is putting more leaders on the path from CIO to CEO, COO, and other business leadership roles in the C-suite. Chandra Dhandapani; Chief Executive Officer for Global Workplace Solutions at real estate firm CBRE advised technology leaders wishing to ascend to other roles to stay closely aligned with business leaders, invest in technology closely aligned with business strategy, move fast, and care about customer experience. She encouraged leaders to take an outside-in perspective and "internalize being business leaders first who happen to have expertise in technology." Dhandapani believes that CIOs are well positioned to take on additional leadership roles as they understand their organization's data strengths and weaknesses and know how to use data to develop key insights.