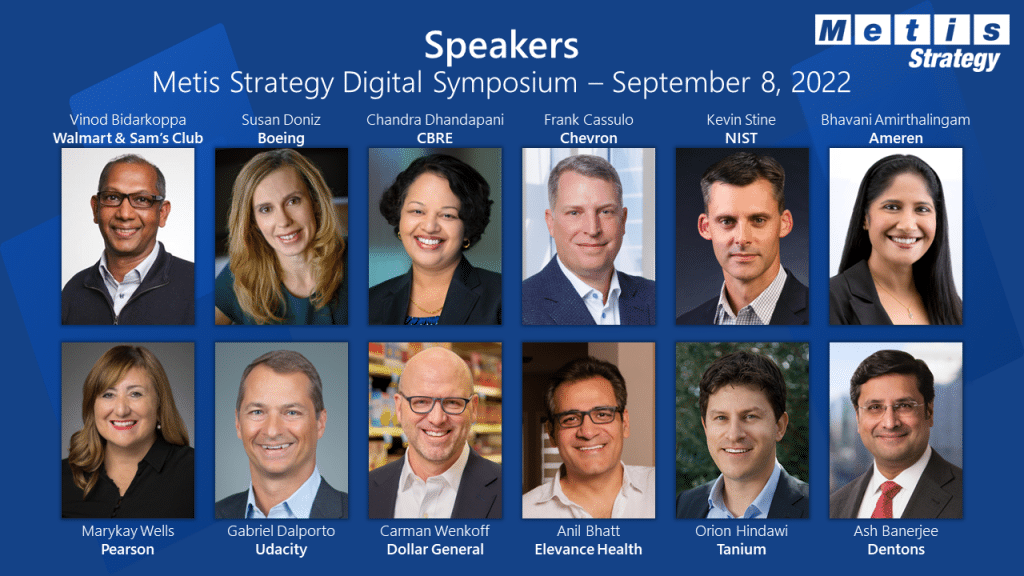 Thank you to all who attended the 10th Metis Strategy Digital Symposium. Across conversations, leaders emphasized the need for foundational data and analytics capabilities to prepare their organizations for growth. Whether modernizing systems, designing new operating models, or upskilling teams for the future, an organization's ability to appropriately harness the information assets available continues to be a key source of competitive advantage.

Below are highlights from the event. Stay tuned to the Metis Strategy YouTube channel and Technovation podcast in the coming weeks for full recordings of individual panel discussions. In the meantime, click here to request an invitation for our next virtual event on December 13, 2022.
Data skills and career development drive upskilling efforts
To prepare employees for jobs of the future, technology leaders are focusing on upskilling and development initiatives that teach employees the latest technology skills while providing a clear path for professional growth. The most in-demand skill today: "data, data, data," said Udacity CEO Gabe Dalporto. "Every part of every organization needs better data skills." That means not only equipping data scientists and IT teams with the latest skills, but also ensuring data literacy across marketing, compliance, cybersecurity, and beyond.
It isn't enough to only provide training, however. Dalporto noted that attrition can actually increase if reskilling programs aren't directly linked to individuals' jobs and career paths. The message resonated with attendees, 44% of whom noted career pathing and other growth opportunities as focus areas within their upskilling initiatives.
Pearson CIO Marykay Wells reiterated the importance of creating an environment that encourages continuous development. Pearson offers weekly learning hours and a range of certifications employees can pursue to help spark new ideas and creative thinking. The company is also leaning into greater job mobility, encouraging team members to apply their learnings across the organization.
Emerging technologies enable greater precision and sustainability
A strong foundation in data and analytics paves the way for new innovations. As organizations modernize enterprise data platforms and gain access to consistently reliable information, they are finding new ways to use emerging technologies to improve processes and services.
At Boeing, data is embedded across the enterprise and serves as a source of growth and resilience, CIO and SVP of IT & Data Analytics Susan Doniz said. Data-driven insights give the company a greater understanding of supplier networks, assist with product planning, and drive sustainability initiatives. Boeing is using emerging technologies like digital twins and the metaverse to drive product precision, building airplanes thousands of times digitally before creating the physical plane. Boeing also combines its own information with weather data and other external sources to drive additional value. "The value of data is not just data by itself, it's how you combine data with external data," Doniz said.
Emerging technologies have also shown promise in driving enterprise sustainability efforts. As Chevron Chief Digital Officer Frank Cassulo prepares for the transition to a lower carbon world and more renewable energy sources, he is advancing the deployment of industrial IoT, edge-based sensors, and real-time monitoring to improve the efficiency, reliability, and safety of the energy system. "We believe the intersection of technology and the energy transition is defining the rate at which we advance," he said. Last year, the company launched Chevron New Energies to identify new technology opportunities and business models to deliver a lower carbon future.
Organizations inject more data into product development and decision making
Technology leaders are embracing more data-driven decision making processes and rethinking how to measure the success of digital products and services.
For example, every Monday morning, Vinod Bidarkoppa, SVP at Walmart and Chief Technology Officer at Sam's Club, meets with the executive leadership team to discuss the Net Promoter Score of critical member and associate journeys from the prior week. Those metrics inform how the organization operates and focuses their efforts week to week. "Because there is data behind it, people can answer in a very data- driven way," Bidarkoppa said. "It makes it a very rich conversation and it's not just an opinion."
Enterprises are also expressing a growing desire for reliable cybersecurity metrics. Orion Hindawi, Co-Founder and CEO at Tanium, detailed how the company is helping customers understand how their progress on particular KPIs compares to others in their industry. That data allows customers to better see where they have adequate protection or gaps that need filling.
Data-enabled products are also unlocking new efficiencies. Ameren Chief Digital Information Officer Bhavani Amirthalingam noted that putting more data into customers' hands gives them more choice and control in managing their energy consumption. Greater accessibility to data also gives Ameren the ability to effectively track and reduce energy consumption in the data center and among key suppliers.
As Pearson offers a broader range of digital education products, it is placing additional focus on metrics such as time to value (the time between a student enrolling and actually starting a course), as well as internal productivity metrics to guide process improvements for engineers. "We are thinking about ways we can use data to improve experience and value," Wells said.
Executives find new ways to manage global talent and operating models
In an increasingly complex economic and geopolitical climate, digital leaders are among those re-examining global talent footprints and seeking opportunities to streamline or automate existing processes. More than half of MSDS respondents noted that they are bringing on more full-time employees across geographies and exploring new locations for talent.
Denton's, the largest law firm in the world, has grown from 3,500 employees 10 years ago to 20,000 employees around the world today through robust M&A activity. Over the years, each entity retained IT teams, structures, and systems. As cloud computing adoption expanded and cybersecurity concerns became paramount, especially for clients, Global CIO Ash Banerjee and his team are transforming and unifying the technology function, progressing the firm's growth and integration strategies while seeking to balance local and global needs.
Anil Bhatt, Global CIO at Elevance Health (formerly known as Anthem) works to make sure that his global product team and engineer teams have the capabilities they need to meet business needs. At the same time, he's focused on making sure team members are taking care of themselves. Bhatt's team led two employee-focused transformations and introduced more flexibility and recognition. "As you take care of associates and employees, it changes how they look at company," he said.
As the security and privacy landscape grows more complex, technology leaders must balance global rules and standards with country- or region-specific regulations. Kevin Stine, Chief of the Applied Cybersecurity Division for NIST's Information Technology Laboratory (ITL), has been encouraged by an uptick of international governments and businesses adopting and engaging with the NIST framework. He notes this global alignment of standards as a critical step to aligning key cybersecurity outcomes and avoiding duplication or conflicting expectations.
Digital positions IT for greater strategic influence
As data-based decision making and digital tools pervade modern business, technology leaders are modernizing organizational architectures to help their companies more directly tie technology initiatives to business growth. At retailer Dollar General, CIO Carman Wenkoff prioritized people and processes in the modernization journey. After evaluating organizational structures and existing ways of working, the company grouped 105 technology domains into categories and assigned domain leaders to define and implement a future vision. The new structure is helping the retailer define new ways of working and find new ways to serve customers.
The prevalence of technology is putting more leaders on the path from CIO to CEO, COO, and other business leadership roles in the C-suite. Chandra Dhandapani; Chief Executive Officer for Global Workplace Solutions at real estate firm CBRE advised technology leaders wishing to ascend to other roles to stay closely aligned with business leaders, invest in technology closely aligned with business strategy, move fast, and care about customer experience. She encouraged leaders to take an outside-in perspective and "internalize being business leaders first who happen to have expertise in technology." Dhandapani believes that CIOs are well positioned to take on additional leadership roles as they understand their organization's data strengths and weaknesses and know how to use data to develop key insights.
Matthew Schmidt contributed to this article.
At the beginning of 2021, Metis Strategy highlighted key areas of focus for the future of work. The environment has evolved significantly since then, and indeed continues to change, as organizations navigate major shifts in economic and workforce dynamics. At the heart of many discussions has been a company's most valuable asset: it's people. Amid a fast-changing business landscape, we have seen a renewed focus on employee health and wellness, re-thinking talent strategies, and enabling productivity in a hybrid work environment.
While it remains uncertain how 2022 will unfold, one thing is clear: organizations must be nimble in order to respond effectively to whatever change is coming. Technology leaders are well positioned to be a catalyst for this enterprise agility. Almost 75% of attendees at the December Metis Strategy Digital Symposium noted that creating a culture that embraces uncertainty and has the ability to pivot quickly would have significant business impact over the next six to 12 months.
As organizations look ahead to an uncertain 2022, technology leaders will continue to drive agility while placing additional emphasis on talent and employee experience. In an era of unprecedented change, an iterative, test-and-learn approach will be key. Below are a few areas of focus:
Health and wellness continue to guide return-to-office plans
When we wrote our first article in early 2021, vaccines were not yet approved and there was little knowledge of the variants that extended the health crisis. Amid continued uncertainty about the path of the pandemic, health and wellness considerations still take priority while planning for the future.
Many companies have pushed back return-to-office timelines to minimize health and safety risks. According to a survey conducted by Gartner, over two-thirds of organizations have pushed back their return to office dates, including Google, Apple, and Ford. Some companies have opted to go completely remote, while others have announced they plan to return workforces to the office when it is safe to do so. Across all of these examples is a growing embrace of flexibility as companies discover and adapt to new ways of working.
No matter their return-to-office philosophy, leaders must remain up to date on new developments and recommendations from health officials while maintaining regular and open communication with employees about expectations moving forward. Firms that embrace agility will be able to flex quickly and communicate clearly when the unexpected occurs.
Organizations broaden their horizons for talent
Across industries and job functions, competition for top talent continues to grow. As a result of "The Great Resignation" or "Great Reshuffle," companies have seen a shift in the makeup of their workforces, with more than 20 million people leaving their roles in the second half of 2021 alone. With an estimated 65% of employees actively looking for new opportunities, the competition to attract and retain talent has never been higher, giving leaders an even stronger imperative to find and retain the best people.
Organizational agility is the common thread among companies that have found success. During a recent event, Asurion CIO Casey Santos explained that her team is connecting to the talent market by emphasizing the strength of their culture and technology, becoming more flexible, and relying on less formal recruiting techniques.
Ralph Loura, the CIO of Lumentum, highlighted the need to focus on engagement and "think of people as people." Roughly 35% of CIOs at the December Metis Strategy Digital Symposium chose reskilling or upskilling as their talent development priority in 2022, followed by enhancing the employee experience. In addition to attracting new talent, finding new and creative ways to engage existing colleagues can contribute to organizations' success within the dynamic talent market.
Loura also noted that the war for talent is no longer based primarily on geography. Seeking people in different locations or creating positions that allow for permanent remote work can broaden the talent pool.
A new era of flexible work brings new opportunities for talent recruitment and development, but it is not without its challenges. Many leaders continue to grapple with the best ways to build and reinforce a cohesive culture when teammates have few opportunities to collaborate in a single space. As organizations continue to adjust their talent strategies and allow for greater flexibility, expect a renewed focus on culture building and employee development.
Taking an iterative approach to find the optimal hybrid model
In addition to building a cohesive culture in a hybrid environment, organizations must also find new ways to promote productivity and ensure teams are able to collaborate effectively. Doing so starts with providing an effective operating model.
Organizations should take an iterative, test-and-learn approach to find the model that best meets the needs of the business and its stakeholders. Some organizations are sampling the four-day work week, piloting meeting-free days, or encouraging flexible hours in an effort to increase flexibility and productivity. There have been few definitive lessons from these experiments as yet, and approaches vary based on the company implementing them. Nevertheless, this nimble approach allows teams to quickly test new frameworks and find the appropriate balance.
New collaboration models continue to evolve as well, particularly as organizations test a mix of remote and in-office teams. Providing an environment that fosters collaboration between in-person and remote employees is key to ensuring success in hybrid environments.
Agile has become the most prevalent software development methodology, with 95% of companies noting they use Agile in some form, according to the latest State of Agile report. As Agile enters its third decade, it is not a question of whether to use Agile, but which flavor of Agile to use.
In our work with companies of all sizes over the years, we have found that while many organizations purport to "do Agile," they do not necessarily deliver the higher quality, appropriately prioritized software that Agile promises.
Cultural barriers and organizational misalignment often get in the way of realizing the true value of Agile. Indeed, respondents to the survey above cited resistance to change, lack of leadership participation, and organizational culture at odds with Agile values among the top challenges to adopting Agile practices.
In this article, we will provide a brief overview of the Agile methodology and discuss five characteristics that have helped leaders address common challenges and realize greater value from their Agile implementations. 
Why Agile?
Agile methodology prioritizes delivering software in an incremental and iterative way. The way we define Agile today has its roots in 2001, when a group of software practitioners formulated the Agile Manifesto. Unlike prior approaches, in which software was developed in silos with little input from customers or business partners, Agile methodology prioritized an iterative development process that emphasized collaboration and adaptability.
Why do so many organizations choose Agile? Those familiar with linear "waterfall" software development lifecycles will remember how slow, counterintuitive, and frustrating it could be to complete a project. Project managers spent most of their time making plans and adjusting them daily, while engineers found themselves torn between actually developing software and re-estimating months of work based on changing requirements. Users were rarely happy with the end product, and despite lots of negotiation it rarely felt like anyone was "winning."
While waterfall development has a role to play in some IT projects, much of the corporate world has embraced Agile to jump-start software development and delivery efforts. When implemented well, Agile can lead to high-quality software delivered frequently and built with the end-user in mind.
In our work with Agile teams across large companies, we have observed the following five characteristics of successful implementations:
1. Executive buy-in and commitment
Any organization that wants to start on an Agile path or improve its existing Agile practice must begin with a real commitment from executive leadership. For an Agile initiative to be successful, leaders need to possess the Agile mindset and be determined to lead and support their employees through the transition. 
Most organizations that fail at their Agile initiatives miss this first step. We frequently see that leaders fall at two extreme ends of the spectrum: they are either micromanagers or they are absent. The best Agile leaders, on the other hand, give teams the autonomy to do their work while removing roadblocks and acting as a guide to ensure that goals are clear and the work contributes to the broader vision. Effective Agile leaders allow their employees to fail while creating mechanisms to learn from failures so that they are not repeated.
We see most successful implementations of Agile in organizations where leaders guide and inspire, establish the right framework, and empower their teams to do their best work. Leaders do this best by listening to their teams and trusting their judgement in the way they do their work.
2. Choosing the right process
As mentioned earlier, these days it is not a matter of whether to use Agile, but rather what flavor of Agile to use. Below are a few common approaches your teams might choose:
Scrum is the most commonly used Agile methodology for organizations that want to develop products incrementally in short iterations, with more than 75% of respondents to the Agile survey noting they use some version of it. Scrum is frequently used interchangeably with Agile, and most Agile teams today will use basic pillars of Scrum such as Sprint Planning and Daily Standups. Those whose projects involve high levels of uncertainty may select Scrum because it allows teams to share progress frequently and pivot as needed.
Many mature Agile teams favor Kanban, an Agile framework for continuous work with limited throughput, or scenarios in which teams may be working on only a handful of tasks at one time. A typical Kanban team will have work requests coming in regularly, and the team will release on a continuous basis. This approach tends to work well for teams with work that is more operational or "keep-the-lights on" in nature, such as minor feature updates or bug fixes.
Organizations that want to expand their Agile practices to large programs or portfolios often select a scaled Agile framework. SAFe®, as it is known, is the most prevalent framework for enterprise-level implementations of Agile. This is often the choice for large programs with multiple teams and intricate dependencies. These large programs are typically a combination of Scrum and Kanban teams. 
The best way to select the right flavor for your organization is to first observe and listen. Experienced Agile Transformation leaders will assess existing teams, tools, and processes to understand the current state of existing Agile practices. They will then pair those findings with the strategic goals of the business to choose the most appropriate implementation.
3. Team structures that fit the company's goals and culture
Once leadership commits to the process and an appropriate Agile methodology has been selected, it is time to begin the "practice" of Agile.
Regardless which methodology you choose, two things are critical to a successful implementation: team structures, and the roles and responsibilities within those teams.
The Agile methodology has clearly defined roles with very specific responsibilities. The Product Owner owns the vision of the ultimate goal and is responsible for setting priorities to bring value to the customers quickly. Scrum Masters are servant-leaders, responsible for removing impediments and ensuring that the team adheres to Agile principles. Delivery Teams, which can include team members with different areas of expertise depending on the project, are responsible for producing high-quality products.
Clear roles and responsibilities prevent confusion. Without them, things fall through the cracks and there may be friction between team members with overlapping roles or reporting relationships. For example, some organizations may choose to appoint someone's direct manager as a Product Owner. As work commences, the direct report working on the team may find it difficult to know when they are hearing from their boss, who can mandate how and when certain work gets done (and makes compensation and promotion decisions), or from the Product Owner, who does not dictate how the work gets done. Having a boss as a Product Owner can also diminish the sense of ownership a person has about their project.
The second most common mistake we find occurs during the formation of teams. Whatever Agile methodology an organization chooses, there are common aspects of successful Agile teams:
Size: Small. Five, plus or minus two members, with clear roles and responsibilities
Skillset: Cross-functional, with each team possessing all of the skills needed for a project
Goal orientation: Focused on a specific function or product and incrementally creating complete, potentially shippable products or features
Focus: Customer oriented and user focused
Culture: Empowered and autonomous team members
Teams with these qualities often will be better prepared to produce their best work while also adapting to changes in technology or customer demands. When teams continuously deliver products that meet customers' needs, trust will continue to develop between teams and management.
Two of the most common and easy-to-fix mistakes we see involve team size and skillset. Teams that are too large often lead to longer meetings and time to align. Teams lacking cross-functional skillsets are more dependent on other teams. In both cases, teams risk increased complexity and potential for errors.
4. A true commitment to continuous learning
Implementing Agile at scale requires a commitment to continuous learning. Rather than conducting a post-mortem analysis at the conclusion of a project and filing away the findings, Agile puts specific emphasis on Kaizen, which means continuous improvement. The concept, which comes from the Toyota Manufacturing System, aims to eliminate waste by looking for product and process quality improvements throughout the entire development cycle.
In Agile, work is broken down into smaller increments so that learning from each increment can be applied to the following increment. Agile teams will conduct Sprint Retrospectives at the end of each one-to-four-week increment where they discuss and document what went well and what could be done better going forward. They then take these learnings to make the next increment more effective.
The importance of continuous learning is often overlooked. Leaders should allow their teams to fail and learn from those failures, while providing appropriate guardrails to ensure the team is not taking on undue risk. It is critical that teams not only hold regular and honest retrospectives, but that they also act on those findings and track progress. Too often, these retrospectives can become a routine activity that does not add value. By checking in frequently to discuss lessons learned, teams can quickly determine whether a product is meeting customer needs or changes they can make to their internal processes to ensure smooth delivery.
5. The right metrics 
When measuring Agile maturity, teams should consider both hard and soft metrics.
Hard metrics are often quantitative data that can be obtained from the tools that teams use. They include:
How much work teams can deliver in one iteration, or 'sprint'
The number of tasks teams commit to versus what they complete
The change in team velocity, or the amount of work that is completed over a given amount of time
The extent to which teams are validating the results of their work via incremental delivery and feedback loops
It is important to evaluate hard metrics over a defined period of time in order to measure continuous improvement. After collecting data for at least four to six weeks, leaders will begin to see whether a team is improving or remaining stagnant. Generally, teams that embrace Agile values deliver what they commit to and increase their velocity over time.
Soft metrics are more qualitative in nature and are usually obtained using surveys and observations. We find that high-functioning Agile teams often have:
A high level of trust and support
A commitment to continuous learning and improvement
A strong sense of accountability about their work
Open and effective communication at all levels
An effective Scrum Master, for example, will regularly check in with the team to ask for their level of satisfaction with the project and process. High-functioning teams respect each other's feedback, are open to discussing difficult issues, and support one another throughout the process.  From the outside, a mature Agile team will look like a well-oiled machine. Teams will be producing high-quality, innovative work that is validated in increments, and they likely will have fun doing it!
As companies continue to deploy Agile practices across their organizations, it is important to remember that it is a journey of continuous improvement. Agile is a way of thinking, and it best serves organizations when it grows and evolves with the organization's needs. By choosing the right flavor of Agile, building cross-functional teams with clear roles and responsibilities, and practicing strong leadership from the top, companies will be better positioned to ensure that they can deliver the value that Agile promises. 
Toyota Financial Services (TFS) is a 35-year-old, wholly-owned subsidiary of Toyota Motor Corporation and is the largest auto finance company in the U.S. with $125 billion in managed assets. The company's offering includes lending payments, banking, and fleet financing, as well as insurance and protection products to consumers and dealers of Toyota, Lexus, and through private-label partner brands. The emergence of private-label partnerships has been a new part of the company's operating model, but it was enabled through a radical transformation led by the company's CIO, Vipin Gupta.  
When Gupta joined TFS nearly three and a half years ago, he found a well-run IT organization, though he recognized that it was quite traditional. He was worried the IT department was not ready for the digital transformation necessary to be a bigger, strategic contributor to the company. Gupta faced a choice as to how best to proceed. "[I could] either fix the IT organization or redesign the next version of Toyota Financial Services in a grander way and use technology as a catalyst to design a new business model for Toyota Financial Services." He chose the latter. Gupta continued, "The question that I used to ask was, 'How would we design TFS if we were born today?' If you were born in this digital world, the version of TFS [would] look very different, and the idea was, instead of trying to fix IT, let's try to design that version, try to realize that [digital] vision of TFS."
Gupta saw the opportunity to leapfrog the current standard and to make TFS into a platform for other brands to run their captive financial services on. "To do this, we needed to build a completely new technology chassis from the ground up with a multi-tenant architecture that allows us to run multiple brands on a shared infrastructure, but still keeps the data separate," noted Gupta. The key in his mind was to transform behaviors before transforming technology. By first changing the way the team worked, the technology modernization pathway was clearer. The change required rethinking the way in which the company collaborated, the way new solutions were designed. "The best of strategies will fail without a culture that complements that aspiration," said Gupta. "On the technology front, our vision is clear. We will use the cloud, and we will design a multi-tenant platform to deliver mobility finance as a service."
When asked how the culture change was facilitated, Gupta noted how addressing three main points formed his gameplan, each using speed as the key performance indicator. First, there was a need to change the speed of decision-making. Second, there was a need to increase the speed of collaboration. Third, the team needed to increase the speed of engineering.
Speed of decision-making was the lynchpin according to Gupta. "Decision-making is the biggest barrier to speed and flexibility in an organization," he noted. "The largest waste in IT projects is not in engineering. It is in decision-making and the lack of clarity. If you make decisions quickly supported by data and communicate decisions clearly, the team will consistently deliver with high quality and efficiency." The key is to start this change from the top of the organization. Leaders needed to become more agile. Gupta facilitated the creation of new scrum-based routines for TFS's executive team.
To facilitate the speed of collaboration, the digital organization needed to operate as a single ecosystem rather than separate silos. "Any business is a perpetual machine," said Gupta. "It's not a collection of time-bound projects. It needs durable teams led by subject matter experts, not by project managers only. These teams need to follow repeatable routines to maintain a continuous dialogue and prioritization." Gupta developed a product orientation to the company, bringing together skills and teams from across the company aligned with the products that were defined. This common means of operating across product teams created greater output, but it also created greater levels of understanding and empathy across teams. Team members from across product teams shared information and learnings in ways that had not been the norm previously.
Changing the speed of engineering started with an acknowledgment that software is TFS's product. As such, the company needed to become masters of its own technology. "We need to be as good at software engineering as [Toyota is] at automotive engineering," said Gupta. "Inspired by our automotive factories, we built digital factories using the lean manufacturing practices of Toyota that have long been admired [the world over]. Just like automotive factories, the new digital factories were formed. They're founded on consistency and standardization of behaviors, practices, and routines. We developed a new software engineering methodology that combines Toyota manufacturing practices with agile and scrum practice of software development."
By increasing speed across these three vectors, the company was able to transform in months when years was the going-in assumption of what was possible. The key was to begin with the behavioral transformation. Gupta underscored that the focus on transforming habits before transforming the platform was a game-changer for TFS.
In order to ensure that the entire company and not just the technology employees raised their digital acumen, two years ago Gupta founded the TFS Digital Academy. "Harnessing the power of software is not just IT's job; it is everyone's job in a digital company," noted Gupta. "The idea was not to just to train IT, but to train everyone across the organization, and whether they are employees or consultants, everyone will be trained in the new practices, new methods, new approaches, new behaviors." This leveled the playing field and ensured that that level was much higher than in the past.
All of these changes have enabled the IT department to grow its contribution to the company's success without growing costs. The new way of working has "reduced waste dramatically," according to Gupta. "We've been managing our expenses in a very disciplined way, and we are now open to partner with any automaker, mobility provider or services provider, who wants to offer high quality, captive financial services for their brand to their customers and dealers." As such IT's transformation has been critical in developing the new private-label business. Mazda was the first partner to engage through Mazda Financial Services. Mazda gains mightily through the partnership by focusing on its products while leveraging the capabilities, talent, and quality of TFS.  
The future will include adding more brands to this model, but Gupta also sees the possibility of additional products and services. These will include insurance and payments in the used car business, for example.
Gupta has achieved a tremendous amount in less than three and a half years in his role. With the digital innovation engine that he has created with speed as the metric, no doubt this is just the beginning of what he and the team can accomplish for TFS.
Peter High is President of Metis Strategy, a business and IT advisory firm. He has written two bestselling books, and his third, Getting to Nimble, was recently released. He also moderates the Technovation podcast series and speaks at conferences around the world. Follow him on Twitter @PeterAHigh.
While CIOs continue to prioritize the shift to product-oriented operating models in 2021, companies still struggle to create empowered product teams throughout their organizations. One significant inhibitor is often the lack of progress and investment in DevOps.
Amazon Web Services defines DevOps as "the combination of cultural philosophies, practices, and tools that increases an organization's ability to deliver applications and services at high velocity." In this setup, "development and operations teams are no longer siloed… [and] engineers work across the entire application lifecycle, from development and test to deployment and operations".
DevOps can significantly enable product operating model transformations. It brings agile processes to life through technical enablement, turning processes into automation. Put simply, this often means automating the software development process from start (continuous integration / CI) to finish (continuous deployment or delivery / CD) while also creating empowered developers with a pulse on customer needs.
A successful DevOps transformation enables teams to react quickly to shifting market demands and reduces risk by decreasing the time it takes to get working software out the door. For example, an empowered product team that releases new features daily or hourly can iterate and innovate securely much faster than in the past, allowing for constant validation of product strategy and the ability to scale when they find something that works.
DevOps, Agile, and product operating model shifts are closely linked in successful digital companies. Through our work with some of the largest organizations in the world (both digital natives and digital immigrants), we have found that leaders who closely couple DevOps transformation efforts with Agile and product management transformations are significantly more successful in realizing their goals. Below are four tips to help you do so successfully:
Don't neglect DevOps as you plan your transformation. Technical enablement is a significant dimension of the product operating model shift and requires investment in tools, people, and culture. You do not want to find yourself at the end of your transformation with teams that are ready to move at hyper-speed but technology and processes that won't let them.
Share a cohesive vision for how DevOps, Agile, and product management will empower the organization. Operating model transformation can throw significant change at teams in a short amount of time, and it is important that they understand how everything fits together. Creating missionaries, not mercenaries, requires more than a simple mandate to automate.
Don't put day-to-day DevOps transformation efforts in a silo. While you might need a DevOps deputy to lead and execute your vision, this person should be tied at the hip to Agile and product management leaders. Your DevOps evangelists should constantly be answering the following questions from product teams: How does DevOps improve our existing agile processes? How does DevOps allow us to better respond to our customers? How will this help us meet or exceed our goals?
Use pilot teams to showcase DevOps success. Once others see how a mature, technically enabled team can take advantage of a product operating model, they will be clamoring for transformation. Real life examples illustrate how automation, process, and cultural change combine to create empowered teams even in change-resistant organizations.
In future posts, we will go into more detail about how to kickstart your DevOps transformation, from examining the key dimensions of the transformation process to exploring creative ways to fund DevOps efforts. Drop us a note if you have any questions, thoughts, or suggestions for future topics to cover!
This article is part of an ongoing series exploring the ways in which companies are can prepare for a post-pandemic world of work.
Tiffany Jenkins, Mac Connolly, and Yucca Reinecke co-authored this article
In the post-pandemic world of work, flexibility will be key. Our conversations with technology executives suggest that many companies expect to maintain a hybrid working model, in which some employees work remotely, others work primarily at the office, and many move back and forth between the two. More than 80% of executives polled during the January 2021 Metis Strategy Digital Symposium expect either a 50/50 split between remote work and the office or for most employees to work remotely beyond the end of the pandemic. And just this week, Salesforce.com said it would give employees three ways to work, even once it is safe to return to the office: flex, fully remote, and office-based.
In this article, we will explore four key dimensions leaders should consider as they evaluate the people, process, and technology changes needed to enable hybrid work for the long term, including:
Adapt employee policies, procedures, and operating models for a hybrid working environment
Rethink employee experience through a lens that balances productivity and well being
Leverage technologies to enhance collaboration and productivity, regardless of work location
Reimagine physical office spaces to support hybrid work
Adapt your operating model for a hybrid world
A shift toward a long-term hybrid working model requires a major rethink of day-to-day operations. While many changes were made at the peak of the pandemic, including, in many cases, a massive shift to remote work, companies should now build upon the experiences and learnings to date while developing a sustainable operating model that supports these changes long into the future. That means rethinking existing ways of working, scheduling meetings, current employee practices, and the policies that govern daily operations.
An important first step is to assess which jobs will require a return to the office, which ones can be conducted fully remote, and which require a mix of both. In order to answer that question, companies may need to look at jobs from different points of view, including functional responsibilities, type of work performed, and the skills and preferences represented in certain jobs. For example, some companies are experimenting with having groups of employees return for a few days per week or bringing together certain teams on specific days when these teams are expected to engage in collaboration or discussions that benefit from co-location and in-person interactions.
For jobs that will be largely remote, leaders should think about whether those workers will be required to be located within a certain proximity of the office or other work-related physical location, if compensation changes based on employee location are warranted, and other policies that will impact future decision-making.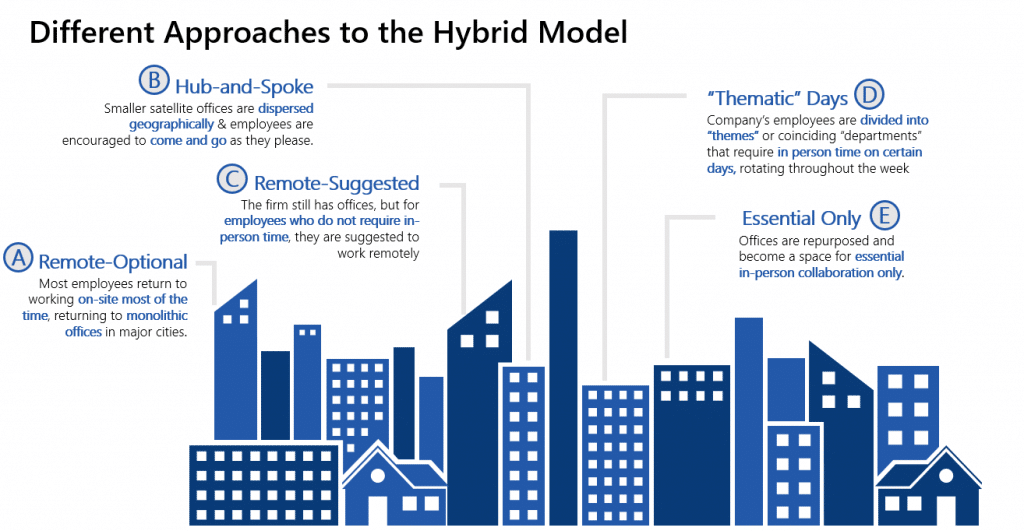 An operating model fit for a hybrid work environment should also anticipate the new, often more complex, ways in which colleagues will collaborate, over virtual collaboration and communication tools or even across time zones, and how that impacts productivity, employee experience, and company culture. Determining how and where teams will be expected to work together can further influence decisions around technology and real estate investments, as we will explore below.
Double down on employee experience
Companies are placing renewed focus on employee experience as teams adapt to major changes in their work habits. While a shift to largely remote work during the pandemic led to increased productivity at many companies, the new setups also showed remote work's potentially adverse effects on well-being as employees balanced the demands of work and home. Indeed, many employees' greatest challenges stem from the physical and emotionally blurred lines between the workplace and their personal or family lives. As one of our executive partners recently said, "we no longer work from home, but we live at work". Left unaddressed, these challenges could lead to difficulties retaining talent long term.
To that end, it is increasingly critical to invest in an employee experience that balances productivity and employee well-being. Fortunately, most organizations have realized that well-being, productivity, employee satisfaction, and retention are more closely intertwined than they were pre-pandemic and should be addressed in unison. Doing so can lead to higher engagement, and ultimately better business outcomes. A Gallup Study found that engaged employees are 21% more productive, 22% more profitable and score 10% better on customer ratings than unengaged employees. Companies that consider all these factors are more likely to retain talent and, in some cases, may become a more attractive employer now and during the gradual return to the 'next normal.'
A key driver of employee engagement efforts is providing employees with the tools and support they need to do their jobs successfully no matter where they work. These can range from technology such as laptops, collaboration tools and video-conferencing applications to perks that support health and wellness, from gym reimbursements to subsidized childcare and access to therapy and mental health support.
Several organizations have also begun to experiment with virtual and digital tools that attempt to replicate the social interactions that typically occur in a physical workplace, such as virtual "water coolers." While not intended to produce concrete outcomes, these social interactions have shown to lead to greater team cohesion, trust among team members, and generally higher levels of employee motivation. However, it is also important for leaders to help employees know when to log off or when it may be best to disconnect from more rounds of video conferences. Leaders should continuously solicit feedback and measure outcomes of these efforts on productivity and perception of well-being.
Putting people first by ensuring that they have the support they need, communicating early and often, and creating new opportunities for learning stands to boost both engagement and productivity no matter what comes next. As Verizon CIO Shankar Arumugavelu said in a recent interview about the company's pandemic response: "We all have business resilience plans. At the end of the day, what stood out [at Verizon] is the human resilience. That really made the difference here." As the company develops its post-pandemic plans, the company is taking the opportunity to rethink how things are done for the betterment of customers, employees, shareholders and society.
Several of the organizations we work with have addressed the new realities of virtual work by making it easier – and in some cases even explicitly welcome – to have family members join certain meetings, for example, or by otherwise supporting employees who are exposed to the logistical challenges of co-managing professional and personal lives.
Leverage new technologies where appropriate, regardless of work location
As noted above, enabling a successful hybrid workforce means ensuring employees have access to the technology and tools needed to carry out day-to-day operations. In our conversations with IT teams, we have found that reliable and secure video conferencing, instant messaging, whiteboarding and visualization tools that can be accessed in and out of the office have often been deemed essential.
Rather than attempting to fully replicate the workplace in the remote environment, companies should first assess the digital tools and capabilities that have best supported a remote-first workforce. Firms can then assess how those tools may enable collaboration in an in-office and hybrid working environment and think through the process changes that may be required to do so. Many IT teams we have spoken with have adopted new interactive whiteboarding tools, for example, and companies have invested in the training needed to ensure teams are well positioned to use them.
Of course, simply implementing the needed tools will not lead to greater collaboration. Leaders also must be intentional about driving adoption. Slack or similar communication tools will not improve effectiveness if only a few people use it. Conversely, with deliberate and widespread adoption, the use of real-time communication tools can address the fundamental need for accessibility.
Rework the physical space to maximize collaboration
At a recent Metis Strategy Digital Symposium, Comcast CIO Rick Rioboli noted that the pandemic has created an opportunity to completely rethink the physical office. The company now is approaching its offices "not as what we go back to, but rather as what [our offices] can do for us." Similar conversations are happening across industries as leaders consider how best to use physical office space once it is safe for employees to return.
Often, those conversations include thinking about how to weave digital capabilities that currently serve remote employees across the physical office environment and how to reconfigure existing space to maximize the potential for productive collaboration in a post-pandemic, hybrid world. A workplace intelligence report by global technology leader NTT Ltd. found that 31% of companies are implementing additional creative thinking spaces, while 30% will provide more meeting places and 27% will reduce individual desk space.
Turning the office into a digitally enabled, collaboration-first environment will be critical to enabling a hybrid workforce. As companies seek to create a safe, collaborative, and efficient space for their employees, we have observed a few common practices:
Building "smart" meeting rooms: These spaces allow in-office employees to easily collaborate with their remote counterparts. These "smart" rooms often include video-conferencing capabilities, smart whiteboards, mobile-friendly office management applications, and virtual collaboration hardware such as 360-degree cameras.
Providing a portable and secure environment: At many companies, network technology will need to evolve to support an environment where employees are constantly on the move between the home and office. As part of the strategic discussions about adopting a hybrid operating model, firms should also assess the impact on their company's network infrastructure and what new tools are needed to support a mobile, connected and productive workforce.
Incorporating workplace analytics: As changes to the operating model take hold, it will be increasingly important to measure the impact of those changes. In a recent podcast, Adam Stanley, CIO and Chief Digital Officer at Cushman & Wakefield, discussed a tool called Experience per Square Foot that collects data about employee experience in the office. Those same tools, he said, could extend to remote work environments, and help leaders make informed decisions about how to adapt their environments.
In addition to layering digital tools onto the digital space, there are some design changes that can benefit hybrid employees as well. Among them:
Creating a "hot-desking-friendly" space: Foster an environment that is conducive to plugging and unplugging. Making second monitors widely accessible in those desk spaces (in a way that prioritizes health and safety) can enable employees to move to and from the office while maintaining equal levels of productivity.
Designing activity-based environments: Huddle rooms for one-on-one meetings, phone booths for calls, larger conference spaces and separate, movable desks are just a few of the changes being made to create more activity-based spaces while balancing the need for privacy.
Investing in co-working spaces: As companies rethink their real estate footprints in light of the pandemic, some are choosing to invest in smaller co-working spaces that are closer to employees. Done strategically, this setup can generate sizable cost reductions while fostering a strong sense of community and providing employees with the option to work in different settings.
As companies begin to formulate and test hybrid operating models, continued investment and careful strategic planning are necessary to maintain effectiveness and resilience. While reports of increased productivity are reassuring, the next question to ask is how to make that productivity is sustainable over the long term. By adapting your operating model, investing in employee experience, empowering employees with needed tools and technologies, and rethinking the purpose of physical spaces, companies will set themselves up to tackle the changes brought on by a new world of work.
Chris Boyd co-wrote this article.
Leading digital transformations is the CEO's top priority for CIOs, according to the 2020 IDG State of the CIO study. Doing so effectively requires an IT operating model that allows business and IT to work together to navigate a dynamic competitive landscape, a seemingly infinite set of digital tools and shifting stakeholder demands.
In our work with Fortune 500 companies, we have found IT organizations that use the traditional "plan, build, run" operating model struggle to conceptualize, launch and maintain momentum on digital transformations. To bolster their transformation capability, IT organizations across industries and geographies are shifting toward product-oriented operating models, or "product-based IT". When done right, organizations experience increased agility, happier customers and more successful transformations.
Defining product-based IT
A product is a capability brought to life through technology, business process and customer experience that creates a continuous value stream. Examples of products are eCommerce, supply chain, or HR. An operating model defines how an organization positions its people, process and technology to deliver value to both internal and external customers.
A product-oriented operating model, then, is one in which IT resources are organized around business capabilities or "products" instead of specific IT systems (e.g. SAP, CRM) or functions (QA, Engineering, Infrastructure). In this model, each product team works as if they are managing a market-facing product such as a consumer electronics device. They develop a product strategy and roadmap in lockstep with the business that clearly articulates how they will mature the product to better meet customer needs and optimize competitive positioning. Every feature on the roadmap is aligned with a measurable business outcome and goes through a rapid discovery phase to validate value, usability and feasibility before it is slotted in a sprint to achieve a minimum viable product.
Drivers for the shift to product-based IT
Most organizations have honed their ability to deliver when the scope and desired outcome are static, but struggle when next steps aren't defined or are painted with a broad brush. Several leading IT organizations have turned to product-based IT to cut through this ambiguity and elevate their role from service provider to business partner.
Art Hu, the global CIO of Lenovo, is one of the pioneers in the shift from project-to-product. He noted in a recent conversation that his organization grappled with the question of what to work on next after completing a series of legacy ERP integrations resulting from acquisitions. "The fundamental paradigm shift for us was that the level of uncertainty had changed when there was no longer one single imperative," he said, referring to the ERP project. "When we took that away, it was a totally different world and traditional waterfall didn't make sense anymore. Until we as an organization realized that, the business teams and my teams struggled." Product-based organizations rely on continuous customer engagement to remove guesswork from the prioritization process, which often leads to better business outcomes and increased agility.  
Product-based IT targets key behavioral changes
CIOs have targeted key behavioral changes to jumpstart the shift to a product-based operating model:
Work is value driven, not plan driven
Project plans developed with fixed deliverables and timelines encourage predictability but rarely equate to business outcomes. This plan-driven work is increasingly yielding to continuous discovery and delivery, which seeks to answer two questions on a recurring basis: what should we build, and how should we build it? A discovery track intakes opportunities, ideas and problems to solve. Teams then engage with customers to validate that those ideas create value (desirability), will be used once released (usability) and are feasible in the current business model (feasibility/viability).
"Great companies that have built a product orientation start with desirability and leverage design thinking to have empathy-based conversations to get to the core of problems," Srini Koushik, the CIO/CTO of Magellan Health, said during a recent product management panel. Ideas that make it through discovery are added to a product backlog and are slotted into sprints for delivery based on relative business priority. Discovery and delivery tracks operate concurrently to ensure that a steady stream of validated ideas and a working product that drives business outcomes is delivered at the end of each sprint.
Teams are dedicated and longstanding, not temporary or part time
In a recent strategic planning session, one CIO stated that "transformation is not a part time job," noting that dedicated teams are critical for both digital transformation and building a product orientation in IT. Teams that are formed on a project-by-project basis spend valuable time ramping up subject matter expertise and building chemistry, but then are disbanded just when they start to hit their stride. Product-based IT organizations, on the other hand, favor dedicated teams that own a product from introduction until sunset, including the execution of discovery, delivery, testing and maintenance/support. In this model, the dedicated teams become true experts on the domain and avoid pitfalls resulting from intraorganizational handoffs and revolving resources.
Customer feedback is gathered at every sprint, not just at the end of a project
The increased frequency and quality of customer interactions is a hallmark of product-based IT. Ideally, customers are engaged during the discovery phase to validate ideas and prototypes, and then provide feedback at regular intervals after the product is released. If your end customer is a business unit, you should strive to have even more interactions. Some organizations have business stakeholders participate in daily stand ups, and some may even have their product owners sourced directly from the business instead of IT.
Atticus Tysen, the Chief Information Security, Anti-Fraud and Information Officer at Intuit, is another pioneer in the shift from project to product. At the 2019 Metis Strategy Summit, he emphasized that true product organizations reflect on key questions that demonstrate their strong relationships with customers. For example, do you really know who your customers are, and are you organized around serving them? Do you have metrics to measure customer happiness and show you are working with them in the correct way? "You have to have customers if you're going to have a product organization," Tysen said. "Product managers in a lot of ways are relationship managers."
Teams are perpetually funded, not on a project-by-project basis
To achieve the benefits of a product-centric operating model, the funding model must shift as well. Rather than funding a project for a specific amount of time based on estimated requirements, teams instead are funded on an annual basis. Also known as perpetual funding, this setup provides IT product teams with stable funding that can be reallocated as the needs of the business change. It also allows teams to spend time reducing technical debt or improving internal processes as they see fit, which can improve productivity and quality in the long run.
Smart first steps to begin the shift to product-based IT
Here are a few key steps to begin the journey…
Identify targeted metrics and establish a baseline
Organizations should first and foremost target business impact when shifting to product-based IT. For example, one Fortune 500 client chose to measure Net Promotor Score to assess business satisfaction, product team velocity to assess speed to market and the number of critical defects per product to assess quality. It is also prudent to create metrics that track the adoption of key aspects of the working model. For example, you may track the percentage of product teams that have developed strategic roadmaps, or survey product teams on a regular basis to see how many feel like they have the skills needed to succeed in the product-based operating model.
Define your products using a value chain approach
Start by identifying the highest-level customer-facing and internal capabilities in the organization, such as Product Development, Sales, Marketing, Supply Chain, HR and Finance. At the highest level, these are your Product Groups, or "Level 1." If your organization is smaller and has a relatively simple technical estate, you may not need to break this down any further.
However, we have found most enterprises with multiple business units and geographies need to do so. Inside the Sales group at a SaaS company, business processes would likely include steps such as Discovery, Lead to Cash and Customer Success (which includes activation, adoption, expansion and renewals). These may become your product groups since each of these steps involves different business stakeholders, targeted KPIs and technology components. However, the way you design your product teams will ultimately depend on the intricacies of your organization.
Absent a one-size-fits-all approach, we suggest the following guiding principles:
Establish clear ownership: The top priority should be to carve out product teams in a way that allows them to truly own and feel empowered to make the changes necessary to mature their product
Align with architecture: As much as possible, product teams should be able to own their architectural roadmaps and not have significant dependencies on other teams
Build teams around similar process and technology: If work is unique and utilizes different data, processes and technology, create another team
Keep it small: A product team should aim have no more than 10 people
Be strategic: Ensure your product teams cover the various business stakeholders and strategic goals
Continuously evolve: Strategic goals and business priorities shift often, leading to shifts in the product team landscape. Assign someone in your organization to review product team composition on a regular basis to assess the need to develop new products, modify existing products or sunset products that no longer align with strategic goals.
Define the roles/responsibilities for each product team
A key to product-based IT is building cross-functional teams that have the business and technical skills needed to accomplish most tasks inside their teams. The most important role in your product team will be the Product Owner (or Product Manager). Referred to as unicorns by some, these individuals possess the unique blend of business (strategy, competitive analysis), technical (architectural vision, technical project management) and leadership (decision-making, stakeholder management) skills and are responsible for driving the product vision and strategy and leading execution.
To fill this role, many organizations will conduct a skill assessment with their organizations to determine the skills needed to be successful, gather an inventory of available skill sets and shape a training program to fill gaps. As you structure the rest of the product team, think about how the skills of other team members can complement the product owner skill set so you are creating a strong blend of business, technical and leadership skills in the team. Beyond the Product Owner, you may have a Business Analyst that serves as a Junior Product Owner and supports detailed data and process analysis. A Scrum Master would drive Agile ceremonies, a Technical Lead would create a solution architecture and orchestrate technical activities, and an Engineering/QA team would ensure delivery of a high-quality product.
Define shared services to create scale
Think about IT services that are BU agnostic, needed across all product teams and in demand only on a part-time basis by the product group. These are your Shared Services. Shared Services cut horizontally across the product groups and teams. Just like products, these specialized groups endeavor to mature and develop new capabilities and empower their customers (in this case the product teams themselves).
Typical Shared Service groups include Enterprise Architecture, Infrastructure & Cloud, Security, DevOps, Customer/User Experience, Data & Analytics, Integration, Program/Vendor Management and IT Operations/Support. The Office of the CIO is an increasingly prevalent Shared Service that is responsible for defining the enterprise IT strategy, setting metrics and measuring success. Each Shared Service should publish a service catalog detailing their offerings and processes for engagement with a bias towards self-service (where possible). Shared service resources can be "loaned" to product teams if there is demand for an extended period.
Common false starts
Assuming everything must be product-based. When shifting to a product-based operating model, there will still be some cases where traditional, project-based teams and waterfall delivery are appropriate. Large-scale ERP migrations, for example, may continue in a waterfall fashion, or your CFO may not be comfortable with a product team making changes to the general ledger platform every two weeks. Each application of product-based IT is a unique situation and should be assessed before force-fitting a new operating model.
Confusing product-based IT with Agile. Many organizations will be quick to claim victory or assume they are "already product-based" because they are executing in two-week sprints. In reality, a team could be sprinting every two weeks and producing outputs that do not drive targeted business outcomes. The spirit of product-based IT lies in the continuous engagement with the customer, using agile as a mechanism to pivot quickly to meet the ever-changing customer needs.
Lacking product management muscles in IT. Challenges often emerge when IT starts increasing its role in setting product strategy and defining product roadmaps. Effective product managers have a pulse on external market forces and the competitive landscape. These are not skills that have traditionally lived in the IT organization. Cultivating new skills through a rigorous training program for product managers is often necessary to build brand permission with the business.
Not changing the lens on business conversations
IT often starts with feasibility and viability, approaching desirability only if the former two boxes are checked. Product managers need to start with desirability and build the ability to adapt their storyline based on the audience. Avoiding technical speak and endless strings of three letter acronyms will also go far in building this rapport.
Shifting to product-based IT is a major cultural and operational change. When done well, it can result in better relationships with customers and business partners, increased agility and improved business outcomes.
This article was co-written with Chris Davis. 
Summary: People, not technology, are the true center of any digital transformation initiative. The half-life of skills is rapidly shortening, necessitating a mindset that embraces change, an adaptable skill set, and a workforce plan that ensures an organization has the talent necessary to operate at speed and scale through hiring, automating, upskilling, and sourcing.
Putting talent at the center of digital transformation
The biggest challenge of any digital transformation is not revamping technology, but rather shifting the company's mindset to embrace new ways of working. Just like you can lead a horse to water, but you cannot make it drink, little can be achieved by making the latest tools available to an organization that is anchored to traditional processes.
Transformation efforts should have people at their core, and leaders must be intentional about inspiring, listening, and investing in change management to bring everyone along on the journey. We find that organizations typically under-communicate by a factor of 5X, don't clearly articulate a pathway for current employees to help be a part of the future, and take an imbalanced approach to closing skill gaps.
With that in mind, there are three steps to developing an effective talent strategy for transformation:
Start with why: Communicate the rationale behind the transformation and the path you expect it to take; inspire, listen, and communicate relentlessly
Assess your skills strengths and gaps: Identify the skills, knowledge, and traits you need for the future and build a coalition of change agents and key talent that can serve as force-multipliers
Define a workforce HAUS: Develop a staffing model that allows your company to achieve digital transformation goals that accelerate growth through hiring, automating, upskilling, and sourcing
While not an exhaustive list of activities to drive a transformation, executives that do not prioritize the people component of change management will inevitably fail.
Start with why and communicate relentlessly
People do not change their beliefs, values, and attitudes without good reason. They are especially unlikely do so when the norms, practices, and measures of success are inherited from a company legacy that has historically been successful. Success forgives a lot of sins, and even when there is a collective recognition of a need to change, it feels safer to endure the predictable way of working rather than venture into the unknown. This is why author Simon Sinek, whose TED talk amassed 48 million views, encourages leaders to "start with why." In practice, that means explaining why the team is undergoing the change, what the expected impact and outcome will be, and how the firm and its people will benefit as a result of the transformation.
Communication must be personal. We regularly find that a senior leadership team will spend roughly 50 hours agreeing on a transformation plan, but an individual contribute receives less than ten hours of cumulative explanation. As those individual contributors are most directly affected by the change, this ratio is dramatically disproportionate. In this scenario, by the time the message reaches individual contributors the rationale for change is unclear, which can prompt fear and resistance. Develop a communication plan that segments personas by seniority, functional domain, and project/product team. Establish a communication campaign cadence per persona that specifies varying levels of detail tailored to the channel of communication (group meetings, training workshops, webcasts, 1:1s, etc.)
To catalyze the change, focus on creating a compelling vision for the future and explain how the leadership team will work with individuals to ensure a smooth transition. Communication is bi-directional, so ensure there is an active feedback loop. Workshop role-specific examples of new work patterns. Even if people raise concerns, it is more valuable to identify active resistance and change "detractors" early on than to succumb to passive resistance that erodes momentum. However, to create an environment of trust, it is critical not to shame anyone that has a concern into submission. Be judicious about delineating whether a voiced concern is someone being obstructionist or whether it is sign that the leadership team is not being effective in its communication.
In addition to the qualitative feedback loop, it is important to define and track outcome-oriented metrics that drive desired behaviors. Monthly dashboards at different levels of the organization can help transformation teams promote a successful, sustainable digital transformation. Done well, they can highlight areas where the right talent and skills are missing, monitor the achievement of key transformation change management milestones, and gauge the sentiment of the team. The metrics should serve as a compass to enable leaders to make data-driven decisions on how to steer the transformation when waters get choppy.
Assess your skills, knowledge, and traits and identify gaps compared to future state needs
Digital transformation will require people across your company to learn new skills and adapt to new ways of working. These skills typically fall into one of three buckets:
Technical skills, such as knowing how to use data analysis tools or program automation scripts (e.g., creating Tableau dashboards or Selenium test automation)
Analytical skills that help people connect the data generated by reporting and visualization tools to overall business goals (e.g., creating and understanding the business insights)
Leadership and people skills that help managers develop and retain top talent (e.g., leading and influencing others)
First, functional leaders should partner with HR to conduct a skills assessment and identify gaps between existing and needed skills. When speaking with employees, it is critical to communicate that this is not a performance evaluation. Otherwise, you may run the risk of employees overselling their abilities and skewing the results of the assessment. Instead, think of this as a way to identify and prioritize where the organization will dedicate its training and development resources. Explain how the newly acquired skills will advance one's career and personal brand so that there is motivation to be vulnerable rather than self-aggrandizing.
Identify the people whose work creates the benchmark for the skills, knowledge, and traits your transformation needs, and deputize those high-performing and high-potential individuals as change agents for new skill adoption. Some practical skills to measure include consultative and technical skills, product and project management, and self-development and adaptability traits.
Next, develop a plan to close existing skills gaps and align it with the firm's overall goals. Create training plans, with clear goals by level and function, and turn this into a digital transformation workstream like those used to manage other process or organizational changes. Set realistic timelines for skills adoption so employees are not paralyzed by the enormity of the change. One large financial services company set a bold vision to move its entire infrastructure to the cloud but was clear with employees that it would do so over five years and offered an internal "university" to certify people in new technologies like AWS S3. As a leader, you cannot just tell people to improve. You need to show them how to improve and invest in their development.
Define a balanced workforce plan around hiring, automating, upskilling, and sourcing
As companies define and identify skill gaps, they also need to develop a strategic staffing strategy that will help them achieve their transformation goals through the HAUS model: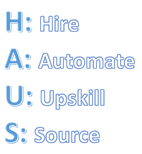 Hire: Based on the skill inventory, it will be critical to hire top talent — perhaps at a market rate above what you pay existing employees — into leadership roles. Full-time hires should be focused on core competencies that are unlikely to change and require long-term thinking, such as product management, technical architecture, or heads of user experience.
Automate: Organizations' often throw more headcount at a transformation and assume that will solve a problem. However, an explicit mandate for any digital transformation should be to create a platform that allows the company to scale exponentially, not just linearly. In the near term, you may need burst capacity to provide the right level of customer support, but the mid-term should enable the ratio of customers to customer support agents to improve by a factor of 2X to 5X.
Upskill: As mentioned earlier, any transformation will require an investment in hard skills training, but it is also critical to invest in training on new process adoption, mindset, and storytelling. Training programs should be targeted to both technical workers and employees throughout the business who will be responsible for digital product management, product marketing, and organizational change adoption.
Source: Sourcing is often the first lever executives look to pull during a transformation because it appears fast and easy: "Company X has done this exact thing, has an army of people, and we can mitigate risk by ending the contract as soon as we are done with the project." While sourcing is an absolutely essential component of a workforce plan, it should be considered the last option and executed with extreme clarity of intention. Any digital transformation will involve a shift from a project- to a product-based mindset, which requires a complete re-thinking of long-term knowledge, accountability, and skills that you want in-house. Sourcing should be used selectively when there is a clearly finite body of work that will not repeat itself (such as a merger & integration), when the urgency to get to market is such that material opportunity will be lost if recruiting cannot move fast enough, or if there is an emergent technology for which talent is in very limited supply.
The HAUS model allows leaders to decide how to fulfill their talent needs across core, value-added and transactional activities. For example, a company may decide to hire its head of DevOps, automate its software delivery value chain through CI/CD, upskill its current developers to learn to use the new tools, and in the interim source talent that can "teach to fish" while implementing the first wave of the new approach.
Another example can be drawn from the first wave of mobile app development. In 2010, iOS development was a fairly rare skill, so any major non-tech company developing its own mobile app was likely hiring an agency. Fast forward a decade, and you'll find that most companies with major mobile-powered commercial operations will have in-sourced that skill set to have more control over their own destiny. The next wave of skills following this pattern is artificial intelligence and machine learning; most companies are outsourcing this skill set now but will likely have more internal talent in 2030. In this way, the HAUS model becomes a living, adaptable framework, instead of a one-time solution.
People and behaviors lead digital processes and tools, not the other way around. Putting people at the heart of the transformation while tracking results and behaviors is key to ensuring a successful and sustainable talent strategy. Your talent strategy must be managed as an equally weighted workstream within the overall transformation portfolio in order to ensure that the company's most important assets are not overlooked. Finally, be humble. No transformation is perfectly planned, so be prepared to communicate, listen, and transform yourself first, if you want others to follow you.