CIOs, technology and operations leaders, VCs, and artificial intelligence experts shared their insights on the evolution of AI in the enterprise and gave us a glimpse of where things are headed in 2020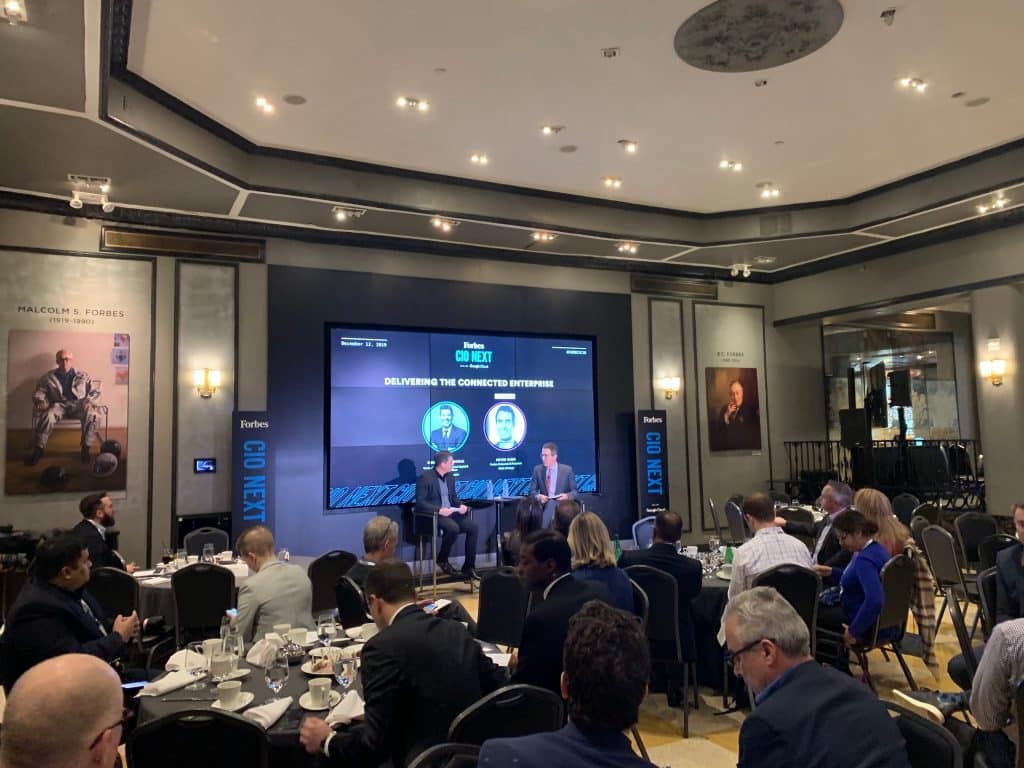 The Metis Strategy team was honored to participate in the 2019 Forbes CIO Next conference, where chief information officers, technology and operations leaders, VCs, and artificial intelligence experts shared their insights into the evolution of AI in the enterprise and gave us a glimpse of where things are headed in 2020. Here are a few lessons we brought home:
"Digital immigrant" companies leverage their strengths. Organizations not born in the cloud, often referred to as "digital immigrants," continue to face challenges that many of their digital native competitors do not. But as legacy firms upgrade their technology environments and make progress on digital transformation efforts, they increasingly are able to make use of their inherent advantages: stockpiles of valuable data, decades of industry expertise, and the scale to enter new markets quickly.
At Rockwell Automation, for example, the convergence of Information Technology (IT) and Operational Technology (OT) and an increased focus on data has helped the company improve its on-time delivery, optimize and automate many internal processes, and shift its business model toward services such as telemetry and predictive maintenance. At insurance firm Travelers, aerial photos paired with geospatial data and claims information help the company quickly assess potential losses and deliver help to customers.
In 2020, we expect digital immigrant firms will continue to use their data and scale advantages to optimize internal processes and deliver tech-enabled products and services that can compete with their startup rivals. New technology investments will focus on business capabilities that truly differentiate companies from their competitors.
New ways of working take hold, but developing talent remains a challenge. The line between IT and the business has all but disappeared as firms embrace cross-functional, agile product teams. Many executives noted that this way of working has allowed them to respond more quickly to market changes and provide better customer experiences. We expect this cross-functional collaboration to increase in the year ahead.
At the same time, the battle for talent shows no signs of slowing down. Conference attendees listed talent as a top priority for 2020 as they look to recruit, hire, and retain new people while re-skilling existing employees for jobs of the future. Executives said they continue to seek and develop "T-shaped" employees who have a breadth and depth of skills that span technology and operations. They also recognize the need to create work environments that promote continuous learning at all levels.
We're still in early innings with AI. Enterprise adoption of AI and machine learning is accelerating as companies explore new use cases and pursue applications that drive concrete business value. In the year ahead, we expect many companies will work to hone existing use cases and develop mechanisms to scale advanced analytics capabilities across the enterprise. Indeed, as many traditional organizations called themselves tech companies in recent years, some panelists suggested we might start hearing them refer to themselves as AI companies.
But significant work remains to be done. Companies continue to invest in their core data infrastructure, and executives are looking for new ways to measure and communicate ROI for their AI initiatives. There are also fundamental issues yet to be resolved, such as how to create explainable algorithms, how to reduce inherent bias in data sets, and whether certain AI technologies should operate without a human in the loop.
The pinnacle: using data to drive growth. Both winners of this year's Forbes CIO Innovation Award used their companies' rich data sets to develop new services and drive tangible financial growth:
Juan Perez, Chief Information and Engineering Officer at UPS, continues to develop the company's Global Smart Logistics Network. Powered by a robust data analytics program, this suite of customer-facing, revenue-generating package delivery and logistics solutions has helped customers do more with UPS and played a significant role in the company's 7.5% year-over-year growth. Additionally, his team's work with the On-Road Integrated Optimization and Navigation system, or ORION, has reduced fuel consumption and carbon dioxide emissions. Reducing one mile per driver per day over the course of the year can save up to $50 million annually, Mr. Perez said. At Foot Locker, data-driven insights are creating new ways to interact with customers and driving growth in the process.
Pawan Verma, Foot Locker's CIO and Chief Customer Experience Officer, developed processes that allow Foot Locker to harness ideas from across the company, objectively test them, assess their business impact, and report on their financial performance. In every case, the needs of the customer are front and center. These new insights create value for the customer, the company, and the industry as a whole.
As we enter 2020, we expect CIOs to play an increasingly visible role in the development of corporate strategy. Many are likely to expand their purview as organizations look to new technologies to drive operational efficiency, deliver top-line growth, and create a differentiated customer experience. CIOs also will continue to be agents of cultural change as they foster new ways of working and develop technology talent across their organizations. We look forward to the year ahead!