Thanks to all who attended the Metis Strategy Digital Symposium. Amid a backdrop of economic and geopolitical uncertainty, technology leaders highlighted the need for increased agility as their organizations implement new ways of working and develop technology-led business models. Collaborating more than ever with peers in the C-suite, CIOs today are using data and digital tools to deliver continuous value to customers and to evolve product and service offerings as customer needs and expectations change.
Below are highlights from the event. Stay tuned to the Metis Strategy YouTube channel and Technovation podcast in the coming weeks for full recordings of individual panel discussions. 
Technology becomes key to understanding the customer journey  
At our February event, attendees noted that customer centricity has been the biggest driver of impact and performance at their organizations. That trend continues as new technology-led business models create opportunities for organizations to better understand customer journeys and deliver continuous value. Mamatha Chamarthi, Head of Software Business and Product Management P&L at Stellantis, explained how the automotive industry's shift to software-defined vehicles has given the organization a chance to understand the customer journey from pre-sale to ownership while providing opportunities to deliver on-demand features and continuous updates past the point of a vehicle's production. By transitioning the business model from a one-time purchase to a services and subscription model, Chamarthi's team is able to generate a recurring revenue stream and deliver continuous, personalized value to customers.
Ather Williams, EVP and Head of Strategy, Digital, and Innovation at Wells Fargo, is navigating a massive change in the financial services industry as customers increasingly adopt digital and mobile platforms and seek new experiences in how they manage their finances. That has driven a mindset shift internally as leaders place greater emphasis on customer journeys.
In an age where customers have higher expectations about their digital experiences than ever before, organizations must adopt an agile mindset so that they can evolve with their customers and take a customer-focused view of value delivery, said Prakash Kota, CIO at Autodesk. Technology teams increasingly look at problems with a customer lens rather than an engineering lens, thinking about where there are opportunities to remove friction.
Training programs aim to build skills, foster new mindsets  
To remain competitive in the product-oriented digital future, companies will require leaders with a still-rare combination of business acumen, technology savvy, and leadership skills. To develop "bilingual experts" who are equally comfortable with business and technology and who reflexively think about how technology can be used to create new capabilities, Vipin Gupta, Chief Innovation and Digital Officer at Toyota Financial Services, established the TFS Digital Academy. The program aims not only to equip participants with needed IT skills, but also to embrace a product mindset and think about the how the company's financial services capabilities can be continually assembled and improved.
While fostering a digital mindset is essential, so is ensuring teams have the necessary skills to take advantage of new technologies. This remains a challenge. More than 35% of attendees said a lack of needed skills was the biggest challenge to adopting cloud, for example. To address the skills shortage and foster a market for new talent, Google Cloud CEO Thomas Kurian noted that the company has committed to train 40 million developers with hands-on skills training and certification opportunities.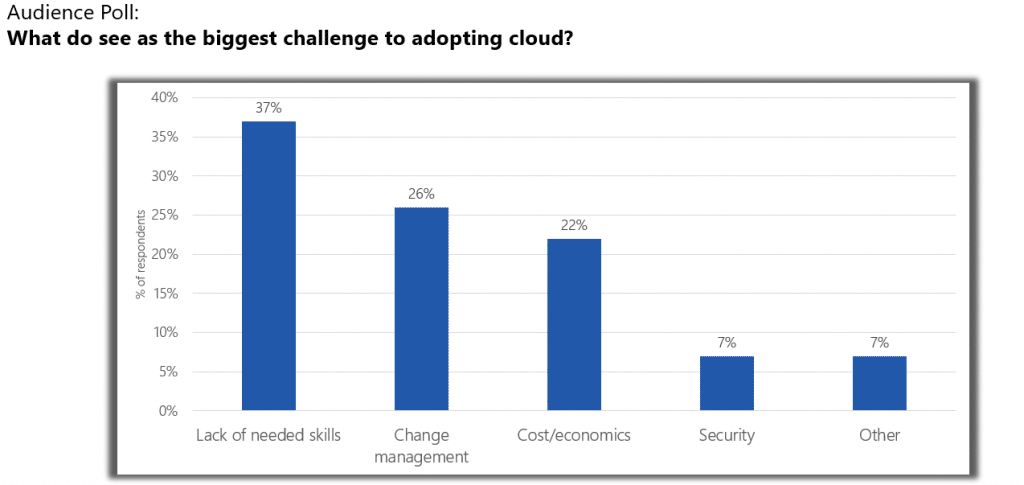 Leaders take an ecosystem approach to innovation
Gone are the days in which corporate innovation happened in a silo. Today, the ability to innovate is an enterprise-wide imperative, and leaders are eager to explore the ways in which technology can deliver new and surprising value. Technology leaders play the role of strategic influencer in this new innovation ecosystem, identifying new opportunities, engaging colleagues and partners, and aligning innovation activities with the broader corporate strategy.
At Land O'Lakes, Chief Technology Officer Teddy Bekele is creating a "farm-to-fork" innovation ecosystem. By using technology as a backbone to achieve the company's mission to feed a growing population, Bekele seeks opportunities to "excite the value chain" and develop ideas that can positively impact stakeholders across the business. "If technology isn't driving value in the business, we're just a cost center," Bekele said. At Land O'Lakes, technology is now the center of the business, and product teams are focused on delivering tangible impact.
Innovation has allowed technology leaders to gain more strategic influence in the C-suite as well. At Thermo Fisher, Chief Information Officer Ryan Snyder works closely with the company's CEO and the Chief Strategy Officer to make sure initiatives his team are passionate about get woven into the company's strategy. Innovation needs to be "super connected to strategy being set by company leadership," he said, and the approach to innovation must be aligned with where the company is heading. 
Economic and geopolitical upheaval sharpen focus on resilience, risk reduction 
Facing economic challenges, geopolitical uncertainty, and ongoing supply chain constraints, companies are turning to technology to drive operational efficiency, reduce risk, and build resilience across the organization. CIOs across industries noted that they are digitizing supply chain operations for greater visibility, leveraging analytics to better understand customers, and re-evaluating global talent footprints.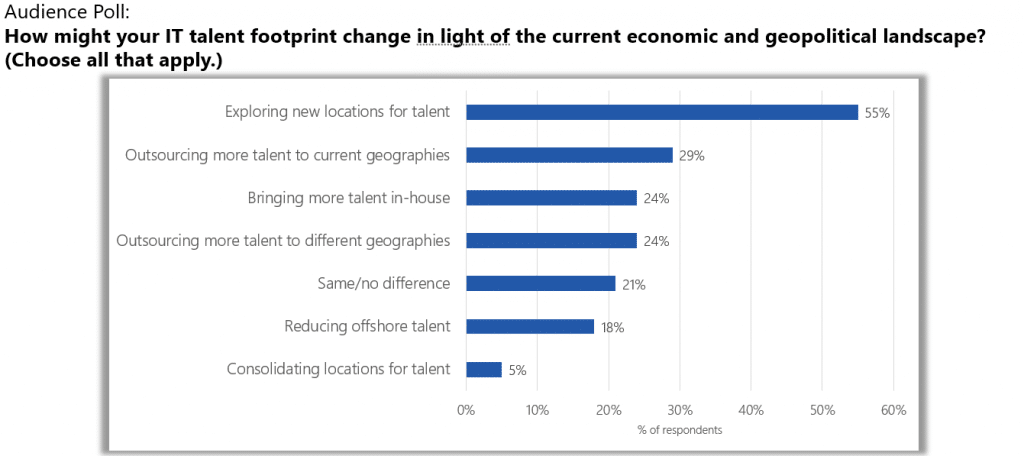 In a poll, more than half of attendees noted they are exploring new locations for talent both domestically and abroad, and nearly 30% said they were outsourcing more talent to locations where their organizations have an existing presence. Chris Drumgoole, Chief Operating Officer at DXC Technology, said the company is discussing ways to reduce single-country risk and has placed increasing focus on resilience across operations. 
"Operationalizing culture" becomes a competitive advantage 
As technology leaders take on expanded roles in the C-suite, tangible value delivery and operational excellence take on even greater importance. Jeff Smith, Chief Operating Officer at World Fuel Services, remarked that the only unique attribute about a company is its culture, and that competitive advantage can be gained by learning how to operationalize it. To achieve this, Smith's team defined 30 cultural practices, the majority of which could be scaled globally. He created measurements for both operations and leadership, conducted leadership maturity assessments, and even created a "Bureaucracy Mass Index" showing the ratio of leaders and managers to "doers."
Chris Drumgoole of DXC noted the increased adoption of more customer-focused metrics over traditional IT metrics in order to better understand the customer experience. The company sends a Net Promoter Score survey out each month that creates a regular flow of feedback and data. He and Smith both underscored the need for clear-eyed, tangible metrics – that which gets measured gets done – and to embrace opportunities for continuous improvement.