Thanks to all who joined the February 2022 Metis Strategy Digital Symposium. A special thanks as well to all of our speakers, who shared their perspectives on topics ranging from creating speed and agility in an era of "predictable unpredictability" to developing new operating models, scaling innovation, and using data and technology to enhance the customer and employee experience.
Digital and technology executives are seeing expanded purviews and greater strategic influence inside their organizations as technology becomes increasingly integral to business operations. In addition to traditional IT roles, today's CIOs are taking on key roles in revenue-generating activities, helping to define the future of work, and leveraging strategic partnerships to find unconventional solutions to today's challenges.
See below for a few highlights from the event, and check out the Metis Strategy YouTube channel and the Technovation podcast in the coming weeks for full recordings of individual panel discussions. In the meantime, click here to request an invitation for our next virtual event on May 19, 2022.
Customer focus drives greater impact for IT
Today's technology leaders are more customer-centric than ever before as data and analytics capabilities help organizations better understand the customer journey and transform the customer experience through digital. Indeed, nearly half of attendees noted that customer centricity has been the biggest driver of impact and performance at their organizations.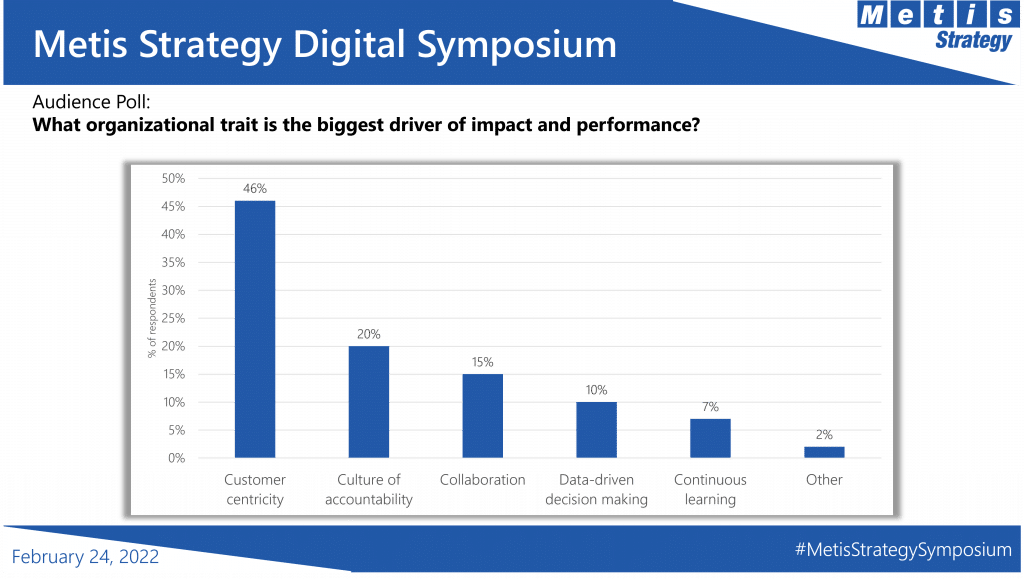 At MetLife, Bill Pappas is utilizing his combined role as Head of Global Technology and Operations to drive a more holistic approach to managing the customer journey. The ability to collaborate internally across data and analytics, cybersecurity, infrastructure, customer-facing service advisors, and other teams has led to a greater understanding of the processes and decisions that impact customers, which in turn helps MetLife design better products and services for them.
At Inspire Brands, digital technologies have allowed the company to serve customers and employees more effectively across a variety of channels, CIO Raghu Sagi said. Buffalo Wild Wings, for example, went from having almost no off-premise business before the pandemic to having almost all off-premise sales as people stopped going out to eat. In response, Sagi and his team quickly rolled out new features such as curbside delivery and contactless payments, tools they could then scale across their other restaurant brands.
Even security services, often considered a friction point for many users, have become an avenue for delivering value to customers. Transmit Security, for example, is leveraging biometric capabilities and other technologies to help customers access their accounts faster while simultaneously strengthening the overall security of those accounts and reducing system complexity on the back end.
CIOs double down on culture, people development
As organizations continue to navigate a challenging talent market, executives are doubling down on people management efforts to attract, retain, and develop talent. That includes building internal culture, enabling flexible working models, and developing upskilling and reskilling opportunities to create growth opportunities for their teams.
"People are truly everything we do, and as a leader, your role is to be [first] a human resources manager," Bill Pappas of MetLife said. In addition to articulating its value proposition to attract top talent, the company offers a range of upskilling and talent development initiatives, including a digital academy, that seek to foster the technology, commercial, and leadership skills needed to lead in today's environment.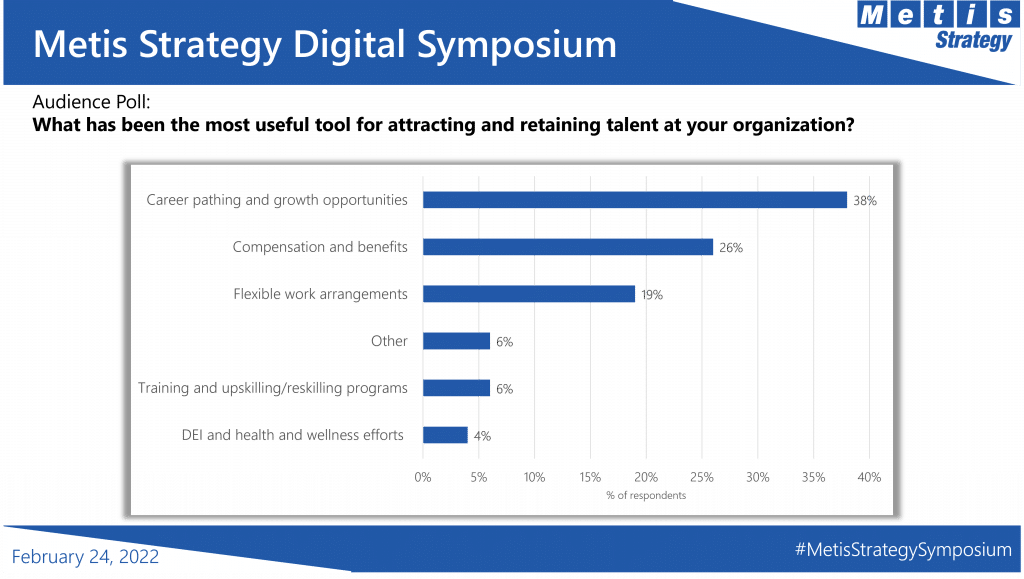 Edward Wagoner, Chief Information Officer for Digital at JLL Technologies, noted that data and technology are helping the company design the future of work and bring it to life at the intersection of physical and digital spaces. With some employees returning to office and others continuing to work remotely, Wagoner emphasized that there are still many unknowns, and that organizations across the board will continue to test new hypotheses and draw on lessons learned to improve the employee experience.
Indeed, technology leaders will play a central role in enabling new forms of collaboration and creating spaces that establish a level playing field and sense of belonging for diverse and remote employees. "As digital technology leaders, we're so entwined in the culture game that we now need to go figure out what are these experiences that provoke people to collaborate differently," said Vince Campisi, SVP Enterprise Services and Chief Digital Officer at Raytheon Technologies.
Tech leaders become a catalyst for new business partnerships
While CIOs have always kept a finger on the pulse of emerging technologies, they increasingly are forging more strategic partnerships with suppliers, peers, startups, and others to gain new insights and develop new products and services.
To navigate the emerging tech landscape, Novant Health, Chief Information Officer Onyeka Nchege focused on identifying core capabilities and building a strong partner ecosystem that could deliver a positive impact and improve the patient experience. In 2019, Novant Health solidified a partnership with Zipline that, through a fast-tracked operation during the pandemic, led Novant Health to become the first healthcare system to deliver PPE via drone distribution.
Although the real estate industry hasn't historically been known as a leader in technological innovation, companies like JLL have established new partnerships to expand the company's thinking and to better address ongoing uncertainties such as the future of work and climate change. Wagoner noted that JLL acquired an AI company to improve data-driven decision making. He also discussed the ways in which JLL is partnering with technology leaders across industries to address topics such as sustainability monitoring and reporting.
A dedication to scaling digital operations and innovation
CIOs, CDOs, and CTOs have an ever-growing role to play in helping organizations adapt quickly to changing markets and consumer demands. Key to that is enabling innovation at scale and applying digital tools to enhance operations.
Innovation is no longer a practice that takes place in a separate building, but rather a capability embedded across the enterprise, said Charu Jain, SVP Merchandising and Innovation at Alaska Airlines. Jain further drove these efforts by developing an innovation committee at the board level. This committee provides formal commitment and accountability to innovation efforts and helps identify opportunities to apply technology to revenue-generating activities and guest and employee experiences. Having teams across the company pursue innovation ideas, paired with strong change management and new ways of working, has helped make innovation a "fabric of how [Alaska Airlines] does business," she said.
Sanjib Sahoo, Chief Digital Officer at Ingram Micro, highlighted digital innovation as a means of improving performance while constantly reassessing the business model and ensuring that there are no opportunity gaps in the organization. "We perform as we transform," he said, noting the importance of integrating operational excellence and value creation into all transformation initiatives.
Since the pandemic began, CIOs are owning more innovation and business value creation processes, said Sunny Gupta, CEO & Co-Founder of Apptio. That includes a shift to product-focused operating models, which requires leaders to think not only about technology applications but also new funding models.
Technology plays key role in building supply chain resilience
Supply chain disruptions and natural disasters have caused strain on global operations, underscoring a need to digitize and automate processes and collaborate with peers and partners. Increasingly, technology is the key to building resilient supply chains that allow organizations to pivot quickly amid ongoing disruptions.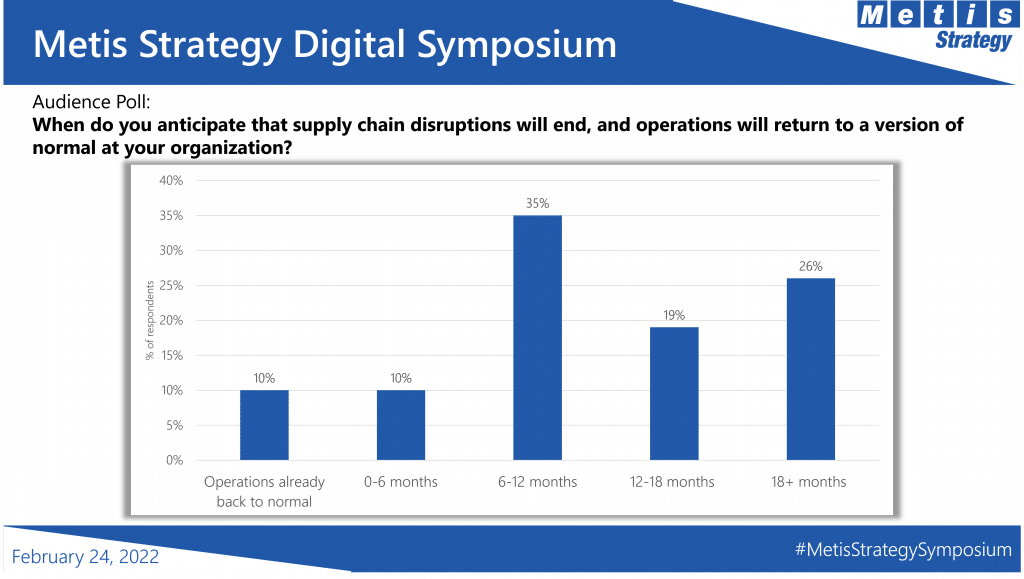 At Big Lots Stores, data and decision modeling help build stronger and more resilient digital supply chains, said Gurmeet Singh, CTO and CIO. The ability to process data from each point of the supply chain speeds decision making and allows the organization to pivot quickly when markets change, which ultimately impacts costs, store operations, and the customer experience. Singh has also spent time learning from startups in the supply chain space to understand how new technologies are driving greater visibility and automation.
Gary Desai, CIO at Discount Tire, remarked that resilient supply chains and strong relationships help improve the "speed of trust" with customers and drive better outcomes. Desai works alongside the Chief Customer Officer and Chief Product Officer at his organization and meets with the CEO of their supply chain software provider to discuss ways in which technology can continue to deliver value for the company now and in the future. New ways of working, including a shift toward planned appointments at stores instead of walk-ins, also present new opportunities to apply digital technologies and enhance relationships with local suppliers.
We hope you'll join us for our next Metis Strategy Digital Symposium on May 19, 2022. You can register for the event here. Stay tuned to our website for more details.