Leading CIOs, CEOs and entrepreneurs discuss business agility, developing strong teams, and new use cases in AI at the latest Metis Strategy Digital Symposium.
Another Metis Strategy Digital Symposium is in the books. Thank you to all of you who joined the session and to the global CIOs, CEOs, and entrepreneurs who shared their insights. More than ever, it is critical for leaders to tap into their ecosystem of peers and advisors for information, wisdom, and support as organizations navigate this complex and uncertain environment.
Below are a few takeaways from the event. Check out our YouTube channel and the Technovation podcast in the coming weeks for recordings of individual panel discussions.
Culture is key in the transition to hybrid work. Nearly 60% of attendees noted cultivating a strong culture among teams as the greatest risk to operating in a hybrid work environment. With many return-to-office plans in flux and a new wave of employees joining firms without stepping inside an office, executives continue to place a strong emphasis on employee experience, creating new norms around equity, inclusivity, and productivity, and creating new ways for teams to engage in a hybrid setting. For technology leaders, that also includes managing a growing ecosystem of collaboration tools and emerging technologies to find the mix that works best for their organizations.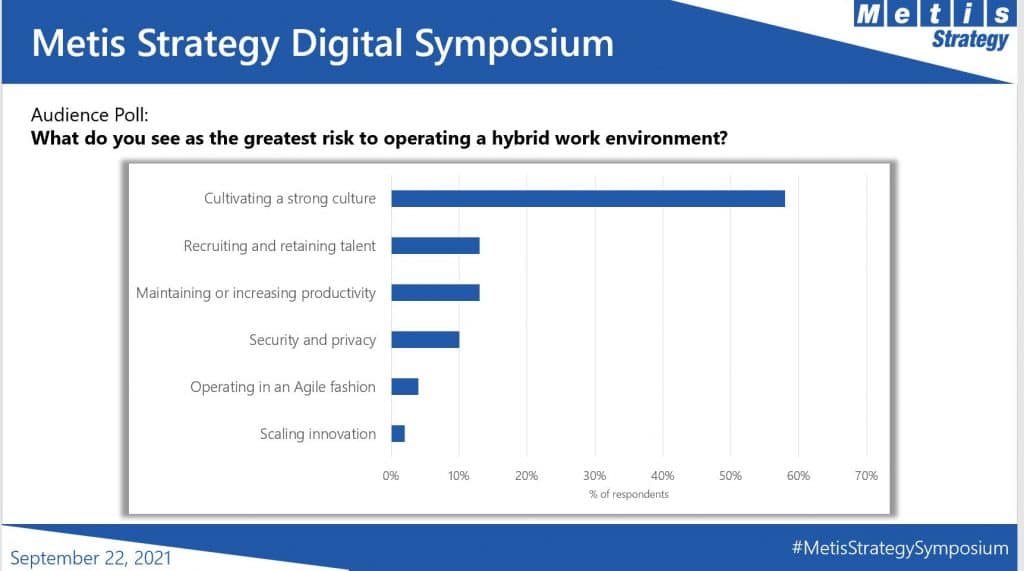 Just as CIOs helped pave the way for remote work, they also will have a role to play in helping peers understand the art of the possible regarding the future of work. The road ahead is far from clear, but today's technology leaders are adapting people, processes, and technologies to help create organizations that can pivot quickly in the face of change and seize new opportunities as they arise.
Innovation comes from empowered teams. The ability to innovate at scale continues to rise in importance as organizations work to future-proof their operations and drive enterprise agility. To do so, a number of executives said they are exploring how to democratize innovation capabilities across their companies and unlock the full potential of their teams. Debra King, SVP, Chief Information Officer and Chief Transformation Officer at Corteva Agriscience, discussed how she and her executive team developed a culture of ownership across the organization in which team members at any level in the company were empowered to come up with an idea and execute it. The leadership team then focused on removing roadblocks and providing resources where needed.
Similarly, Tim Dickson, Chief Information Officer at Generac, discussed how the company's first hackathon spurred new ideas while revealing pent up demand for employee upskilling. Sixteen teams participated, and over half of the ideas presented have been implemented as production deployments, Dickson said. Generac also launched a digital center of excellence that helped scale the internal capability to bring new ideas to life quickly. These new ways of working made employees feel as if their voices were being heard, while providing an avenue to develop those ideas into new products and services for the company.
Security is critical to creating strong customer experiences. Technology leaders are taking greater responsibility for the ways their organizations' products and services impact the customer experience, and security is an increasingly critical element of that. Mickey Boodaei, CEO of Transmit Security, which received the largest-ever Series A funding round for a cybersecurity company, shared his perspective on the move toward a passwordless future, the evolution of identity and authentication, and the fine balance between security and user experience.
For consumers, identity is critical to processes such as account opening and credential validation. Too little focus on security and vulnerabilities or compliance risks may arise. Too many security measures and the user experience becomes an obstacle. As authentication technology advances and passwords continue to pose a security threat to consumer accounts, Boodaei anticipates organizations will make a concerted effort to go passwordless.
Companies scale up AI efforts. As companies continue to refine their data strategies and identify opportunities to turn data into actionable insight, significant analytics and AI deployments are only expected to grow. Nearly 40% of respondents said they expect analytics to be their greatest area of investment in the year ahead.
Machine learning and AI, paired with an increasingly sophisticated understanding of customer needs, is powering new waves of innovation across industries. Barbara Lavernos, Deputy CEO for Research, Innovation, and Technology at L'Oréal, described an experience that crunches data to provide customers with personalized advice on their beauty routines. The company is also using AI to mine its extensive store of historical data as well as real-time consumer information to deliver cutting-edge products. For example, L'Oréal has trained an AI algorithm to read the thousands of online customer ratings and reviews of the company's makeup products. With real-time insight, research and innovation teams can then make relevant product changes and target advertising more effectively.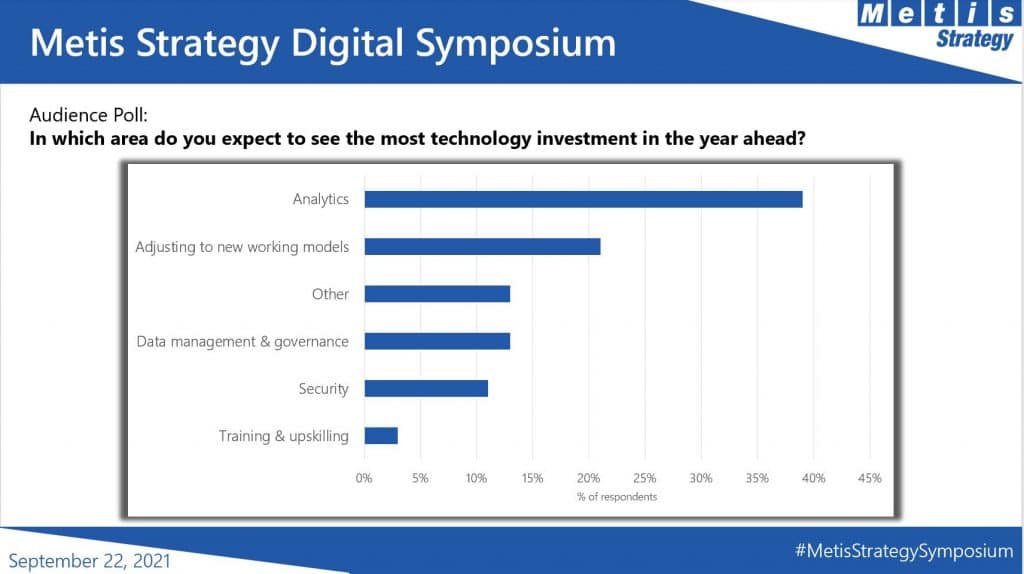 At Johnson & Johnson, new technologies have enabled the company to reimagine consumer health and deliver care for patients in new ways. Augmented reality and virtual reality, paired with AI, have helped train surgeons eight times faster by combining digital imagery with insights about how to perform the best surgical procedures. AI and digital twins have helped Johnson & Johnson accelerate enrollment in COVID-19 vaccine trials and improve batch production of vaccines, from one batch every two weeks to two batches every half week.
Embracing change and becoming nimble is more important than ever. Of the tips IT leaders shared about sustaining a competitive advantage in the current environment, the most common was the ability to be nimble. That means being able to pivot quickly when the market changes, seize opportunities as they present themselves and stave off issues as they arise. Indeed, more than 75% of attendees said creating a culture that embraces uncertainty, as well as the ability to pivot quickly, would have the greatest business impact over the next six to 12 months.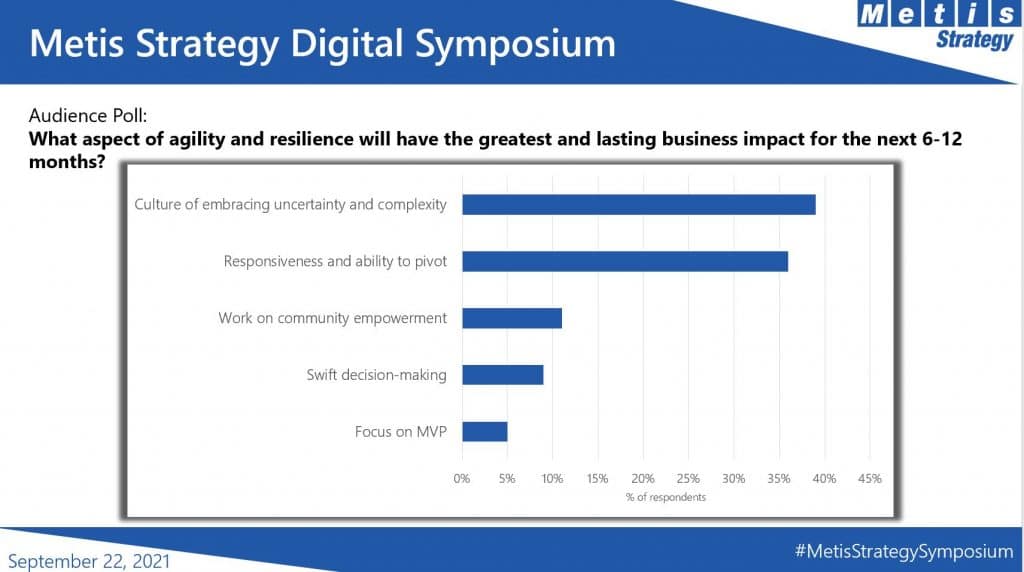 Companies are making a number of changes to make their organizations more nimble, including transforming their operating model, adopting new technologies, upskilling employees and bringing in new talent, and driving innovation through partnerships.
Nimbleness is at the heart of many of today's technology transformations, including the shift to embrace cloud, APIs, and other technologies, said Bernadette Nixon, the CEO of Algolia. These modern software architectures ultimately allow organizations to move more quickly and evolve their systems to support market shifts, further empowering teams to become more efficient and nimbler in their processes.
We hope you'll join us for our next Metis Strategy Digital Symposium on December 9, 2021. Stay tuned to our website for more details.