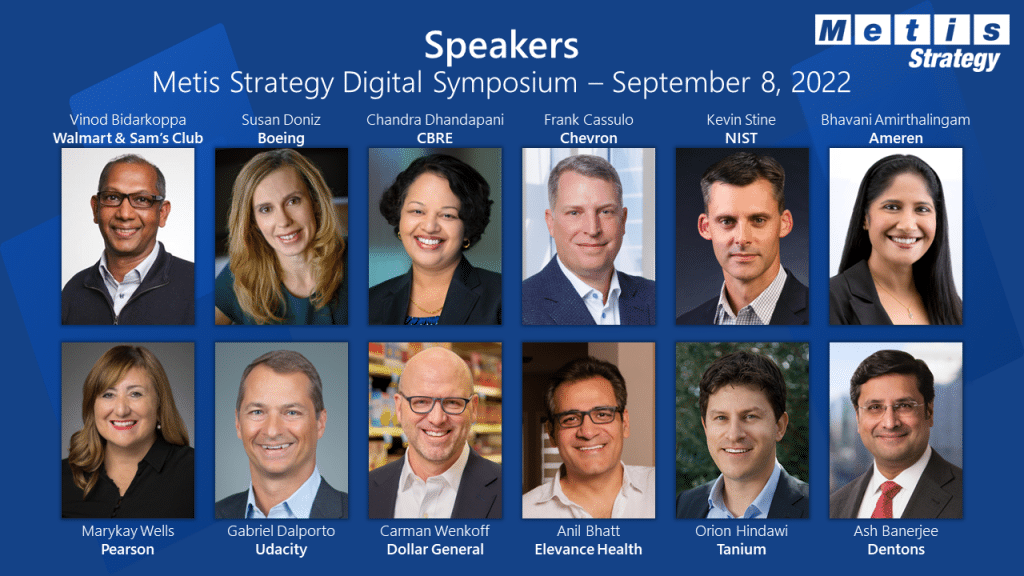 Thank you to all who attended the 10th Metis Strategy Digital Symposium. Across conversations, leaders emphasized the need for foundational data and analytics capabilities to prepare their organizations for growth. Whether modernizing systems, designing new operating models, or upskilling teams for the future, an organization's ability to appropriately harness the information assets available continues to be a key source of competitive advantage.  

Below are highlights from the event. Stay tuned to the Metis Strategy YouTube channel and Technovation podcast in the coming weeks for full recordings of individual panel discussions. In the meantime, click here to request an invitation for our next virtual event on December 13, 2022.
Data skills and career development drive upskilling efforts
To prepare employees for jobs of the future, technology leaders are focusing on upskilling and development initiatives that teach employees the latest technology skills while providing a clear path for professional growth. The most in-demand skill today: "data, data, data," said Udacity CEO Gabe Dalporto. "Every part of every organization needs better data skills." That means not only equipping data scientists and IT teams with the latest skills, but also ensuring data literacy across marketing, compliance, cybersecurity, and beyond.
It isn't enough to only provide training, however. Dalporto noted that attrition can actually increase if reskilling programs aren't directly linked to individuals' jobs and career paths. The message resonated with attendees, 44% of whom noted career pathing and other growth opportunities as focus areas within their upskilling initiatives.
Pearson CIO Marykay Wells reiterated the importance of creating an environment that encourages continuous development. Pearson offers weekly learning hours and a range of certifications employees can pursue to help spark new ideas and creative thinking. The company is also leaning into greater job mobility, encouraging team members to apply their learnings across the organization.
Emerging technologies enable greater precision and sustainability
A strong foundation in data and analytics paves the way for new innovations. As organizations modernize enterprise data platforms and gain access to consistently reliable information, they are finding new ways to use emerging technologies to improve processes and services.
At Boeing, data is embedded across the enterprise and serves as a source of growth and resilience, CIO and SVP of IT & Data Analytics Susan Doniz said. Data-driven insights give the company a greater understanding of supplier networks, assist with product planning, and drive sustainability initiatives. Boeing is using emerging technologies like digital twins and the metaverse to drive product precision, building airplanes thousands of times digitally before creating the physical plane. Boeing also combines its own information with weather data and other external sources to drive additional value. "The value of data is not just data by itself, it's how you combine data with external data," Doniz said.
Emerging technologies have also shown promise in driving enterprise sustainability efforts. As Chevron Chief Digital Officer Frank Cassulo prepares for the transition to a lower carbon world and more renewable energy sources, he is advancing the deployment of industrial IoT, edge-based sensors, and real-time monitoring to improve the efficiency, reliability, and safety of the energy system. "We believe the intersection of technology and the energy transition is defining the rate at which we advance," he said. Last year, the company launched Chevron New Energies to identify new technology opportunities and business models to deliver a lower carbon future.
Organizations inject more data into product development and decision making
Technology leaders are embracing more data-driven decision making processes and rethinking how to measure the success of digital products and services.
For example, every Monday morning, Vinod Bidarkoppa, SVP at Walmart and Chief Technology Officer at Sam's Club, meets with the executive leadership team to discuss the Net Promoter Score of critical member and associate journeys from the prior week. Those metrics inform how the organization operates and focuses their efforts week to week. "Because there is data behind it, people can answer in a very data- driven way," Bidarkoppa said. "It makes it a very rich conversation and it's not just an opinion."
Enterprises are also expressing a growing desire for reliable cybersecurity metrics. Orion Hindawi, Co-Founder and CEO at Tanium, detailed how the company is helping customers understand how their progress on particular KPIs compares to others in their industry. That data allows customers to better see where they have adequate protection or gaps that need filling.
Data-enabled products are also unlocking new efficiencies. Ameren Chief Digital Information Officer Bhavani Amirthalingam noted that putting more data into customers' hands gives them more choice and control in managing their energy consumption. Greater accessibility to data also gives Ameren the ability to effectively track and reduce energy consumption in the data center and among key suppliers.
As Pearson offers a broader range of digital education products, it is placing additional focus on metrics such as time to value (the time between a student enrolling and actually starting a course), as well as internal productivity metrics to guide process improvements for engineers. "We are thinking about ways we can use data to improve experience and value," Wells said.
Executives find new ways to manage global talent and operating models
In an increasingly complex economic and geopolitical climate, digital leaders are among those re-examining global talent footprints and seeking opportunities to streamline or automate existing processes. More than half of MSDS respondents noted that they are bringing on more full-time employees across geographies and exploring new locations for talent.
Denton's, the largest law firm in the world, has grown from 3,500 employees 10 years ago to 20,000 employees around the world today through robust M&A activity. Over the years, each entity retained IT teams, structures, and systems. As cloud computing adoption expanded and cybersecurity concerns became paramount, especially for clients, Global CIO Ash Banerjee and his team are transforming and unifying the technology function, progressing the firm's growth and integration strategies while seeking to balance local and global needs.
Anil Bhatt, Global CIO at Elevance Health (formerly known as Anthem) works to make sure that his global product team and engineer teams have the capabilities they need to meet business needs. At the same time, he's focused on making sure team members are taking care of themselves. Bhatt's team led two employee-focused transformations and introduced more flexibility and recognition. "As you take care of associates and employees, it changes how they look at company," he said.
As the security and privacy landscape grows more complex, technology leaders must balance global rules and standards with country- or region-specific regulations. Kevin Stine, Chief of the Applied Cybersecurity Division for NIST's Information Technology Laboratory (ITL), has been encouraged by an uptick of international governments and businesses adopting and engaging with the NIST framework. He notes this global alignment of standards as a critical step to aligning key cybersecurity outcomes and avoiding duplication or conflicting expectations.
Digital positions IT for greater strategic influence
As data-based decision making and digital tools pervade modern business, technology leaders are modernizing organizational architectures to help their companies more directly tie technology initiatives to business growth. At retailer Dollar General, CIO Carman Wenkoff prioritized people and processes in the modernization journey. After evaluating organizational structures and existing ways of working, the company grouped 105 technology domains into categories and assigned domain leaders to define and implement a future vision. The new structure is helping the retailer define new ways of working and find new ways to serve customers.
The prevalence of technology is putting more leaders on the path from CIO to CEO, COO, and other business leadership roles in the C-suite. Chandra Dhandapani; Chief Executive Officer for Global Workplace Solutions at real estate firm CBRE advised technology leaders wishing to ascend to other roles to stay closely aligned with business leaders, invest in technology closely aligned with business strategy, move fast, and care about customer experience. She encouraged leaders to take an outside-in perspective and "internalize being business leaders first who happen to have expertise in technology." Dhandapani believes that CIOs are well positioned to take on additional leadership roles as they understand their organization's data strengths and weaknesses and know how to use data to develop key insights.
Hyatt Hotels Corporation announced the appointment of Eben Hewitt as Hyatt's Chief Information Officer, effective July 18. Hewitt will oversee Technology, Enterprise Applications and Cybersecurity for Hyatt. He will report to Mark Vondrasek, Hyatt's Chief Commercial Officer.
"Eben's tenacity and drive will bring a fresh perspective to Hyatt and play a critical role in scaling our IT platform to grow and diversify our brand and guest offerings," said Vondrasek. "Our guest-centered IT is grounded in active listening to the needs of our guests, colleagues and owners, and designed to enhance every part of the hospitality experience."
Hewitt previously served as Chief Technology Officer at Sabre Hospitality, a leading technology provider for the hospitality industry, serving more than 40,000 hotels and resorts spanning 160 countries. He also brings experience from prior technology leadership roles at Choice Hotels and O'Reilly Media.
Hewitt hopes to continue to drive innovation building on progress the team has made with such offerings as the Digital Key in the World of Hyatt app, which utilizes Bluetooth technology allowing guests to use their iPhone or Android phone as a digital key and two-way hotel chat, which allows for personalized communication between guests and hotel colleagues.
"I couldn't be more thrilled to join Hyatt at this transformational moment," said Hewitt. "It's an honor to support and advance Hyatt's vision of a world of understanding and care. As Hyatt grows, this outstanding technology team is ready to create meaningful personal connections and delight our stakeholders, with empathy at the heart of everything we do."
In addition to Hewitt's decade of hospitality industry experience, he is also a recognized thought leader in technology, with published books on enterprise architecture, software design and database management systems, including the international bestseller Technology Strategy Patterns.
Peter High is President of Metis Strategy, a business and IT advisory firm. He has written two bestselling books, and his third, Getting to Nimble, was recently released. He also moderates the Technovation podcast series and speaks at conferences around the world. Follow him on Twitter @PeterAHigh.
With the recent merger announcement of Intermountain Healthcare with SCL Health, Craig Richardville has been named the new chief digital and information officer and senior vice president for the combined health systems, which will be called Intermountain Healthcare.
As a member of the enterprise leadership team, Richardville's responsibilities will include the health system's information technology, data and digital services involving all aspects of technology including, but not limited to, strategy, operations, applications, cybersecurity, and emerging technology.
Richardville previously served as senior vice president, chief information and digital officer, at SCL Health, where his responsibilities included leading, innovating, and transforming all aspects of the health system's information technology and digital services.
Richardville noted that his priorities including an orientation toward being mobile first, cloud first and, ultimately, patient first. "Mobile first places access to health services into the pockets of the patients, members and consumers via their smartphones," he explained. "This is a trusted source of truth, easy to access and one of the preferred engagement platforms in an omni channel world. Cloud first provides ubiquitous access to data in a safe and secure environment ubiquitous access to data, information and knowledge. Patient first puts the patient is in the center. They are the heart of our work and includes related personas, such as members in regards to our health plan and consumers who are looking to make a choice. All of our work revolves around the patient, the member and the consumer."
"Intermountain Healthcare has long been a leader in using technology to improve clinical outcomes for patients and is using advanced intelligence to aid providers in clinical decision making," said Dan Liljenquist, senior vice president and chief strategy officer for Intermountain Healthcare. "Intermountain is also focused on using digital tools to help alleviate repetitive task workload for providers and caregivers through automation, and help enhance patient experience with self-service applications, allowing more face-to-face time for provider-patient visits. Craig has the skills to help Intermountain continue this important journey."
Prior to his time at SCL, he served as senior vice president and chief information and analytics officer at Atrium Health for more than 20 years, where he transformed the growing company into a national leader in the effective use of technology, utilizing data as a driver and digital services as a differentiator.
Richardville received the 2021 National CIO of the Year Healthcare ORBIE Award, the 2020 Colorado CIO of the Year award, and in 2017, the Carolinas CIO of the Year for continued leadership and impact using technology and digital services, among other awards. He holds a master's degree in business administration and a bachelor's degree in computer systems from the University of Toledo.
Peter High is President of Metis Strategy, a business and IT advisory firm. He has written two bestselling books, and his third, Getting to Nimble, was recently released. He also moderates the Technovation podcast series and speaks at conferences around the world. Follow him on Twitter @PeterAHigh.
Boris Shulkin was recently named Executive Vice President and Chief Digital and Information Officer of Magna International 1 $36.2 billion revenue Canadian auto parts manufacturer with 161,000 employees, 340 manufacturing locations, 89 product development locations and operates in 28 countries. Boris is based in Bloomfield Hills, Michigan, and he will work out of the company's Troy, Michigan offices.
In his newly elevated role, he is responsible for all information technology and digitization. He leads a global team of roughly 500 employees focused on the shift to digital processes across the entire enterprise and within all relevant workstreams by incorporating usage of technologies, cloud and analytics to create business value using data.
"The acceleration of digital transformation is about bringing efficiencies across the entire enterprise through effortless data access and extracting business insights," said Shulkin, referring to his new role. "I'm excited to lead a dynamic team and help grow a long-lasting technology-based moat in a company that's advancing mobility for everyone and everything."
In roughly 19 years with the company, Shulkin has held a number of roles of growing responsibility. Most recently, he was Magna's executive vice president of Technology and Investment helping drive overall technology strategy in the rapidly evolving mobility landscape. He has also been senior vice president of Research & Development, leading the incubation of new radar chip development while playing a key role in identifying potential new partners to engage to bring new technologies to market.
Shulkin began his career in the auto industry in 1995 as an engineer and joined Magna in 2003. Shulkin holds doctoral degree in applied statistics, and he holds multiple patents spanning manufacturing, process design, product and controls.
Peter High is President of Metis Strategy, a business and IT advisory firm. He has written two bestselling books, and his third, Getting to Nimble, was recently released. He also moderates the Technovation podcast series and speaks at conferences around the world. Follow him on Twitter @PeterAHigh.
Not long ago, Target's legendary chief information officer Mike McNamara announced his intent to retire. He would stay on through the naming of his successor. That successor has been found, as Brett Craig has been elevated to the executive vice president and CIO role at the company. He has been with the company for roughly 14 years, and he has held roles in technology and in merchandising among other business areas. His penultimate role was as the senior vice president of digital.
"The updates we're making to our leadership team reflect the size and scale of our more than $100 billion business, while also positioning the company for continued momentum well into the future," Target's Chairman and Chief Executive Officer Brian Cornell noted. "I have tremendous confidence in [the company's new leaders, Craig among them] and the value they bring to our organization as we work together to meet the needs of current and new Target guests."
"This is a chance to work with thousands of world-class technologists building products and platforms that impact millions of people every day," said Craig. "Our tech, data sciences and cybersecurity teams are simply doing an incredible job enabling Target's strategy and advancing everything we do in service to our purpose. That's a journey we're going to accelerate, and Target's culture of care, grow and win together will lead the way. How Target tech and our teams work together across the company is one of the most unique differentiators of our success."
When reflecting on some of the areas that he will push hard to accelerate in the near term, Craig noted more personalized, relevant and seamless experiences for Target's guests and creating new offerings that will drive more business to the company's stores, Target.com and the Target app.
McNamara will stay on board as a strategic advisor to the company through the end of January 2023.
Peter High is President of Metis Strategy, a business and IT advisory firm. He has written two bestselling books, and his third, Getting to Nimble, was recently released. He also moderates the Technovation podcast series and speaks at conferences around the world. Follow him on Twitter @PeterAHigh.
As we recently passed the two anniversary of the pandemic, necessitating those of us who could work remotely to primarily do so, quite a bit has changed. Some companies have begun to return to office work on a hybrid basis, and roughly three-quarters of companies suggest that the path forward will be hybrid.
Whereas in 2019 and years prior, all work was assumed to primarily take place in an office, now there is optionality. Employees have different visions for what works best for them. Whereas one employee may long for more work in the office, others never wish to step foot in an office again, avoiding commutes and maximizing time with family in the process. These differences of opinion run the risk of creating conflict. To alleviate that possibility, a framework can be helpful. That framework can guide employees to determine together when to work in an office. With that in mind, here are five Cs to determine when work is best done together in an office:
Connect
Create
Collaborate
Career Plan
Celebrate
A team may choose to connect when team members from different cities happen to be in the same city. This offers opportunities to bond, to break bread and to share experiences.
Connection may also come in the form of a firm gathering. Especially for firms where most work will be done virtually, outside of the confines of an office, some have elected to have all firm gatherings or department gatherings either in a city where an office hub exists or at a destination, such a Miami during the winter or a hiking destination during the summer. These are opportunities for connection that bond teams together. Colleagues can get to know each other outside of the work setting, and the next gathering may be the light at the end of the tunnel that keeps them looking forward to time with the firm.
Given the emphasis on virtual work over the past two years, there has been much call to evaluate where creative collaboration is best done. Most research suggests that when teams are called upon to create they do so best in person. Though online tools such as Miro and Mural offer worthy alternatives to the traditional white board, brainstorming in the same room together continues to offer greater chances to catch lightning in a bottle and draw out the best ideas for the company. True creation often entails developing something new. This might be a new innovative product, for example. Again, bringing together a cross-functional team in the same room where each can easily hear from each other, note all that is happening, and the like is the fastest path to success.
The office setting is often best suited for collaboration beyond creation, as well. One can think about a linear path in the collaboration process. As a new project or initiative is identified, the kickoff may best done in person. This collaboration can help mete out a plan, determine who will be responsible for what, and what sub-teams might collaborate on which details. There will likely be a period where individuals will have solo work to accomplish before the next collaboration is necessary. Thus, through the life of the initiative, it will be appropriate to work independently for a period and then to collaborate in person together. This can be a force multiplier to productivity, as during periods where independent work is appropriate, one can avoid the commute, perhaps leveraging a bit of the time that would have been spent doing so to drive the independent work to its conclusion.
At a time when so many people are leaving jobs as part of the so-called great resignation, it is all the more important to invest in one's people. Better coaching, counseling, and career planning are key investments to make. An in person meeting is often best to read reactions to guidance provided, praise given, and constructive criticism proffered. These are conversations where trust can be won or lost, and it is best to be in person for more of them, if possible. Ironically, it is often the youngest members of our teams who appreciate the importance of in person career planning least but benefit the most from such guidance. It must be proven to them that these conversations are worth their while with the results that they might garner from more explicit planning sessions.
Last among these factors is the need to celebrate together. During the period of virtual work primarily, where meetings tended to stick to agendas that fit in 30 or 60 minute windows and then each team member spread like seeds to the next series of meetings with other people, many took for granted the need to celebrate all that we accomplish along the way. When a project concludes, when promotions are announced, when quarterly earnings are made public, among many reasons to possibly celebrate, taking the opportunity to do so forges bonds, while also making explicit the accomplishments of the team.
None of this is to say that these five activities can only happen in offices. None should wait for everyone to be in the same place at the same time to happen, of course, but in the balance, these are activities that are best done in the office. The framework is clarifying. It articulates a means of cutting through conflicting opinions of whether to meet in person or not. One can imagine colleagues debating whether an activity should be done virtually or if it rises to the level to warrant a trip into the office. One could determine if the activity aligns with the categories given, and if so, make the call to do so. Hybrid work is tricky as we have the unleveling of the playing field in earnest, but by setting up some simple ground rules together with sound explanations of why the path has been chosen will ensure that you are building trust across the team for the long term.
Peter High is President of Metis Strategy, a business and IT advisory firm. He has written two bestselling books, and his third, Getting to Nimble, was recently released. He also moderates the Technovation podcast series and speaks at conferences around the world. Follow him on Twitter @PeterAHigh.
Monday, Boeing announced that Ted Colbert has been named president and chief executive officer of its Defense, Space and Security business. This move will take effect on April 1. Colbert succeeds Leanne Caret who is retiring following nearly 35 years with Boeing. Colbert had been president and CEO of Boeing Global Services (BGS). Stephanie Pope has been appointed as his successor in that role.
Boeing's Defense, Space and Security business provides military aircraft and network and space systems to customers around the world, and earned revenues of $26.5 billion in 2021. As such, this is the company's largest business unit by revenue.
"Throughout his career, Ted Colbert has consistently brought technical excellence and strong and innovative leadership to every position he has held," said Boeing president and CEO Dave Calhoun. "Under his leadership, BGS has assembled an excellent leadership team focused on delivering safe and high-quality services for our defense and commercial customers. His leadership track record and current experience supporting the defense services portfolio ideally position Ted to lead BDS."
Colbert joined Boeing's information technology department in 2009, rising to the role of chief information officer in 2013 and to the role of CIO and senior vice president of Information Technology & Data Analytics in 2016. It was in that role that Colbert won Forbes CIO Innovation Award in 2018 for the development of a digital flight deck. In May of 2021, Colbert joined the board of ADM, the $85 billion revenue multinational food processing and commodities trading corporation, as well.
Colbert's expanded responsibilities from CIO to CIO-plus to beyond CIO to board-level executive has him in an exclusive but growing club of former CIOs who have expanded their responsibilities.
Peter High is President of Metis Strategy, a business and IT advisory firm. He has written two bestselling books, and his third, Getting to Nimble, was recently released. He also moderates the Technovation podcast series and speaks at conferences around the world. Follow him on Twitter @PeterAHigh.
This past weekend marked the two-year anniversary of our living in quarantine. For those who had the option to work remotely, most made the move on roughly March 13 or 16. For a while, many executives bruised their shoulders as they vigorously patted themselves on the back for having successfully transitioned from in-office work to virtual work in March of 2020. They expected major issues, but fewer than expected arose. Of course, this is not to minimize the dramatic increase in cyberattacks that spawned as the threat landscape moved from offices to people's homes, for example, but most businesses had employees who traveled, working from client sites, hotel rooms, on flights, and in a variety of other settings. This had been the case for years, and companies' tools supported this model, for the most part.
What has begun to emerge as hybrid work begins in earnest for many companies will be much more difficult. Let's begin with optionality. Prior to March 2020, 95% or more of all work was done in offices. Though business trips were a regularity for many, one's primary work was done in an office. Therefore, switching jobs meant switching from one office to another and it would often necessitate moving from one city to another. There was not a lot of optionality in that scenario. Requests to primarily work remotely were easily rebuffed because it was not the norm.
In March of 2020, if you were in a job that could be done remotely, you did not have an option. You worked remotely for your own safety, the safety of your loved ones and the safety of your colleagues. Therefore, the playing field went from being largely even to, in some cases, more even, as everyone was remote rather than having some straggler business travelers dialing in to a group meeting in a conference room, say.
What has begun and will continue in earnest in 2022 will be the unleveling of the playing field. As offices open up, some are drawn to them and others are repelled from them. The employee in an efficient apartment with a spouse and a young child cannot wait to get back to an office full-time. The colleague who has a large house with a dedicated workspace separate from distractions may not ever want to commute again. Every flavor in between can also be found among an employee base. What approach will work best for productivity? What approach will work best for employee morale? What approach will amplify culture in the right way?
The future is likely to be hybrid. Most companies agree with this, and most are acting upon that hypothesis. That said, as a leader, whatever the going in hypotheses you have about the complexion of the future of work, it is critical to note that some will be wrong. Prepare your team for this inevitable conclusion. Two disciplines that must be focal are change management and communications. The former recognizes that changes will need to continue to happen and have a strong discipline in place to facilitate that change will be necessary. The latter ensures that formal and informal communications are in place to continue to provide updates to employees on what is working, what is not, what might be tested next, why, and so forth. It is best to err on the side of more rather than less communication during times of great change and uncertainty.
The last thing you want to do is go through any one-way doors in the decisions you make. If you tell employees that they will never have to come back into an office again, this will be difficult to walk back if the data and your company's performance languish because of this decision. You will have given your employees a right that they will not take kindly to losing. Even if you are inclined to try virtual-only work beyond the period in which it is necessary for health reasons, best not to call it out as the solution for the long-term but rather that the company reserves the right to tinker with the model as time passes if the situation dictates.
Employees' opinions should also be weighed throughout, of course. Many executives did not adequately take this point into consideration as initial plans were laid out relative to what the future of work might entail, and many paid the consequences in higher attrition rates. Engaging employees to understand what works best for them and why is a prudent measure to take, even if it is impossible to make everyone happy with the conclusions that will be made. The extent to which the communications plans can be frequent, transparent and bi-directional, all the better.
One must also lean on one's ecosystem for insight. We are all going through these experiments at present, and if you poll ten executives at ten different firms about what the future of work will entail, no two will be exactly alike and some will be dramatically different. Remain in close contact with your ecosystem to understand what is working and why, what is not, and why, and judge your plans against what you learn. You may stick to your plans in the face of some of this data, but it is important to be open to changing your mind.
Lastly, as employees leave, and they will, of course, evaluate why they are doing so. Are your policies at all a consideration? Is the company an employee is leaving to join offering some sort of benefit or way of working that you might consider. This data is crucial to ensure that a trickle of departures does not become a flood.
The months ahead will be treacherous, but by forming a plan, continuing to test plans and developing open and honest dialogues with employees, a better future can be defined.
Peter High is President of Metis Strategy, a business and IT advisory firm. He has written two bestselling books, and his third, Getting to Nimble, was recently released. He also moderates the Technovation podcast series and speaks at conferences around the world. Follow him on Twitter @PeterAHigh.
In 2015, when Mike McNamara received a call from a headhunter that Target, a Minneapolis, Minnesota-based nearly $100 billion revenue retailer was interested in having him come aboard as the company's next chief information officer, he had one question: where is Minneapolis? McNamara is a native of Ireland, and he received the call when he was in the throes of a distinguished tenure as the CIO of Tesco in the UK. As he delved deeper into this opportunity, he realized this was the same Target that had had a notorious cybersecurity breach. The company was also just coming off an unsuccessful entry into the Canadian market, as well. Given this introduction, what attracted McNamara to leave his company for another much farther from home?
"The downside when you looked at it was that there was a business that lacked confidence in itself, but the upside was that you have this phenomenal brand, and you had a business that was brilliantly run financially, so a balance sheet to die for," said McNamara. "Then they had a tremendous body of highly capable people." He reconned that this was a case of a company that had slightly lost its way, but the ingredients for a remarkable rebirth were there, given its human and financial resources.
Part of McNamara's reputation was built based on a remarkable digital transformation at Tesco, which included industry leading ecommerce capabilities. As such, he knew that Target's future also had to be digital. Target had under-invested in digital capabilities prior to his tenure, but the impetus for his hiring was a recognition that this needed to change.
Like so many companies in the middle of last decade, Target had outsourced significant parts of its IT. "When I began at Target, 70% of the team was outsourced… [First, we had to ensure that] we were only doing work that was of value strategically to the organization. Second, we [had to] build up our own engineering capability in-house with a focus on the team. Then third, [we had to modernize] our architecture." McNamara underscored this last point noting that architecture was the key to his vision. "The reality is nobody can predict the future," he noted. "I couldn't predict what was going to happen over the ensuing six years when I joined and clearly, a lot of things did happen, including the pandemic, which nobody saw coming. What was important was to start building an architecture that would be scalable, stable, secure, but agile, [giving the company] speed."
This began a journey that would take the IT team from being 70% outsourced to 93% insourced today. By developing a strong stable of technical talent, he had a much stronger foundation upon which to build. That included investing in data and analytics to a much greater degree. The journey that was created led to talent being attracted to join for the next phases. His team now boasts having roughly 400 engineers dedicated to data science, and another roughly 200 mathematicians. These talented technologists have been among the keys to Target's success across the past six plus years.
Target can now us artificial intelligence (AI) to recommend products based on searches, to aid demand forecasting and ordering and all along the supply chain. AI is used for workload planning, assortment planning, pricing and promotion of products. It is also used for smaller initiatives such as investigating the quality of imagery that the company puts on the website, or to correct errors in item set up.
McNamara has been a CIO long enough that he has seen the role fundamentally change from an efficiency driver focused mostly on the internal operations to a money maker for the enterprise. "[Today, IT is] about selling stuff far more than it is about moving stuff, which it was in the past in retail," McNamara said. "It has completely changed over the course of my career. That engineering capability was important to build that up." He went on to say that DevOps and the migration from a project orientation to a product orientation have also been great growth catalysts for technology and digital divisions in retail and beyond.
Speaking of the product orientation, McNamara's commitment to it was complete. "We moved the entire team into a product structure overnight," he emphasized. "Then we burned our bridges behind us by releasing all the project managers, program managers, and business analysts. Then we got on with making it work, which might sound a wee bit cavalier, but it wasn't. We backed it up with a ton of training." Today, his team focuses on a couple of hundred products across the business, each of which has a release either daily or weekly. He noted that the only limit to the speed of these releases was the ability of the business and customers to absorb the change.
The pandemic changed the buying habits of many, and Target's ability to lean on digital revenue streams and digital experiences proved to be a remarkable advantage. Here an analogy was helpful. McNamara was used to the need to scale up digital at the time of Cyber Monday, the biggest online shopping day of the year that falls on the Monday following Thanksgiving. "We already had the ability to scale our systems to that kind of capacity, so that was relatively straightforward," noted McNamara. "We also had to produce new applications and new features and functions both for our guests and our business at a phenomenal rate." In essence, McNamara ran the Cyber Monday playbook throughout the year.
An example of an innovation that was necessary due to the health concerns of the pandemic was the limited number of people allowed in a store at any one time. It was critical that the company remain compliant with this. Many companies resorted to having team members stand at the doors and take a manual tally using click counters to determine who was coming in and who was going out. McNamara and his team developed an app powered using artificial intelligence that was installed over the entrance and exit doors of stores. The app kept an up-to-date count of how many people were in stores. That app took a week to produce and two weeks to roll out nationally.
A key to this remarkably rapid response was having the engineering team in house. "Having that engineering team in house without the handoffs, having a product structure that manages the backlog, and then having an agile architecture [all made the difference]," said McNamara. "There is no way Target would have had the standout year we had last year had we not invested in the capability in the team and the definition of the architecture."
It has been announced that McNamara is months away from his retirement from Target. This will bring to an end one of the more remarkable CIO careers, but his history of transforming a retail stalwart into a digital leader will live on as his legacy.
Peter High is President of Metis Strategy, a business and IT advisory firm. He has written two bestselling books, and his third, Getting to Nimble, was recently released. He also moderates the Technovation podcast series and speaks at conferences around the world. Follow him on Twitter @PeterAHigh.
Salesforce has announced the hiring of Juan Perez as its next chief information officer, succeeding Jo-ann Olsovsky, who held the role for four years. Perez, a past Forbes CIO Innovation Award winner, spent more than 32 years at UPS, his last five as the company's chief information and engineering officer. He will assume his new role on April 4, 2022. Like Olsovsky, who joined the company from BNSF Railway, Perez has experience at the scale that Salesforce aspires to, given the size of UPS.
"I am thrilled that Juan is joining Salesforce as CIO," said Salesforce Co-CEO, Bret Taylor. "He has a deep understanding of how to leverage technology to drive growth and scale, and has a strong track record of building impactful, high-performing teams. He's also been a Salesforce customer since 2015 and deeply understands our technology and our values. I could not be more excited to partner with Juan in this next chapter of Salesforce's growth."
"Everything about Salesforce — the people, values, innovation and customer focus — all deeply resonate with me and align with my values," said Perez. "After more than 30 years at UPS, I never thought I'd pursue a new career — but joining Salesforce is an honor and the opportunity of a lifetime."
Perez has been a board member of The Hershey Company for three years, as well, and as such is part of a rare but growing group of board-level CIOs. His predecessor, Olsovsky, is also part of that club, as she is a board member of Canadian National Railway.
Peter High is President of  Metis Strategy, a business and IT advisory firm. He has written two bestselling books, and his third, Getting to Nimble, was recently released. He also moderates the Technovation podcast series and speaks at conferences around the world. Follow him on Twitter @PeterAHigh.