The World Economic Forum recently concluded in Davos, Switzerland. As one scans the highlights from across the sessions, whether conversations with industry titans or presentations by government dignitaries, technology was focal.
For the second year in a row, I asked Jacob Jofe, a Vice President at Index Ventures where he focuses on the firm's enterprise investments, to provide some thoughts on themes he found particularly poignant. He highlights two areas that have now become CEO-level topics of conversation: the rise of open source software, and the importance of observability.
Peter High: Jacob, you mentioned open source software was one of the most talked about topics at the World Economic Forum. Please explain what that was.
Jacob Jofe: At its heart, its all about people. The best developers want to use the best technology, and today, the best technology is open source. So, its adoption has become central to attracting and retaining the best engineering talent. Conversely, denying access to open source has become a serious roadblock to hiring the best talent. One of the reasons for this is, some of today's most interesting technology is developed at companies with scarce expertise, which is then contributed to the open source domain. Example include the Tensorflow and Kubernetes projects from Google, and the Kafka project which originated at LinkedIn. Developers want to take advantage of this, which I think is a win-win for everyone. It used to be that a technology decision was buy versus build — its now download versus buy versus build.
Commvault, a global enterprise software leader in the management of data for cloud and on premises environments, today announced the appointment of Sanjay Mirchandani as President and Chief Executive Officer and member of the Board, effective immediately. Mirchandani, previously the CEO of DevOps leader Puppet, replaces retiring President and CEO Bob Hammer. Hammer has led the company for more than two decades, growing it to a $3.1 billion market cap. Also announced today was the appointment of Nick Adamo as Chairman of the Board, replacing Hammer who will remain on the Board as Chairman Emeritus; both changes will become effective April 18, 2019.
From detailed homework review to back office automation, progress in artificial intelligence will continue to explode in the year ahead. In 2018, Metis Strategy interviewed nearly 40 CIOs, CDOs and CTOs of companies with over $1 billion in revenue as part of our Technovation podcast and column. When asked to identify the emerging technologies that are of growing interest or are making their way onto their 2019 roadmap, 75 percent of the technology leaders highlighted artificial intelligence, while 40 percent said blockchain and 13 percent cited the Internet of Things.
AI, an umbrella term for technologies that enable machines to accomplish tasks that previously required human intelligence, could rapidly upend the competitive landscape across industries. While many companies continue to explore AI business cases, seek executive support, and mature their foundational IT and data capabilities, a growing number of enterprises are deploying the technology at scale.
1. Walmart deploys hundreds of bots to automate back office processes
Walmart, the world's largest company by revenue, has deployed more than 500 bots into its internal environment to automate processes and drive efficiencies, CIO Clay Johnson said. Early use cases focused on automating processes such as accounts payable, accounts receivable, and compensation and benefits. More recently, robotic process automation (RPA) has been applied to Walmart's Shared Services organization, where it automates ERP exception handling such as matching purchase orders to invoices.
As expectations rise for technology to unlock business value, Clay is looking to scale AI across the company. Having recently adopted a product model and end-to-end ownership, the company is well positioned to apply machine learning to everything from merchandising operations, which coordinates supplier-relation interactions and affects the in-store displays across more than 5,000 US stores, to improving the productivity of the world's largest private workforce.
For more insight from Clay, listen to the podcast.
2. Western Digital saves CapEx by using AI to optimize test equipment
One of the biggest expenses in hard drive manufacturing can be test equipment, so for $19 billion Western Digital, optimizing the test environment can save hundreds of millions of dollars in CapEx. Given the foresight with which the company has developed its AI and big data strategy, it's no surprise that among its most advanced AI use cases is optimizing that test environment. "We're using advanced machine learning and convolutional neural networks to improve our wafer yield management," said CIO Steve Phillpott. "And we're using those same algorithms to start identifying and optimizing our test processes, which can help us save hundreds of millions of dollars in capital."
With a global workforce of 68,000, Western Digital has built a big data and analytics platform that supports a variety of workloads, architectures, and technologies to deliver value to business users of all skill levels. While entry-level analysts can leverage the platform to visualize data in Tableau or perform ad-hoc queries in RStudio, data scientists can make use of advanced techniques to monitor and optimize manufacturing and operations capabilities.
As Western Digital finds increasingly advanced AI use cases in 2019, its flexible platform ensures that the organization continues realizing value while its analytics capabilities mature.
For more insight from Steve, listen to the podcast.
3. Bank of America and Harvard team up on responsible AI development
As companies race to develop and deploy increasingly powerful AI systems, there's a growing recognition of the responsibility companies have to mitigate unintended consequences. Internet pioneer Vint Cerf and former FCC CIO David Bray have noted that engineers often don't have the capacity to fully imagine the implications of the technology they develop. That's one reason why Bank of America (BoA) Chief Operations and Technology Officer Cathy Bessant has teamed up with Harvard Kennedy School to create the Council on the Responsible Use of AI.
While BoA's most visible application of AI may be Erica, its virtual banking assistant, the Fortune 25 company is increasingly exploring how AI can be applied to fraud detection and anti-money laundering. As proponent of "responsible automated intelligence," Cathy recognizes that the bank must maintain transparency into the decision-making models and ensure that outcomes are unbiased. Further, as employees begin to question how AI might impact their jobs, Cathy is thinking proactively about how to guide career transformation and development in the age of AI. To explore these critical questions, the Council on the Responsible Use of AI will convene leaders from government, business, academia, and civil society, including Bessant, to discuss emerging legal, moral, and policy implications of AI.
"If you're a company where your business strategy can be described by the two words, 'responsible growth,' then the concept of responsible AI is not a stretch," says Cathy. "In fact, it is the tough soul of who we are."
For more insight from Cathy, listen to the podcast.
4. 7-Eleven leverages chatbots and voice to innovate on the user experience
7-Eleven defined convenience for a generation, but today, the most convenient storefront is the one in consumer's pockets. In a 2018 interview, CIO/CDO Gurmeet Singh discussed how the company uses new technologies to reduce friction for customers and improve their overall experience.
7-Eleven thinks about technology in two broad categories: proven technologies that are ready to scale, and emerging technologies. For emerging technologies, the company has adopted a fast follower approach, which Gurmeet describes as "watch closely and actively experiment." In addition to operating several global R&D labs, Gurmeet has tasked the company's CTO with testing new technologies and conducting proof-of-concept tests. Already, 7-Eleven has deployed a Facebook Messenger chatbot that allows users to sign up for the 7Rewards® loyalty program, find a store location, learn about the latest discount offers, and more. The bot, which was developed through a partnership with the tech firm Conversable, is part of Gurmeet's strategy to redefine the customer experience through technology.
In 2019, 7-Eleven's technology organization will leverage open-sourced AI libraries such as TensorFlow to explore how AI can streamline back-office processes such as merchandising and operations. They'll also look to apply voice interfaces to redefine the customer experience.
For more insight from Gurmeet, listen to the podcast.
5. At 174-year-old Pearson, AI is at the heart of the latest product innovations
Albert Hitchcock is the CIO turned COO and CTO of 174-year-old education company Pearson, where he oversees not just IT and digital transformation, but also product development, procurement, supply chain, customer service, and more. Given his broad purview, Hitchcock is well positioned to apply AI across the business. "AI is not five years out. It's real and it's happening today," he said in a 2018 interview. "We're looking at how we transform all spokes of our business using AI, from how we transform customer call centers using chatbots to how we bring AI, learning design, pedagogy, and insights into brain functions to create a personalized learning experience."
Machine learning is at the heart of many of Pearson's most recent product innovations, from authentic assessments and automated essay scoring to adaptive learning and intelligent tutoring. To accelerate the infusion of AI into current and future products and services, the company has hired Intel veteran Milena Marinovaas its first SVP, AI Products and Solutions. While Marinova's initial focus is updating Pearson's math homework tool to provide more detailed feedback, the vision to to create omniscient virtual tutors personalized for every student. "[Education] is different for every human and therefore you can potentially accelerate learning and delivery, improve outcomes, and help everyone progress in their lives of learning," notes Hitchcock. "AI is at the center of that thinking."
For more insight from Albert, listen to the podcast.
Today, Yvonne Wassenaar was named Chief Executive Officer of DevOps leader Puppet. A press release from the company noted, "Under Wassenaar's leadership, Puppet will continue to grow its market share worldwide and expand its product portfolio to deliver on its promise of pervasive automation in an increasingly hybrid world."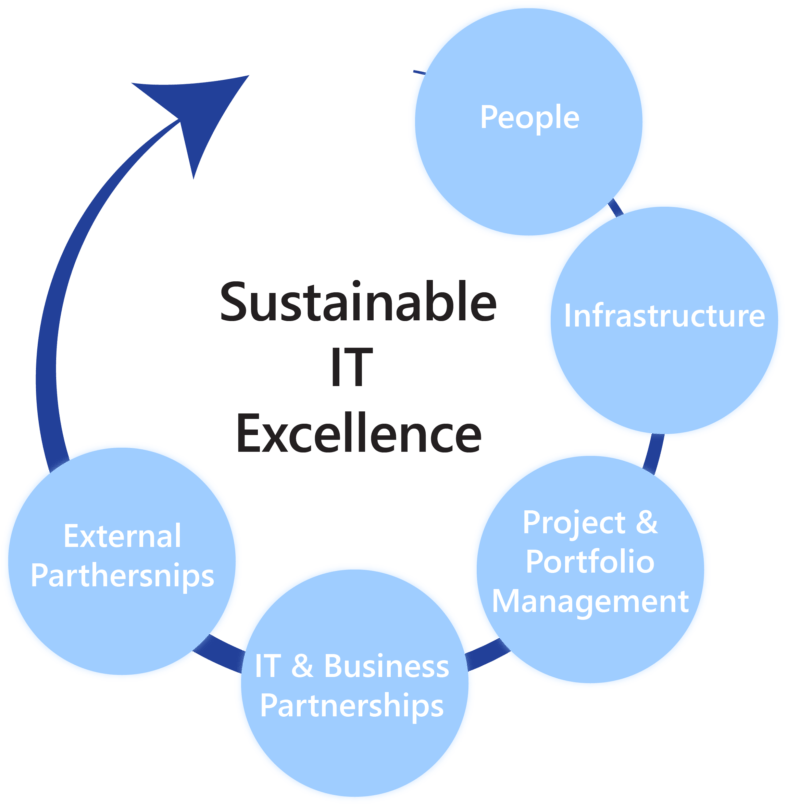 Principle 1: People
The first of the five World Class IT principles – People – focuses on the recruitment, training and retention of employees, to ensure that an IT department is staffed by top-tier talent and delivers excellent performance. This principle looks at multiple areas of assessment for a company's IT department.
The first area is about inventorying existing skills. What do you know about your IT department's skills base? Does your company's IT department have people with the right skills (technical, management, business or other) for the job? In order to efficiently allocate talent or determine what skill gaps exist, companies need to understand the skills that existing employees have and document them in a manner that allows employees to assess themselves against the defined skills base, as well as determine which abilities they should build on. Subsequently, workforce planning should be aligned to the insights or findings from the skills inventory. Within your IT workforce, which skills should be prioritized when recruiting new talent? What does the direction of the company suggest in terms of IT skills that will be necessary? After understanding the existing skills base, it is essential for IT leaders to consider which skill sets will become increasingly important in the future, which skills gaps need to be filled and what  abilities the broader company may value most.
However, like technology, skills can quickly become outdated. Having a structured and thoughtful recruiting approach is vital for an IT department to truly become world-class, as new talent can offer diverse skill sets or fresh perspectives, revitalize existing processes and thinking. Investing in the right people, with the right skills, early on ensures that your IT department has a strong foundational talent base.
Other aspects of the "People" principle – if executed well – will also help your IT department move towards being a world-class place to work. For instance, it is crucial to clarify roles and responsibilities for employees that have various skill sets and of different levels across the IT department, as it can make it easier for employees to succeed in their daily jobs. Moreover, clearly delineating roles and responsibilities helps mitigate redundancies in teams, reduces employee frustration and improves working relationships. In turn, this allows employee performance evaluations to be more easily conducted. Performance evaluations for employees should be prioritized by management, as well as be detailed and constructive. A streamlined, helpful evaluations process can go a long way in nurturing and retaining key talent at every level of the IT department – talent that could play a fundamental role in the future of the company.
Another area that underpins the "People" principle is employee compensation and recognition. Understanding employees' preferences for recognition and compensation helps enhance employee satisfaction and in turn, their tenure. Additionally, across many industries, IT employees are often overlooked compared to their business counterparts, as they are approached only when technical issues arise. Recognizing and compensating high performers in appropriate ways, as well as emphasizing the relevance that IT's work has on the business, can incentivize IT employees to go above and beyond in their roles. Career planning – which is heavily related to employee recognition and compensation – is an area which IT leaders should focus on as well. Establishing clear technical and managerial tracks through which IT employees can progress, as well as providing employees with a support structure, will give IT employees the opportunity to define their career goals and motivate them to perform better.
Furthermore, although regarded as difficult to assess, the culture and work environment within your company's IT department can significantly impact employee happiness and the department's overall performance. Understanding the existing culture and identifying gaps that need to be filled, followed by implementing positive cultural changes can greatly improve the perception that other business divisions have of IT, as well as facilitate closer collaboration between IT and these other divisions.
In addition to the areas mentioned above, training is vital to how new employees are introduced to the IT organization, how skills are acquired and how practices are shared more broadly. How is training currently conducted in your company's IT department and how can it be transformed? IT leaders should consider these questions when designing or implementing training, so that training for employees that is up-to-date, engaging and flexible, thereby ensuring that IT employees – both new and existing – are equipped with the necessary skills and knowledge to succeed. Finally, as your company's IT department continues to evolve, it is essential for IT leaders to think about what the department's retention strategy should be. A culture of merit-based advancement can help maintain those employees that are looking to develop a career and attract new talent for a truly World Class IT department.  
Principle 2: Infrastructure
Infrastructure – which consists of IT hardware, software, data, components, systems applications and the service desks supporting them – is crucial to the day-to-day operations of the IT department, as well as those of the broader company's Not only is it imperative to have an efficient, well-managed and highly available IT infrastructure, but it is key for IT to be able to translate infrastructure-related jargon into terms that can be easily understood by IT's business partners. As such, we assess the robustness of our clients' IT infrastructure on several elements, which we elaborate on below.
Much like Principle 1 (People), the first element of the "Infrastructure" principle involves understanding your company's existing IT infrastructure, by creating an infrastructure roadmap that displays various components in order of business importance. This exercise can provide the IT department with a comprehensive view of existing tools and technology, help IT understand the components for which maintenance and protection should be prioritized and enable IT leaders to determine a strategy for future investments in infrastructure. A roadmap can also help with efforts to maximize systems' up-time — another key element of this principle. As systems up-time is directly correlated to business productivity and revenue gain/loss, IT departments should engage in root cause analysis (RCA) when encountering system issues. Moreover, IT leaders should consider the different systems' criticality to business operations – how can up-time be maximized in a way that is resource and time-efficient? These approaches to issue resolution will allow employees to apply fixes that truly address systemic problems and minimize technical risk to the business.
Overall infrastructure health is, of course, critical to business productivity and revenue attainment as well. Regularly scheduling maintenance and upgrades for all major aspects of infrastructure is a must for any world-class IT department to optimize performance. Additionally, maintenance planning should be based on criteria such as system age, reliability and cost of replacement. This list is not exhaustive, but is a good start to monitoring the status and stability of existing infrastructure. With that, IT leaders should plan to retire and replace infrastructure when appropriate and needed. Incorporating infrastructure lifespan into the IT department's roadmapping and budgeting process at an early stage can help IT leaders plan for, as well as acquire, replacements on schedule. In turn, this mitigates the risk of a system failure or any interruption to business activities.
Nowadays, another increasingly important element of concern is infrastructure and information security. In addition to conventional physical security practices, a growing number of companies are proactively adopting cybersecurity measures, as well as revisiting existing security practices. Legislation such as the General Data Protection Regulation (GDPR) in 2018 have heightened the sensitivity of issues such as consumer data privacy. Given the wide range of potential threats to security – such as natural disaster, network attacks, viruses, fraud, espionage, data portability etc. – it is crucial for organizations to have a designated team or individual (such as a CISO) whose responsibilities are completely security-oriented, rather than assign security as a second or lower-priority responsibility to existing management The CISO and their team should also be up to date on new security threats and trends, industry regulations or best practices, as well as factor security investments into IT's annual budgeting and resource planning processes. However, it is worth noting that security awareness and compliance apply to every employee – not just the CISO and their team. Approaches such as socializing best practices among employees, conducting company-wide security training or hosting security simulations can help mitigate the regulatory, financial and technical risk of a security incident.
Consequently, business continuity and disaster recovery (BC/DR) is another element of infrastructure on which companies should heavily focus. Disaster recovery is the process by which business resumes after disaster (which can be both man-made or natural) has occurred, whereas business continuity is about how business resumes during other events besides disaster (e.g. leadership changes). When engaging in BC/DR planning, companies should evaluate and identify the primary business units/functions, the people affected, as well as the underlying systems, hardware and software to be prioritized in the case of unexpected scenarios. Furthermore, it may be helpful to determine the probability that certain hypothetical scenarios will occur and develop mitigation and recovery strategies based on that analysis.
Finally, IT leaders should focus on improving their service desk (or help desk). It is vital for the help desk to build credibility among its user base (i.e. employees from the rest of the company), since the help desk is often regarded as the face of IT by the rest of the company and can play a small but significant role in deepening relationships between IT and the rest of the business. Truly World Class IT departments will recognize this and enable their help desk to provide the best services possible, as well as leverage the help desk to boost IT's reputation for creative solutions. For proposed ways to enhance the help desk function, please refer to the book World Class IT by our CEO, Peter High.
Principle 3: Project and Portfolio Management
Project and portfolio management is becoming more and more essential for IT departments, as the need for greater transparency continues to increase. Previously, a lot of business executives did not always understand what went into procuring, creating and maintaining technology and as such, were often reliant on the cost and time estimates provided by their IT departments. However, recent reporting regulations as well as rapid digitalization of business and commerce means that companies now need more clarity and insight into where investment in IT is going. If executed well, several components of project and portfolio management can distinguish a World Class IT department from its peers – idea generation, prioritization, budgeting, portfolio management, project management and execution, quality assurance (QA) and post-project analysis.
First, idea generation is a process that is often problematic for companies. Many companies only allow more senior staff members to generate and submit ideas for projects, or give staff a limited time window to submit their ideas. These rules often lead to ideas not being sourced from the broader employee population and cause ideas that emerge outside of the submission window to be held off until following years. Given all of these issues, companies could establish a clear governance structure, comprising several review committees of appropriate business and IT stakeholders. This approach could help align idea generation to the company's overall strategic goals. Within the governance structure, each committee should have clearly designated roles and various levels of the company should be involved, to ensure that perspectives and feedback are representative of the broader employee base. The submission and review process for ideas should also occur more regularly, rather than once a year. Once determined, projects and portfolios should then be prioritized by the review committees. There are many ways to do this, but several criteria to be considered include: strategic fit, cost to benefit analysis, project interdependency, qualitative benefit versus change and risk analysis. For further elaboration on each of these criteria and how they affect the prioritization process, please refer to World Class IT by our CEO, Peter High.
Furthermore, budgeting can occur more easily once projects have been prioritized. By allocating funding to projects from in order or priority, the IT department can set an expectation of projects that will be deferred to the next budgeting cycle. Budgets could also account for projects that may emerge later or throughout in the year, to encourage innovation within the department.
Good budgeting, in turn, helps the IT department better manage its portfolios. However, what defines good portfolio management? Several suggestions include: regular meeting cadences, establishing a program management office, effective project monitoring via dashboards and other tools and so on. When it comes to portfolio management, one key challenge that many companies face is the inability to cancel projects, as sunk costs are often used to justify continuing non-performing projects, rather than canceling them and redistributing resources to other initiatives. Truly World Class IT departments are unafraid to delay or cancel non-performing projects and reallocate resources to initiatives that they know will create move value in the long term. Similar to portfolio management, IT leaders can rethink their approaches to project management and execution. It is interesting to note that truly World Class IT departments typically have a well-developed, well-documented project methodology or toolkit that is applicable to and can be tailored to all kinds of projects. In particular, project managers should play a dynamic role in leading and coordinating the teams for the project, monitoring milestones, etc. IT leadership can significantly encourage active and diligent project management by identifying the appropriate talent, as well as recognizing project managers for their efforts. As such, effective portfolio management, project management and execution can enable IT to maximize performance and deliver better results.
Moreover, quality assurance (QA) is often overlooked by many companies, but is critical in ensuring that any technology released by IT is high-performing, high-quality and does not require constant fixes. Some high-level suggestions for bettering QA processes include clearly defining quality gates and involving QA early on in the development lifecycle, but this list is not exhaustive. World Class IT departments have no qualms reviewing and revamping QA processes as needed and ensuring that they are consistent across portfolios and projects. Similarly, performance reporting can be done on a more regular basis to ensure that resources allocation, obstacles and milestones are all being tracked. In particular, World Class IT departments also track benefits – financial or otherwise – after projects have been completed, as such accomplishments can significantly boost IT's credibility. Finally, post-project analysis is extremely valuable, as it provides the IT department with benchmarks and lessons learned for future project development and idea generation. All of these components combined can truly help IT become more efficient, organized and an example to follow by its business counterparts.
Principle 4: IT-Business Partnerships
Often considered the "holy grail" of an effective IT organization, IT's strategic alignment with the rest of the business is no longer a nice-to-have, but rather a necessity in today's digital marketplace. IT's alignment with the rest of the organization hinges on five key components: cross-organization communication, IT-business strategic alignment, innovation, IT strategy and internal IT communication.
Beginning with communication, it is important to note that truly World Class IT organizations do not solely rely on top-down messaging. Rather, top performing organizations establish information channels at every level between IT and the rest of the business. When successfully implemented, IT is simply considered "part of the team" and less of a reactionary internal service provider. Looking inward into the IT organization itself, there must be robust lines of communication underpinning IT's role as an internal strategic advisor and enabler. Some of the biggest challenges (communication or otherwise) within IT teams stem from artificial organizational barriers and getting mired in the technical details behind a plan. While not apanacea, rotating employees through IT departments and adopting Agile-style approaches to work are two approaches that can help address poor internal IT communication challenges. Mature internal and external (to the rest of the business) communication habits are hallmarks or any truly World Class IT organization.
In the midst of effective IT and Business Partnerships lies strategic alignment and innovation. Firstly, each party must have their own documented (and used) strategy to guide both daily and long term decision making. With established strategies in place IT and Business leaders can upgrade their conversations from tactical question exchanges to comprehensive collaborative sessions. IT's role is to both follow and adjust to the direction the business is heading while providing subject matter expertise and driving decisions around technology investments made by both the Business and IT. In well functioning IT-Business Partnerships there is a healthy sense of co-dependence and trust that allows innovation to truly take root and grow. Without alignment around common goals and a sense of team innovation cannot thrive. In well functioning organizations the line (or wall) between IT is blurred and the strengths of each group underpin future success
The concept of IT-Business Partnership may sound simple, but even digitally native organizations can struggle sharing resources and ideas for the common good of the firm. Moreover, leveling the field between IT and the rest of the business should be a top priority for any IT leader serious on maturing her organization.
Principle 5: External Partnerships:
Within many organizations IT is the largest spender and consumer of 3rd-party products and services. Given this concentration of vendor spend, business leaders often lean on IT to drive bottom-line savings by cutting (or increasing) vendor spend inline with the prevailing business climate. The existential (and real) threat of budget whiplash can wear on vendor relationships and breed conflict where partnerships should thrive. The best IT organizations know and segment their vendors, they apply rigorous and fair procurement processes and manage vendor relationships on an ongoing basis. Given the rate of technological change it is unreasonable to assume that IT can deliver an organization's entire technology needs on its own, but there needs to be a thoughtful strategy behind why work should be done outside the organization's own four walls.
Establishing governance, process and accountability with vendors begins with adequate vendor segmentation. Segmenting (or organizing) vendors by factors such as their size, strategic importance and total spend will help shape the proper vendor relationship and drive the most value. Taking a one-size fits all approach that treats independent contractors the same as the IBMs of the world can both snuff out potential value-add from smaller contractors, while not providing proper performance controls for large managed service providers. Understanding where each vendor fits across a continuum of factors will help both the procurement process and in-life vendor management.
The best IT groups work hand in-hand with central procurement teams and often form joint or independent teams that can leverage IT's technology expertise to vet potential suppliers. The procurement process is the time and place for rigorous and fair governance to shine. It is here that inlife performance metrics, penalties and incentives will be set. It is also the beginning of a vendor's formal relationship with the organization and it sets the tone for the rest of the partnership.
Lastly comes in-life Vendor Management. The best IT organizations recognise this as a discrete function outside of the upfront Segmentation and Procurement processes. It is here that relationships with both key and commodity vendors are built and SLAs are monitored appropriately. This function can be dispersed across organizational subunits or IT can build its own Vendor Management Office, the key is to make sure someone is responsible for each vendor, their performance and the overall relationship. Most vendors appreciate a more hands on approach as it gives them more feedback to improve their own internal contract and service management practices. Moreover, while there should be individuals directly aligned with each vendor Vendor Management is the responsibility of everyone who works with a given vendor. By establishing and more formalize structure, individuals on the IT team are able to better raise grievances and praise and key vendor resources have one place to do the same.
As an IT organization aims to become truly World Class it is important for External Partners to not be forgotten. External Partners can help IT deliver its strategic edge both internally and for the end customer. By conducting sound Segmentation, Procurement and Management practices IT will be helping set its partners (and ultimately itself) up for sustainable success.
Price matters, a lot. In an era of hyper price transparency, the subtlest price discrepancies will drive consumers to purchase on channels with the lowest price. Often consumers make buying decisions in two steps: first, what they want to buy; second, where they will buy. Especially for goods and services that are not substantially differentiated in terms of quality or features, your average consumer will naturally gravitate towards the lowest price. This has been felt in an especially acute manner for retailers such as Best Buy, where consumers go to window shop, but complete their purchases on lower priced ecommerce alternatives (i.e., Amazon, eBay, Jet, etc.). Best Buy has since woken up to the fact that without differentiating the customer experience, they were unable to create stickiness to convert foot traffic.
When selling a commodity, or a good/service with a comparably substitute, price parity is arguably the most important driver in decision making. The challenge, of course, is that the manufacturers of a good, or a provider of a service, don't always own the end touch point with the consumer. Many companies rely on a network of distribution partners to help market and sell their products. While this approach allows companies to scale revenue without the risk of building a massive salesforce, it also means that the manufacturer/provider will not be able to control all the variables that influence consumer's buying decisions.
To strike the right balance, many companies develop a distribution strategy that comprises two dimensions: direct and indirect sales. Direct distribution focuses on selling directly to customers, while indirect distribution depends on intermediaries to complete a transaction. A distribution strategy needs to be married with a robust approach to inventory management, which may mean different things to a manufacturer than a service provider. Manufacturing firms typically have robust Sales & Operations process (referred to S&OP), during which they forecast sales and ensure there is enough inventory produces and physically distributed to distribution centers or shelf space to meet consumer demand. Service providers tend to look at inventory as an expiring asset: once time has passed, you can no longer sell that service (e.g., once a plane takes off with an empty seat, or a tee time passes without a foursome teeing off).
Although hospitality was one of the first industries to create robust distribution channels and networks through Online Travel Agencies (OTAs) to capture additional business, one of the consequences of that arrangement is that customers were conditioned to view hotel rooms as a commodity where price was the primary decision factor. While OTAs let reviews and minimal merchandising try to differentiate hotels, consumers also got lost in the noise of the difference between one chain versus another.
The case for price integrity and parity
Over the past 5 years, intermediaries successfully crafted a narrative that they had the consumer's best interest at heart by negotiating with the hotels, and only the OTAs could be trusted for the lowest price. Some of this was true; you could find lower prices for last minute deals, and there was benefit to both the OTAs and hotel operators that did not want to see a bed go empty. However, as OTAs further influenced the customer experience, and ate into profits with a greater share of bookings, the hospitality, airline, and other industries recognized that they would have to take decisive action to remove price disparity as the primary reason a consumer would purchase products or services on any indirect channel.
One compelling example is  Icelandair and El Al who have begun experimenting with displaying sample prices of their competitors on their own websites, to show how competitive their direct prices are, and to hopefully prevent customers from "clicking" away to competitors and other price aggregators. With the explosive growth of options in the online distribution environment, there are two primary factors that companies should concentrate on: Price Integrity and Price Parity.
Price integrity is the concept of a customer being confident that they are purchasing a product of a certain value. While a customer may be willing to pay more or less, depending on the time and place of their purchase, there is a psychological range that they base their expectations on.
Price parity is the practice of maintaining a consistent rate for the same product across all distribution channels, including both owned and partnership channels. Nothing destroys trust more than being able to find a cheaper price on another website, or worse, when a company's website is cheaper than its stores.
For industries that rely both on direct channels and distribution channels, there is a "co-opetition" relationship in which it is not uncommon for a firm to be competing with their distribution partners for sales. On the one hand, if a consumer wasn't going to come to AlaskaAirlines.com, they would be more than happy with a referral from KAYAK, or a booking through Expedia to fill an empty seat. But if there was a chance that customer could have booked directly with Alaska Airlines, they would have fought hard to win that booking.
Hospitality and travel companies are in the middle of an ongoing competition with their distribution partners (OTAs and Metasearch engines – METAs) for the future of guest bookings. According to Hitwise, hotel direct booking only made up ~30.56% of online booking market share in 2017, at the same time OTAs continued to eat away further at market share, growing 60 basis points from 2016 to 2017.
While OTAs and METAs have become an invaluable component of hospitality marketing and distribution campaigns, there are contractual violations that stress the trust necessary for heathy "co-opetition" Some OTAs and METAs may display available prices that undercut contracted prices. Often these discounted prices are provided to the OTAs and METAs by wholesalers in violation of price-parity contracts, but the complex web of distribution relationships and flash-speed of online pricing engines makes it difficult for hospitality companies to really hold their distribution partners accountable.
6 steps to balance your distribution strategy
Despite the challenges, companies must maintain a vigilant eye on how inventory and experiences are being displayed by distribution partners to ensure that consumers that may have the inclination to purchase on direct channels are not actively dissuaded from doing so. A successful distribution strategy must be aggressive and can quickly be implemented and maintained by following these six critical steps:
1. Use metrics to prioritize and re-evaluate your current distribution channels
Metric tracking allows you to better understand if your chosen distribution partners are worth their distribution costs. For example, "NRevPAR" (Net Revenue per Available Room) is the industry standard in hospitality for calculating the revenue generated per available room, net of any discounts or commissions paid to intermediaries. Through the re-evaluation of their NRevPAR, hoteliers can evaluate their current distribution partnerships across their current distribution channels to ensure that their distribution costs are harmonized with their expectations for each partner. A significant drop in a key metric is a telltale sign that it is time to either renegotiate with your current distributors or start looking for replacements.
2. Evaluate your partnerships and reputation
It is imperative that you monitor how and where your inventory is displayed across your distribution partners' platforms. You want to have the ability to confirm that your partners are playing by the rules as well as ensuring that your offering is not appearing unofficially on other public channels with rogue prices that undercut you and your partners. If a partner determines that your inventory is floating around the public space at prices that undercut their contracted prices, it won't be long before you observe your inventory being pushed to the bottom of their display pages—if they don't remove you altogether for being out of parity.
3. Understand you customers' shopping preferences
Andrew Sheivachman of Skift pointed out that in 2017, global digital travel sales were projected to reach $189.6 billion in 2017, of which 40 percent was to be attributed to purchases made through mobile (4% gain over 2016). With such a rapid rise in the adoption of mobile booking and shopping, you cannot let your mobile channel development lag. You must work proactively with your distribution partners to refresh user interfaces and user experiences to optimize their mobile shopping experience. Rich content, descriptions, and high-quality photography also allow you to differentiate your product when it is sitting on a digital shelf with comparable products.
4. Shift to dynamic pricing
Dynamic yield pricing allows you to base your pricing relative to demand and other variables. Dynamic pricing is being employed across various industries to match supply and demand to move expiring inventory: preventing waste in grocery stores, ensuring that there are enough drivers on the road for ride-sharing platforms, or driving loyalty by generating customer-specific fares for airlines. Within the hospitality industry, dynamic pricing allows for inventory to be priced appropriately in response to the timing of a booking, local events, or any occasion that could cause fluctuating demand.  Just make sure that your dynamic price is not undercut by a distribution partner or cached by that distribution partner and out of date when prices go back up.
5. Drive loyalty through points of inspiration
While channels you directly manage (a website, a social presence, in-store), may not be the first point of interaction between you and your prospective consumer, you still can convert customers to complete their purchase through your owned direct purchase channels as you get to know them and earn their attention. In 2015, of booking journeys that were initiated on OTAs – over 34% of bookings were completed through supplier websites. Bolstering your available offers for customers through loyalty programs, subscription email campaigns, and social media can help drive customers from your distribution partners to your direct-booking channels.
6. Invest in technology
Legacy backend systems may cause you millions of dollars in system outages and will almost certainly inhibit your ability to proactively adjust your distribution network. These legacy platforms cause transactional friction during the process in which a supplier's prices are sent out to the systems of distribution partners, which in turn forces revenue managers to spend hours a day manually validating that prices and inventory are being migrated accurately to various distribution channels and partners. Rate monitoring platforms are now available that allow for revenue managers to monitor the behavior of their distribution partners using automation. The use of these platforms also increases transparency of your distribution partners' networks. These platforms can be used to not only monitor the integrity and parity of pricing for your own inventory, but they can be used to quickly determine if you are competitively priced across the globe. With our earlier example of Icelandair and El Al, technology can also automatically allow revenue managers to know when their rates are being advertised by competitors (either accurately or inaccurately).
While your distribution partners can help you reach new customers and markets, you must ensure that their role as an intermediary does not equate to them "owning" the customer. It's the incentive of your distribution partners to provide you revenue, but they are unlikely to share customer information that can be used to convert a customer into a loyal patron (i.e. personal email address, mailing addresses, etc.). Providing an amazing customer experience is the best way to overcome a consumer's bias to make decisions based on price. If a company can pair a differentiated customer experience, with an enticing loyalty program that rewards purchasing goods or services through direct channels, there is still hope to maintain a balanced distribution strategy.
"Given a ten percent chance of a 100 times payoff, you should take that bet every time. But you're still going to be wrong nine times out of 10." –Jeff Bezos
Leading organizations like Amazon, Walmart, Uber, Netflix, Google X, Intuit and Instagram have all vigorously embraced the philosophy that rapid experimentation is the most efficient and effective path to meeting customer needs. In an interview with Metis Strategy's Peter High, entrepreneur Peter Diamandis explains that the most nimble and innovative companies like Uber and Google X "are running over 1,000 experiments per year and are creating a culture that allows for rapid experimentation and constant failure and iteration."
Traditional strategic planning taught us to study all the pieces on the chess board, develop a multi-year roadmap, and then launch carefully sculpted new products or services. Executives believed that there was only one chance to "get it right," which often left organizations allowing perfect to be the enemy of the good.
However, in the digital era, decision velocity is more important than perfect planning.
Accelerating decision velocity through experimentation
The most successful organizations cede the hubris of believing they will always be able to perfectly predict customer or user demands, and instead let data—not opinions—guide decision making. The data that informs decision making is derived from a series of experiments that test a hypothesis against a small but representative sample of a broader population.
The experiment should examine three questions
Can you use the offering?
Would you use the offering?
Would you pay (with money, data, time, etc.) to use the offering over an alternative?
And then lead to one of three conclusions:
The hypothesis is overwhelmingly correct, and we should pursue the idea earnestly;
There is positive momentum for the hypothesis, and we should expand the sample size and continue testing and evolving the offering; or
The hypothesis is wrong, and should either be scrapped, or the approach be dramatically recalibrated
Often, experiments fall into the second category, in which case organizations demonstrate enough viability to iterate on the idea to further hone and enhance the product-market fit. The key is to gain this insight early, and course-correct as necessary. It is easy to correct being two degrees off course every ten feet but being two degrees off course over a mile will cause you to miss your target considerably (+/-0.35 feet vs. +/- 184 feet).
One simple example is when Macy's was evaluating the desire build a feature that would allow customers to search for a product based on a picture taken with their smartphone. Other competitors had developed something similar, but before Macy's invested significant sums of money, the retailer wanted to know if the idea was viable.
To test the idea, Macy's placed a "Visual Product Search" icon on its homepage and monitored the click-through behavior. While Macys.com did not yet have the capability to allow for visual search, tens of thousands of customers clicked through, and Macy's was able to capture emails of those that wanted to be notified when the feature was ready.
This was enough to begin pursuing the idea further. Yasir Anwar, the former CTO at Macy's, said teams are "given empowerment to go and test what is best for our customers, to go and run multiple experiments, to test with our customers, (and) come back with the results."
To accelerate decision velocity, we recommend that all companies develop a framework to create a "Business Experimentation Lab" similar to the likes of Amazon and Walmart. This Business Experimentation Framework (BEF) should outline how people with the right mindset, enabled by technology (though sometimes technology is not necessary), can leverage iterative processes to make more well-informed, yet faster decisions. Doing so frees organizations from entrenched, bureaucratic practices and provides mechanisms for rapidly determining the best option for improving customer experiences out of a list of possibilities.
A Business Experimentation Framework is crucial to:
Rapidly accelerate test-and-learn cycles, allowing your organization to avoid stagnation or "analysis paralysis"
Provide sample data on risk mitigation, giving insights into the effort and costs needed for scaling a solution
Cost-effectively facilitate customer feedback, thereby allowing solution-market fit to be more easily acquired, and
Create an environment that fosters quality ideas, rather than one that enforces the notion that ideas can only come from top executives
Business experimentation through A/B testing at Walmart
While nearly every department can introduce some flavor of experimentation into their operating model, a core component and example in eCommerce is A/B testing, or split testing. A/B testing is a way to compare two versions of a single variable, and determine which approach is more effective.
At a recent meetup at Walmart's Bay Area office, eCommerce product and test managers discussed the investments, processes, and roles required to sustainably hold A/B testing velocity while ensuring the occurrence of clean, accurate, and controllable experiments. Walmart began its journey towards mass A/B testing with a top-down decree—"What we launch is what we test"—and now is able to run roughly 25 experiments at any given time—and Walmart has grown the number of tests each year from 70 in 2016 to 253 in 2017.
To enable A/B testing at this velocity and quality, Walmart developed a Test Proposal process that organizes A/B tests and provides metrics for test governance, so teams can quickly make decisions at the end of a test. A Test Proposal defines:
Test start date and stop date: When will the test start and how long should it run?
Mockup of the desired test-state: What will be experienced by users in the test sample?
Measurements: How will we measure the business outcome and success of the test? Do we evaluate company-wide metrics like revenue, visits or conversion, or do we prioritize test-specific operational metrics like click-through rate, viewed items, items in cart?
Go/No-Go Decision: Given the defined measurements, what threshold is required for a test to be deemed successful or unsuccessful? If the test is successful, what will be the next action? If unsuccessful, how will the release roadmap or initiative change?
To facilitate the lasting adoption of a Business Experimentation Framework, organizations must staff critical roles like test managers, development engineers, and test analysts. Walmart, for instance, has created the following roles to enable the launch and analysis of 250 tests per year:
2 Test Mangers (soon to be 3 Test Managers), responsible for coordinating test releases, ensuring no collisions (bias introduced by overlapping tests) occurs, allocating the proper amount of site traffic to tests, and more
8 Development Engineers, responsible for developing, enhancing and maintaining the Walmart in-house A/B testing platform, as well as working directly with project engineers to support building features that are capable of being A/B tested
20 tests analysts (yes, 20) whose responsibilities range from A/B testing specific tasks like gathering test-related metrics, analyzing, and concluding if the test passes or fails, to other tasks around trend monitoring, pre-post analysis, opportunity sizing etc. Launching roughly five tests per week, Walmart requires an inordinate number of analysts to ensure testing funnels stay clear of bottlenecks
Creating an experimentation-oriented organization
Institutionalizing a bias for experimentation is not easy. We have seen several barriers to adopting a Business Experimentation Framework, such as:
A lack of an analytical, data-driven culture (and basic understanding of statistics)
A desire to "do what we know is right" over patience for testing
An over-rotation and paralysis when, if the data is not conclusive, no action can be taken
Testing teams turning into order-takers without a clear sense of prioritization
Technology that becomes a bottleneck to running simultaneous tests
A belief that a failed test is a failure and waste of money—when in reality it is a learning, and a mitigation of further wasted resources
Typically, enthusiasm for experimentation gains momentum with one beachhead department. That department develops a test-approval process that is supported by the tools and data necessary to test, analyze, learn, and make accurate go/no-go decisions.
Here is a blueprint for introducing a test-first culture:
People: Create dedicated, value-stream-oriented test-manager roles responsible for test launch and accountable for business outcomes. Provide developers who will upkeep test environments, as well as analysts who will be responsible for receiving test data and analyzing results
Process: Infuse testing into agile product-management practices, with customer centricity at the core. After a few experiments, empower test stakeholders to develop their own test proposals and take ownership over results
Technology: Construct mechanisms to segment target populations, serve a unique experience, and capture data on the performance of the experience. Provide access to metrics associated with tests to accelerate decision making. While there is a wealth of tools available for experimentation, organizations can apply these principles to physical, in-person experiments as well
Business Experimentation Framework maturity: Developing a Business Experimentation Framework should be approached like building any other competency: As a journey of increasing maturity over time. Here are some ideas to get you started:

Digital tests can be manual (an email blast with two different versions), automated (A/B testing or multivariate testing following rules in a tool, such as Adobe Target or Monetate), customer research lab (customers physically interact with technology products and heat mapping/eye tracking to gather data), paid search or faux-link smoke testing (bid on search terms or fake link on a webpage that tracks clicks and gauges interest), survey based (scenario ranking, conjoint analysis, etc.) or others.
Physical tests include proactively sending free samples and monitoring repurchase rates, changing a process in a store and monitoring business outcomes like checkout times, or conducting customer-intercept user testing with one product over another.
If done well, establishing a Business Experimentation Framework will allow organizations to figure out what matters to most customers, within a limited amount of time, for a limited cost, and with a risk-reward tradeoff that will ultimately play to their favor.
As Bezos said, "We all know that if you swing for the fences, you're going to strike out a lot, but you're also going to hit some home runs. The difference between baseball and business, however, is that baseball has a truncated outcome distribution. When you swing, no matter how well you connect with the ball, the most runs you can get is four. In business, every once in a while, when you step up to the plate, you can score 1,000 runs. This long-tailed distribution of returns is why it's important to be bold. Big winners pay for so many experiments."
In early 2015, when The Manitowoc Company decided to split into two companies, the executive leadership called on the CIO, Subash Anbu, to lead the charge.
The transformation would be the most consequential in its 113-year history. Leaders from the company, then a diversified manufacturer of cranes and foodservice equipment, decided that the whole of the diversified organization was no longer greater than the sum of its parts. It would split into two publicly-traded companies: Manitowoc (MTW), a crane-manufacturing business, and Welbilt (WBT), which manufactures foodservice equipment.
The CIO was a natural choice to lead a change of this magnitude because his role allowed him to understand the interconnectedness of the company's various business capabilities, which processes and technology were already centralized or decentralized, and where there may be opportunities for greater synergy in the future-state companies.
Subject matter expertise, however, would not have been enough to qualify a candidate; the leader had to be charismatic, and Subash was widely recognized for his servant-leadership mentality. That would prove essential to removing critical blockers across the organization.
It was also important that the CIO had long-standing credibility with the Board of Directors, who were the ultimate decision makers in this endeavor.
Subash embraced the daunting challenge, saying, "While change brings uncertainty, it also brings opportunities. Change is my friend, as it is the only constant."
Mitigating and managing risk
In some ways, splitting a company into two may be harder than a merger. When merging, you have the luxury of more time to operate independently and merge strategically.
When Western Digital acquired HGST in 2015 and Sandisk in 2016, CIO Steve Philpott decided to move all three companies to a new enterprise resource planning (ERP) system rather than maintain multiple systems or force everyone onto the incumbent Western Digital solution. When splitting a company, there is greater urgency to define the target state business model and technology landscape and execute accordingly.
This split for Manitowoc introduced major consequences for change: duplication of every business function, completed within a fixed four-quarter schedule, while still executing the 2015 business plans. All business capabilities would be impacted, especially Finance, Tax, Treasury, Investor Relations, Legal, Human Resources, and of course, Information Technology.
While the Manitowoc Company had experience with divesting its marine segment (it started as a shipbuilding company in 1902), the scope and scale of the split was unprecedented for the company.
Breaking apart something that has been functioning together is an inherently risk-laden proposition. Subash and his team recognized that to mitigate risk, they would need to be both thoughtfully deliberate in planning and agile in their execution that breaks down big risks into smaller risks, prioritizing speed over perfection.
As Subash led the split of the company into two, he encountered the following risks:
Business Environment Uncertainty. Credit markets were tightening for the company's debt refinancing, creating concerns about the timing of executing the split. Also, the EU data privacy laws required approval from the EU work councils to split the companies, so the team would have to work diligently to comply with evolving regulation.
Operating Model Definition. The organizational design for the two companies continued to evolve, with the creation and appointment of new C-level executive stakeholders. The target-state operating model was also in flux, as each of the new leaders evaluated how centralized or decentralized the future-state companies would be.
Employee Impacts. Initially, there was uncertainty for most corporate employees in the company. Which company would I work for? How would my role change? Where would I be physically located? With this uncertainty in the air, employee attrition during the project posed a material risk to meeting target deadlines.
Technology Target State. Manitowoc's IT landscape had both centralized and decentralized application portfolios, which required a rationalization of the IT portfolio, as well as determination of what would be most appropriate for each company. Standards and enterprise agreements for the technology infrastructure that included synergies for volume pricing would have to be restructured and renegotiated, potentially introducing increased cost to the new companies. And, as with all functions, there would now have to be two IT departments.
5 lessons for successfully splitting a company
When splitting a public company, the deadlines and outcome are clear. How Subash and the team would execute the split of the company, however, remained largely undefined.
The enormity of the task could have created a paralysis, but the team quickly began working backwards: getting on the same page with the right people; identifying the big-rock milestones; identifying the risks; sketching out a plan to reach the big-rock milestones; breaking the plan into smaller rocks to mitigate risk; and keeping everyone informed as the plan unfolded with greater detail.
In the process, Subash learned five critical lessons that all executives should heed before splitting a company:
1. Establish a separation management office and steering committee
Splitting a company requires cross-functional collaboration and visibility at the strategic planning and execution level. Start by creating a Separation Management Office, consisting of senior functional leaders that will oversee the end-to-end split across HR & Organizational Design, Shared Services & Physical Location Structuring, IT, Financial Reporting, Treasury & Debt Financing, Tax & Legal Entity Restructuring, and Legal & Contracts. The Separation Management Office should report to a Steering Committee consisting of the Board of Directors, CEO, CFO, and other C-level leaders. When faced with difficult questions that require a decision to meet deadlines, the Steering Committee should serve as the ultimate escalation point and decision maker to break ties, even if it means a compromise.
2. Assemble the right project team
A split will require dedicated, skilled resources that understand the cross-functional complexities involved. This project team will need people that understand the interconnectedness of technology architecture, data, and processes, balanced with teams that can execute many detailed tasks. When forming the team, it is important to orient everyone on the common objective to create unity; departmental silos will not succeed. Variable capacity will almost certainly be necessary for major activities, and you may be able to stabilize your efforts by turning to trusted systems integrators or consulting partners to help guide the transition.
3. Sketch out the big-rocks project plan and manage risk
Agile evangelists often frown upon working under the heat of a mandated date and scope, but a public split forces such constraints. Treat the constraints as your friend: Work backward to identify your critical operational and transactional deadlines. Ensure the cross-functional team is building in the necessary lead time, especially when financial regulations or audits are involved. Dedicate a budget, but be prepared to spend more than you anticipate, as there will always be surprises to which teams will have to adapt. As part of your project planning, create a risk management framework with your highest priority risks, impacts, and decision makers clearly outlined. When time is of the essence, contingency plans need to be in place to adapt quickly.
4. Prioritize speed over perfection
Any time a working system is disassembled, there unquestionably will be problems. The key is not to wait for a big bang at the end to see if what you have done has worked. Spending nine months planning for and three months executing this split would have introduced new risks. Instead, Subash and his team built their plan and then iteratively built, tested, and improved in an agile-delivery process. The team was able to identify isolated mistakes early and often, allowing them then to proceed to the following phases with greater confidence—not with bated breath.
5. Communicate relentlessly
In a split, every employee, contractor, supplier, or customer will be impacted. Create a communication plan for the different personas: Steering Committee, operational leaders, functional groups, customers, partners and suppliers, and individual employee contributors. The Manitowoc Company had to communicate on everything from where people would sit, to who would be named as new organizational leaders. In the void of communication, fear and pessimism can creep in. To prevent this, the Separation Management Office launched "Subash's Scoop," a monthly newsletter on the separation progress. It brought helpful insight, with a flare of personality, to keep the organization aligned on its common goal.
The Manitowoc Company successfully split into two public companies—Manitowoc (MTW) and Welbilt (WBT)—in March 2016, hitting its publicly-declared target. In fact, many of the critical IT operational milestones were completed in January, well in advance of the go-live date.
Over the last two years, the stock prices for both companies have increased, validating the leadership evaluation that the whole was no longer greater than the sum of its parts.
12/5/17
By Chris Davis and Brandon Metzger for CIO.com
Technology is transforming our world at an unprecedented rate. New technologies like virtual assistants and augmented reality are changing consumer expectations faster than ever. The impact of cybersecurity breaches is intensifying. And digital enablers are allowing upstarts to steal market share from incumbents in a matter of months or years, rather than decades.
While it is tempting to believe that these disruptive times will eventually stabilize, our analysis suggests that the rate of technological progress will only accelerate. If this year indeed represents both the fastest rate of change we ever haveexperienced, and the slowest rate of change we ever will experience—as many experts have posited—then this raises a critical question for executives in all industries:
How do I understand the consequences of accelerating technological change, and position my company to capitalize on the opportunities presented by emerging paradigms?
To accomplish this, companies can develop innovation systems that consist of a variety of methods and processes, ranging from strategic foresight to a portfolio of corporate innovation programs. One such program — innovation labs — is gaining steam in corporate America, with some of the biggest and best-known companies opening new outposts focused on developing and scaling breakthrough technologies, processes, and business models.
Through Metis Strategy's work with Fortune 500 companies and rapidly growing businesses alike, we have identified seven critical factors to consider when creating such a corporate innovation lab.
1. Define the charter
The charter is a concise description of the innovation lab's objectives and its method for achieving them. But a charter is not just lofty PR: many of the best innovation labs use their charter as a guiding light that provides a deeper sense of purpose and direction. Subsequently, the charter should also clarify what the lab is not focused on.
Consider the differences between the charters of Lowe's Innovation Lab and of Bayer's U.S. Innovation Center and Science Hub:
Lowe's Innovation Lab: Understand how new technology may play a role in the future lives of customers and employees by thinking about potential applications for disruptive technologies to build an innovation roadmap and rapidly prototype new ideas.
Bayer Innovation Center & Science Hub: Enable our scientists to reach out to academic institutions and life-science firms to forge new drug-discovery collaborations.
While Lowe's focuses on identifying and utilizing new technologies to enhance the retail experience, Bayer's priority is forming partnerships to accelerate drug discovery. Given their differences, it should be no surprise that these innovation labs utilize different metrics, governance models, funding sources, and innovation ecosystems to accomplish their objectives.
2. Identify innovation metrics
Large companies thrive when business conditions are certain and their targets are clear. While execution metrics can measure the performance of existing business models, they are less capable of accurately quantifying progress at innovation labs, where the work is sometimes less precise, longer term, or more conceptual. Kyle Nel, Executive Director of Lowe's Innovation Lab, has noted that "it does not make sense to apply mature metrics to something in its nascent form."
Innovation labs can develop a portfolio of innovation metrics to measure not only the results of the innovation effort, but also the preconditions and innovation process itself.
With this focus on measuring both process and progress, innovation metrics help labs assess their innovation maturity, but may also bolster the support of their executive sponsors, especially in the early days. For example, Harvard Business Review notes that "revenue generated by new products," an output metric, is the metric most commonly used by senior innovation executives. By establishing a portfolio of innovation metrics that also includes input and development metrics, the conversation can shift from focusing solely on results to focusing also on the maturing evolution of the innovation capability. This ability to develop unique innovation metrics has helped Nel push back when Lowe's executives expect significant revenue growth from new and disruptive products.
3. Employ a process for innovation
Innovation is as much a cultural attitude as it is a business process. A generic approach to innovation may begin by defining the customer and uncovering their unmet need, formulating a hypothesis on what product or service the company can offer to meet that need, and validating the hypothesis by using customer feedback to rapidly experiment and iterate. Further, to foster the right mindset, innovation labs should:
embrace customer centricity
experiment relentlessly, with the desire to learn from failures
leverage new technologies and business models
accelerate the build/measure/learn cycles; and
utilize the customer development method and lean methodologies.
That said, many of the best labs develop unique processes influenced by their charter. Consider Lowe's Innovation Lab (LIL), which uses a narrative-driven approach to identify and articulate opportunities. First, LIL conducts market research, compiles trend data, and collects customer feedback on unmet needs and pain points. Next, LIL shares this information with science fiction writers who create strategic documents in the form of comic books, which follow characters through a narrative arc that illustrates a new solution to the character's problem. Then Lowe's executives use the comic books to make prioritization decisions, and, finally, LIL works with its partners to create the solutions introduced in the comics.
Another example of an organization employing a unique process is X, Alphabet's "moonshot factory," which is charged with creating world-changing companies that could eventually become the next Google. X adheres to a three-part formulafor identifying opportunities: (1) it must address a huge problem, (2) it must propose a radical solution, and (3) it must employ a relatively feasible technology.
Using this formula, X has spun out numerous subsidiaries under the Alphabet umbrella. One of those companies is Waymo, the autonomous vehicle pioneer that Morgan Stanley recently suggested could be worth $70 billion.
4. Who and how to recruit
If companies believe an innovation lab will help them more effectively navigate the waters of disruption, it is essential that they recruit for passion and cognitive diversity, rather than just skill. Labs often include a wide range of technical and non-technical roles, from data scientists and designers to experts in anthropology and psychology. Breadth and depth of both skill set and mindset are essential components of a successful innovation lab that creatively explores new technologies and business models.
Ideal job candidates should be innate risk-seekers, strong questioners and connectors, and comfortable with failure and restarts. Deloitte Center for the Edge Co-Chair John Hagel described people who have these traits as personifying the "passion of the explorer."
Organizations searching for these passionate explorers will find advantages and disadvantages in looking both internally and externally. Internal employees may more deeply understand the customer, but they also may have difficulty looking at problems from a different perspective. External hires may bring new viewpoints and skills, but recruitment may prove challenging.
Companies can use several tactics to attract talent. Buzzfeed's Open Lab for Journalism, Technology and the Arts, for example, targets specific individuals and groups based on their past projects. Recruitment efforts have been successful, in part, because Buzzfeed offers company resources that support their creative freedoms. Alternatively, companies can be deliberate in how they share their innovation initiatives with the public. For example, Airbus has a blog that reports news from the company's A3 innovation lab, Airbus Ventures, and from other teams across its innovation ecosystem. This type of focused communication both targets and attracts an audience of individuals who are the most knowledgeable and interested in innovation currently taking place within the industry, and, in so doing, Airbus can create an informal pool of potential new hires.
5. Establish a funding source and budget
The process for establishing a funding source will differ depending on the company. For example, Allstate CIO Suren Gupta has described how a formal Innovation Council evaluates ideas and allocates funding. At other companies, if the innovation ties closely to a particular business unit, then funding may come from that group's budget.
Though the specifics will vary, a generic process for establishing funding may include
identifying and articulating the need for an innovation lab,
hiring a small, diverse, highly talented team,
minimizing initial long-term commitments, such as major capital expenditure for office space
demonstrating the effectiveness of the innovation process by delivering against the charter,
requesting more funding and resources for dedicated teams that are mapped to value streams, and
evaluating ROI based on leverageable output, not detailed initial business cases or realized commercial value within a short window (scalable value may take time).
The actual size of the budget depends on whether a lab is building the technology itself, partnering with other organizations, or acquiring a company, product or talent. Amazon and Google have spent millions of dollars developing parcel delivery drones. Meanwhile, companies like UPS and Daimler AG have opted to partner with—and make strategic investments in—established drone makers. This lowers both the risk and the cost of innovation while still allowing the company to develop new capabilities.
Regardless of how funding is established—or the size of the budget itself—it is critical to measure how much money was spent at each stage of the process: preparation (i.e. percentage of capital budget allocated to innovation projects), development (i.e. R&D spending at each phase of development the innovation process), and results (i.e. percentage of sales from innovation projects). As with the portfolio approach to general innovation metrics, the use of financial metrics across the innovation lifecycle reduces the focus on ROI, which can cripple innovative projects in the early stages.
6. Where to locate the lab
Silicon Valley is the quintessential innovation ecosystem. The region's unique characteristics undoubtedly make Silicon Valley the right innovation ecosystem for many labs—particularly those charged with discovering and/or acquiring startups, or gaining business and technical intelligence about emerging technologies.
Other locations should not be overlooked, however. Cities such as New York City, Austin, and Chicago in the U.S.; London, Paris and Berlin in Europe; Tel Aviv in the Middle East; and Singapore, Shanghai and Tokyo in Asia all offer rapidly maturing innovation ecosystems, each with their own unique advantages and disadvantages.
To determine the ideal location for an innovation lab, consider which ecosystem characteristics (such as those highlighted in the adjacent visual) best support the objectives defined in the charter.
For example, former ADP CTO Keith Fulton (now CIO of Bank Systems with Fiserv) has described how ADP's innovation lab is focused on creating "best-in-class user experiences." Accordingly, ADP opened its second lab in Midtown Manhattan, since the proximity to top visual design and creative firms provide high concentrations of the right skill sets.
7. Develop a strategy for successfully integrating innovation
There is one final challenge, even for innovation labs that successfully deliver results in accordance with their charter: integrating the innovation with the core organization. From Kodak's invention of the digital camera to Xerox pioneering the GUI, there is no shortage of companies that failed to capitalize on their innovations.
To be sure, innovation integration is the culmination of an innovation lab successfully delivering on its charter, so the way in which the company captures the value of the innovation very much depends on decisions that were made along the way. We recommend that executive sponsors and innovation leaders discuss early and often what successful innovation integration looks like. Here are a few key questions to consider:
Will the innovation become a foundational component of the core organization (i.e. Google Brain)?
Will the innovation become a separate business unit or wholly owned subsidiary (i.e. Waymo)?
Will the innovation be spun off as an independent, venture-backed company (i.e. Illumina's spinoff, Grail)?
Will the innovation be rolled out in a controlled manner to the core organization's customers (i.e. Lowe's Innovation Lab)?
While there is no set template for innovation integration, a definable, well-articulated vision of what the desired success will look like should be a primary priority, not an afterthought.
More than ever before, established companies are struggling to keep up with both the deployment of new technology by their competitors and consumers' rapidly changing expectations. Careful consideration of these seven factors can empower companies to build an innovation lab that fosters energetic challenges to preconceived notions, creative experimentation with new technologies and business models, and thorough exploration of potential products and services that will enable it to survive—and thrive—amidst the accelerating forces of disruption.
As technology becomes increasingly integrated with business, companies are demanding better and newer technological products, or solutions, to boost business performance, facilitate smooth operations, improve product delivery and enhance the customer experience. This has also caused the role of CIO to change in recent years, from one of process-centric IT leadership and a focus on cost-cutting to developing innovative, value-creating solutions for their company. However, even today, many CIOs are not invited to sit at the table when future vision for their companies is discussed. This may be due to the perception that IT's primary role should be to resolve issues with existing technology, rather than the view that IT can be a hub for innovation within the company. Moreover, business executives outside of IT often fail to recognize that IT must balance the priorities of all other divisions in the company, in order to come up with its own prioritization of projects. As such, there is a lot of pressure on IT to deliver solutions in a timely manner and meet business expectations. Furthermore, many companies are better at defining corporate strategy than business unit or divisional strategy, as divisional heads often focus on execution rather than planning. This means that overarching corporate goals may not be translated into divisional goals and are not executed on throughout the company.
In light of the issues above, there are several steps CIOs and/or IT leadership will need to take, to ensure that IT is regarded as a key driver in their companies. First, the CIO needs to develop a strategic vision of how IT can deliver enhanced value to the wider company, as well as lead their departments to execute on this vision. In turn, IT needs to become much more connected with the rest of the company, in order to respond to, as well as understand how changes in the competitive landscape, industry or the company's business priorities could affect IT's priorities. However, this is not a miniscule task for any CIO or IT leader. Where should they start?
Metis Strategy's Strategic Translation, Alignment and Refreshment (STAR) methodology provides an integrated and cascading strategic framework that helps CIOs and IT leadership address questions surrounding IT strategy. For instance, what does IT need to do to empower and enable the execution of corporate and/or divisional strategies? What does IT need to do on its own to generate value? Additionally, what IT projects are being funded and how do they relate to the strategic goals of IT and/or the business? The STAR methodology focuses on all of these questions, while providing a mechanism to align IT's priorities to value-driven strategic imperatives. Firstly, the methodology suggests that strategic planning and alignment begin with the development or refinement of strategic objectives at the corporate level. The next step in the methodology is to translate corporate objectives into divisional objectives. After that, detailed tactics (i.e. executable actions) are developed for each objective. Then, success measures are developed for both objectives and tactics (referred to as goals and measures, respectively) to ensure effective tracking and monitoring. This framework is referred to as the OGTM (objectives, goals, tactics and measures).
However, it is important to note that the OGTM framework is not an IT-specific strategic framework, even though in our experience, IT strategy has proven to be an excellent use case for it. In fact, the OGTM framework can be applied beyond IT, to other aspects of a company. For instance, OGTMs that are created at the CEO level can be cascaded to, or linked with OGTMs at the divisional level, thereby ensuring that corporate strategy is baked into the entire organization's strategic planning and executed on in a holistic manner. The methodology also proposes that separately, all of the company's business and IT projects should be evaluated based on standardized criteria. Next, projects can be grouped into portfolios that are aligned to the corporate and divisional objectives that were identified by OGTM. Finally, portfolios can be prioritized across the organization for budget, resource allocation and decision-making.
Consequently, Metis Strategy's STAR methodology can better position IT leadership and their departments to become better integrated with the rest of their organization, as well as take on a more influential role in driving company strategy. For both business and IT executives, the STAR methodology can provide a comprehensive and logical framework to address challenges around project and portfolio management, prioritization and resource allocation. Lastly, our STAR methodology assessment is designed so that it can and should be performed on a company multiple times, to ensure that as corporate objectives evolve, divisional objectives, goals, tactics, measures, and projects can be refreshed as well.
Metis Strategy has conducted STAR methodology assessments for clients across a wide variety of maturity levels and industries. For a sample case study on the assessment, please refer to www.metisstrategy.com/what-we-do. For further inquiries, please refer to Implementing World Class IT Strategy by Peter High.
.